We picked up this slide a few minutes ago from a tweet by AMD's Phil Hughes. Basically it's a quick run down of the advantages of AMD's new "Jaguar" low-power CPU core over the current generation Bobcat core. Just about all of the information in this slide was cover in Charlie's article, but more color on an interesting subject it never a bad thing.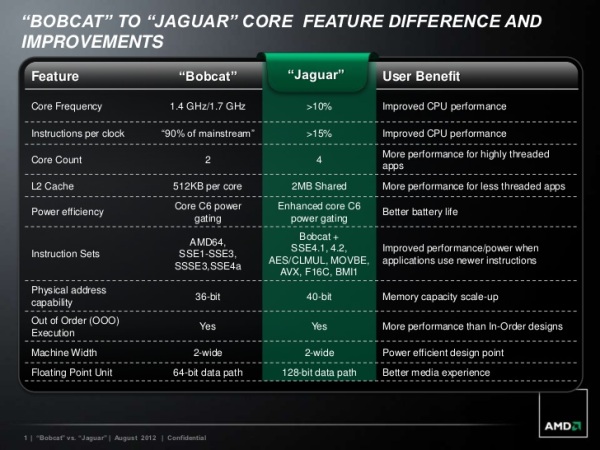 All in all, Jaguar is shaping up to be a competent sucessor to Bobcat and we're looking forward to seeing how the retail products fair against Intel's increasingly aggressive Atom roadmap.S|A
The following two tabs change content below.
Thomas Ryan is based in Seattle, Washington. Thomas first began to appreciate the wonders of the semiconductor industry while doing research on his previous favorite hobby, PC gaming. Having co- purchased his first computer at the ripe old age of 11, with $150 and the help of Craigslist he's been buying and building computers ever since.
Latest posts by Thomas Ryan (see all)