AFTER MUCH SPECULATION and a lot of last minute leaks, Apple's new MacBook Pros are here and although they don't bring with them any great surprises, we have to say that this is Apple's strongest line-up of notebooks ever. One of the biggest announcements is of course the Thunderbolt I/O interface, but other important upgrades are less obvious at first look.
For starters Apple has dropped Nvidia in favor of Intel and AMD when it comes to graphics and the entire line-up is now using Sandy Bridge processors with the 13-inchers getting dual cores and the 15 and 17-inchers getting quad cores. It's also good to see that Apple has adopted 4GB as the standard memory configuration for the entire range. Apple claimed 7h battery life using Wi-Fi on the entire line-up is also a step in the right direction, as the battery life should be consistent across all of Apple's MacBook Pro models now. Let's take a closer look at the individual SKUs to see what's on offer.
The 13-inch MacBook Pro's start out with a 2.3GHz Core i5 processor, a 320GB hard drive, shared graphics and a screen resolution of 1280×800 pixels for $1199. The upgraded model comes with a dual core Core i7 at 2.7GHz with a larger 500GB hard drive, but otherwise identical spec for $1499. Both models have two USB 2.0 ports, a FireWire 800 port, an SDXC card slot, the Thunderbolt/mini DisplayPort combo port, an 8x SuperDrive optical drive,  a FaceTime HD webcam, Gigabit Ethernet, dual band 802.11n Wi-Fi and of course Bluetooth 2.1 + EDR.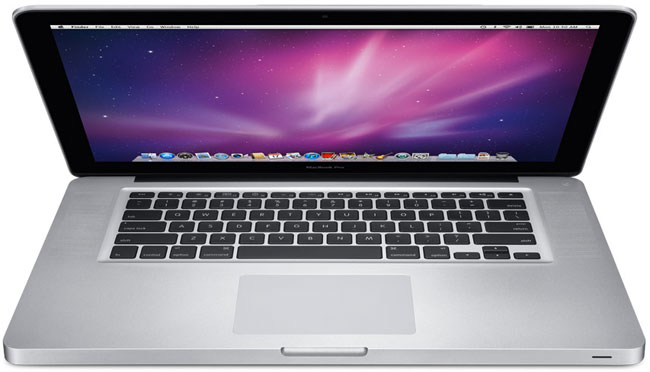 The 15-inch models start with a 2GHz quad core Core i7 CPU, a 500GB hard drive, AMD Radeon HD 6490M graphics with 256MB of dedicated GDDR5 graphics memory for $1799. The high-end model ups the CPU to a 2.2GHz quad core Core i7 CPU, the hard drive to 750GB and the graphics card to an AMD Radeon HD 6750M with 1GB of dedicated GDDR5 memory for $2199, although an extra $250 will buy you a 2.3GHz CPU. Both models are offered with three display options, the standard glossy 1440×900 display, a high-resolution 1680×1050 glossy option for an extra $100 and an anti-glare (matte)  version with the same 1680×1050 resolution for an extra $150, although this model has a different screen bezel as well judging by picture's on Apple's site. The rest of the features are the same as on the 13-inch models.
This brings us to the 17-incher and here Apple only offers a single SKU with a 2.2GHz quad core Core i7 processor, a 750GB hard drive and an AMD Radeon HD 6750M graphics card with 1GB of GDDR5 memory for $2499. The 17-inch screen has a resolution of 1920×1200 and the 17-inch model also gains a third USB 2.0 port and an ExpressCard 34 slot, although it still doesn't feature an SDXC card slot. At this size you also get the option to upgrade to a 2.3GHz CPU for an extra $250 and $50 buys you a matte screen over the standard glossy model.
Apple claims that its new models offer 1.6 to 2.2 times the performance of its previous generation of notebooks and both the 15 and 17-inch models feature switchable graphics which allows for improved battery life when on the road. As for the Thunderbolt interface, well, we're going to cover that in some detail in a separate news post and discuss the potential pros and cons that it brings to the table. Despite what is fairly appealing solutions we can't but help to wonder why Apple insists of putting optical drives in especially the 13-inch models, as this only adds weight and we'd rather have seen an even more capacious battery which would've justified the 2.04kg's (4.5lbs) that this model weighs in at. It also feels like it's time for Apple to come up with a new design for the MacBook Pro range, as not much has changed here since the introduction of the first models back in 2008.S|A
The following two tabs change content below.
Latest posts by Lars-Göran Nilsson (see all)