THERE WERE A lot of new items on display at the Coolermaster CeBIT booth, from cases to coolers, and a lot of related items. New this year is a 'hybrid' PSU, it goes fan free for a lot of the time, only spinning the blades when draw gets high.
In the front of the stand, there are two new products in the CM Storm line, the Enforcer case and the Sirius headphones. Enforcer is a large case with all the usual touches, 7+1 PCIe slots, 4 USB ports on top, two of which are USB3, and tool free everything. The nice part about the tool free clips is that when you open them, they stay on the cage, something that every manufacturer should do, but almost none do correctly.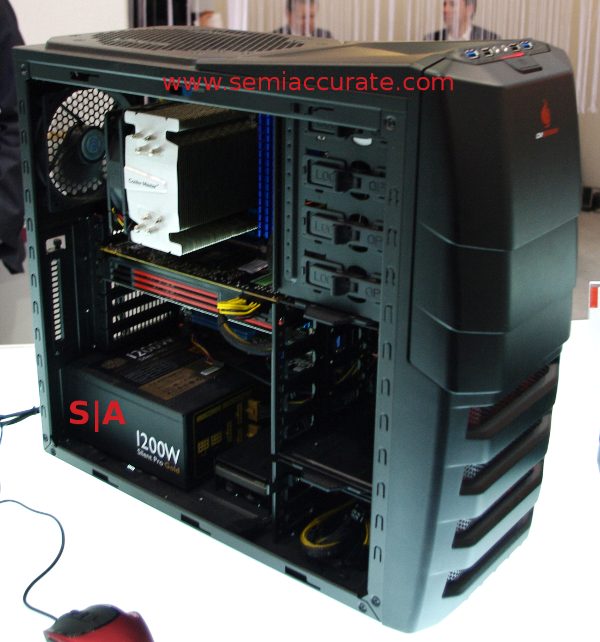 Enforcer brings a cleaner look to CM Storm
At the bottom of the Enforcer, there are two SSD bays and enough 3.5″ bays to please almost everyone. The nicest thing about the case is not any specific thing, it is just a solid and useful case that is quite reasonably priced at $89.99.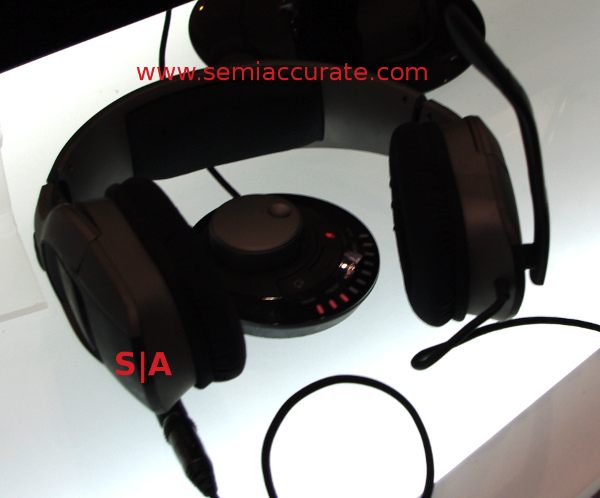 CM Storm Sirius
Next in the Storm line is Sirius, a pair of 5.1 surround headphones with boom mic. The headphones have a wide range of settings, pivot, and twist to fit over almost any ear. In the short time I played with them, they fit my head quite well, and sounded pretty good in the noisy trade show environment. One of the nicest features is the round volume controller on the chord, something everything in this class should have as standard equipment. Look for the Sirius in stores this May.
One technology that is talked about quite often but rarely seen in practice is the fanless PSU. Coolermaster has a variant on this theme called the Silent Pro Hybrid, a design that turns off the fan at low load. The Hybrid will be completely fan free at 200W draw and below, basically idle and desktop use for the overwhelming majority of desktops. Above that point, the fans spin up to the needed levels, but unless you are gaming, it will likely be off.
The Silent Pro Hybrid also has three 7v outputs, a bit more than the 5v rails, but less than the 12v that is usually overkill for a simple fan. They are all connected to a fan controller, so there are some interesting possibilities for a lot of case mods here. The first Silent Pro Hybrid will be a 1350W model.
On to more conventional coolers, you might be familiar with the Hyper 212S, a solid and inexpensive heat piped CPU cooler. The 212 is now part of a family, the two new members are called the 412S and 612S. If the name isn't any clue, they are both bigger, sport more fins, heat pipes, and capacity.
Not one to miss a trend, Coolermaster was showing off Project A-L2, a sealed unit liquid cooler. A-L2 is not a customized Cool-It cooler, this unit is all Coolermaster inside and out. The waterblock may have some resemblance to a few other brands, but that is only skin deep.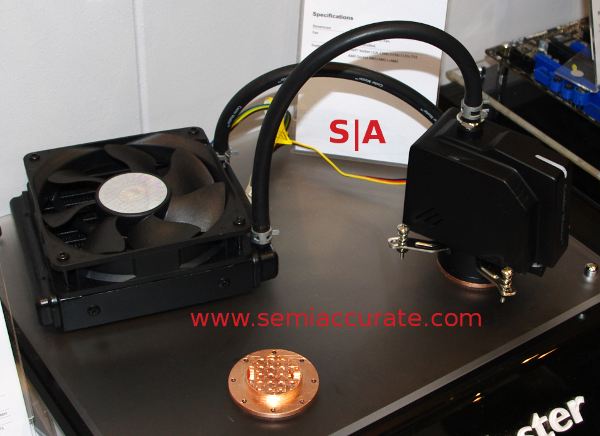 Coolermaster Project A-L2
If you look closely at the water block, you will see a copper cross-hatched pattern. It is actually a weave of copper ribbons attached to the top of an open space by diffusion bonding. I can't say I have seen anyone else doing this, but most companies don't show you specifics of their blocks. We will see how it turns out when the A-L2 goes on sale this May for about $80.S|A
Updated: 3 March 2011, 2.15pm typo fixed
The following two tabs change content below.
Charlie Demerjian is the founder of Stone Arch Networking Services and SemiAccurate.com. SemiAccurate.com is a technology news site; addressing hardware design, software selection, customization, securing and maintenance, with over one million views per month. He is a technologist and analyst specializing in semiconductors, system and network architecture. As head writer of SemiAccurate.com, he regularly advises writers, analysts, and industry executives on technical matters and long lead industry trends. Charlie is also available through
Guidepoint
and
Mosaic.
FullyAccurate
Latest posts by Charlie Demerjian (see all)