THERE WERE A lot more goodies than just cases at the ThermalTake CeBIT stand, but as usual, the cases got all the attention. That is a pity because there were some spectacular PSUs, new water coolers, and more accessories than you care to think about.
The PSUs were arguably the star of the booth, even if they lacked the crowd that the Level 10 GT drew. It is understandable, the Toughpower XT and Grand lines are rather understated to look at, but pack a big punch.
80+ certification is almost a must now for any PSU, and most worth the box they were shipped in have at least Bronze stickers to show off. Anything less is probably not worth the cost to run unless your electricity is free. Silver is a bit tougher to find, and only last year, most PSU makers were groaning about how painful Gold certification would be. Oh how time flies.

Toughpower XT line
As you can see above, Thermaltake is showing off two Toughpower XTs, a 1375W and a 1475W version that each have a 80+ Gold certification. A year ago, this was said to be painful to make and probably not worth the cost premium. The last one, a 1275W PSU, has a Platinum rating, something that was not even on the cards last year. If you want efficient use of power, this is your PSU.
Should you not want quite that much wattage, say if you only have two high end GPUs, then the Toughpower Grand line is for you, with two Platinum rated PSUs. These are 'only' 650W and 750W, half of the XT's output. That said, given their efficiency rating, the engineering that goes in to them is pretty impressive.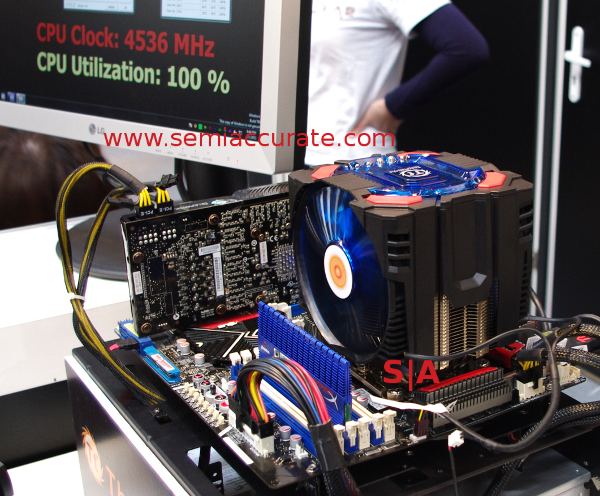 The Frio OCK both sucks and blows
You might recall the Thermaltake Frio cooler from last year, a high end gaming air cooler. For 2011, the Frio is updated top to bottom, and this new model carries over the 'gaming' look of the Chaser case, and will dissipate up to 240W of energy. There are two 13cm fans, and the OCK comes with an external fan controller for easy tweaking. If you want to overclock, but don't want to go with water or LN2, this cooler seems like a good choice.
If you do want to go with water, Thermaltake has a new sealed unit water cooling system for you to enjoy. As with several others at CES and CeBIT, the new units are based on Cool-It technology, but Thermaltake is doing some mods to the base design. The currently unnamed unit will have a new block and some other changes by the time it goes on sale this May.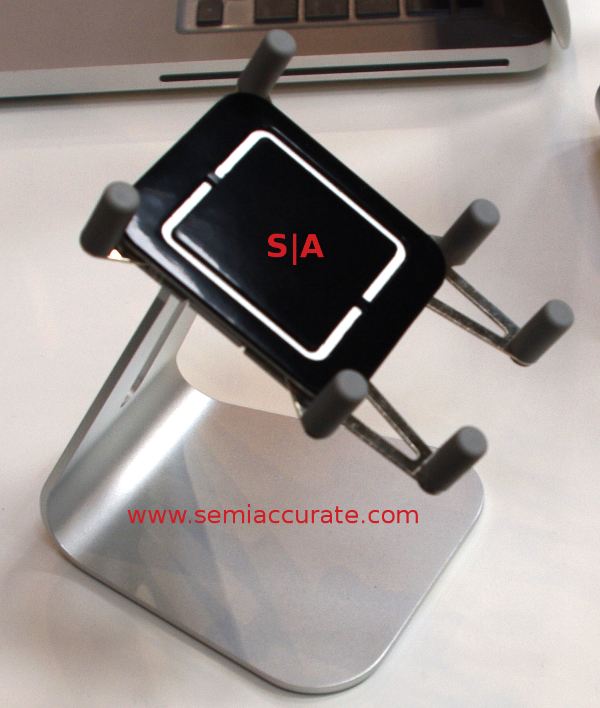 Luxa 2 phone stand
Thermaltake's 'lifestyle' brand, Luxa 2, has some interesting devices, mostly Apple centric, but several are universal. The one that stands out is the phone stand/holder, a universal clamping device that pivots and twists in a bunch of interesting ways. It should fit most phones, and there is a version with a car windshield mount for GPS work.
Moving over to TT Esports, there are two new keyboards, the Meka and Meka G1. As the name suggests, both are mechanical switch keyboards, the clicky IBM type for those not familiar with the tech, and have a much more positive feel than the lifeless rubber cups that everyone else makes. They both have an anti-ghost feature, a claimed first for USB keyboard, and act as a USB hub as well.
From there, they differ a bit. The G1 is a bit bigger, has a wrist rest, and headphone/mic jacks. All of the Meka keyboards also have thin braided cables, and unless they changed significantly since the Black mouse, are very high quality, and the ends are gold plated.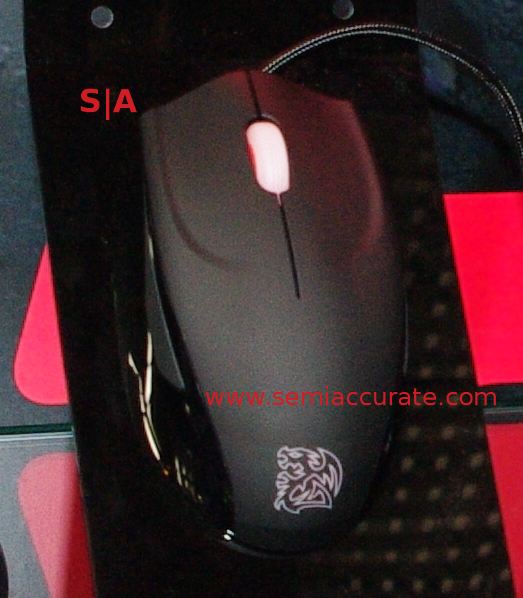 Azurues Mini mouse, not related to Mickey (TM)(R)(C)(P)
The last one is kind of interesting, the Azurues Mini mouse. It is a rubber coated optical, not laser, gaming mouse with all of the usual features. You can change DPI, add weights, and tweak a bunch of settings, exactly what you would expect. The interesting part is the Mini part, it is smaller than the normal Azurues mouse, but doesn't lose any features. Is this a tip of the hat to the female gamers out there?S|A
The following two tabs change content below.
Charlie Demerjian is the founder of Stone Arch Networking Services and SemiAccurate.com. SemiAccurate.com is a technology news site; addressing hardware design, software selection, customization, securing and maintenance, with over one million views per month. He is a technologist and analyst specializing in semiconductors, system and network architecture. As head writer of SemiAccurate.com, he regularly advises writers, analysts, and industry executives on technical matters and long lead industry trends. Charlie is also available through
Guidepoint
and
Mosaic.
FullyAccurate
Latest posts by Charlie Demerjian (see all)