The first USB 3.0 display adapters have finally cropped up, although the products in question are from a Taiwanese company called Sunix which is a maker of all kinds of computer peripherals and add-on cards alongside a range of industrial networking and communications devices and specialized I/O solutions. The company has added three USB 3.0 based display adapters to its product line, although there's no indication that they're using hardware from DisplayLink.
By now it's over a year ago since DisplayLink demoed its first USB 3.0 implementation at CES 2010 and back then it was a rather large FPGA based prototyping board which we caught a glimpse of at the USB-IF developers forum in Taipei a few months later. DisplayLink was meant to introduce partner products at this year's CES, but as far as we know this didn't happen and in this case, we're not looking at a DisplayLink implementation.
We're not sure who's USB 3.0 display adapter implementation is being used by Sunix, but it seems to be somewhat limited compared to what we're expecting from DisplayLink. The three products on offer are the VGA2718 with D-sub connectivity, the VGA2728 with DVI connectivity and the VGA2788 with HDMI 1.2 connectivity. The latter will also transmit audio when available, for example when a video is being played back. The resolution is limited to 2048×1152 in all three cases and as far as we're aware, DisplayLink's USB 3.0 implementation should muster 2560×1600.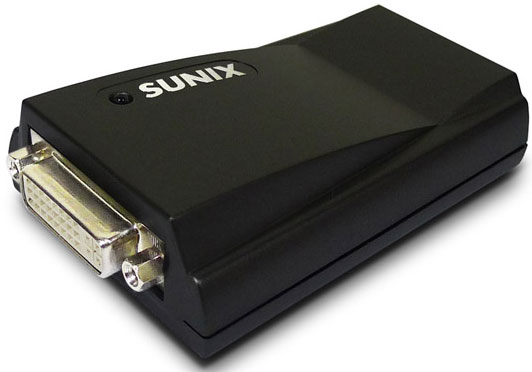 All three models have a micro USB 3.0 port at the back, so you'll have to use a micro USB 3.0 to USB 3.0 cable to attach them to your computer. That said, Sunix claims that all three models are backwards compatible with USB 2.0 ports and as neither draws more than 400mA in use this shouldn't be a problem except potentially for high bitrate HD video playback.
No word on pricing for either models and all three are currently listed as coming soon on the Sunix website. These products will most likely end up getting a different label slapped on them before they appear in retail anyhow, but it's always interesting to see a company that's first with a new-ish type of product.S|A
The following two tabs change content below.
Latest posts by Lars-Göran Nilsson (see all)