Normally we wouldn't pay too much attention to a new netbook, but Hercules has launched a couple of new models in its oddly named eCAFÉ series, the Slim HD and EX HD, both powered by a Freescale i.MX515 SoC. This is the first time we've seen a large 10.1-inch netbook with a Freescale SoC as in the past they've generally been used in smaller low-cost devices.
The design of the new eCAFÉ netbook is unique to say the least as the keyboard is sort of recessed with two bars on each side. We can't say that we've ever seen a netbook design quite like it before, for better or worse. The main difference between SKUs is that the MX HD features HDMI output, an internal SD card slot (populated with an 8GB card) and a larger battery which also increases the weight for the MX HD.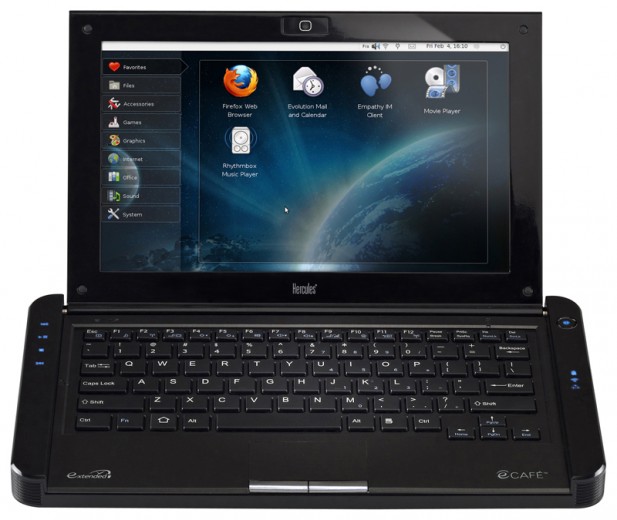 Common features among models include an 800MHz i.MX515 Cortex A8 based SoC, 512MB of RAM, 8GB of iNAND flash memory, 802.11b/g/n Wi-Fi, a 0.3Megapixel webcam, three USB 2.0 ports, an external SD card slot, an Ethernet port and a pair of audio jacks. Nothing really exciting as such and neither is the 1024×600 resolution display, but there are still a couple of surprises. Both models will play back 720p video and standard formats like DivX, Xvid, H.264 and MKV are supported.
For starters the eCAFÉ netbooks are running a custom Linux based OS which we don't recognize from the screen shot, but it's clear that it's a simplified version targeting consumers with large icons for the various applications, all filed away neatly under a selection of tabs on the left hand side. However, if you don't like what Hercules provides then you can flick a switch on the system and install whatever OS you want that's compatible with the platform, although Hercules doesn't specify what these may be other than saying other Linux distributions. Another unusual feature is that there's a mini USB port that allows the eCAFÉ netbooks to sync files with either a PC or a Mac.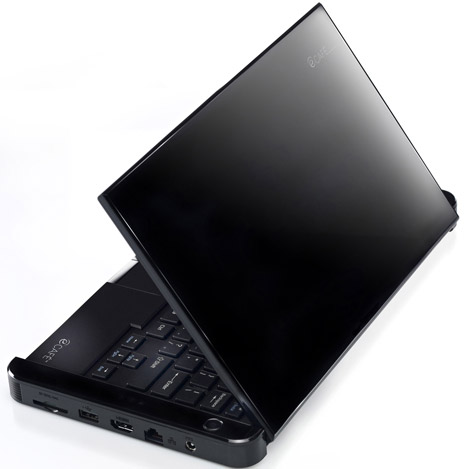 The eCAFÉ Slim HD weighs in at a mere 880g (1.94lbs) although this is with a fairly weak 2400mAh battery which Hercules claim is only good for 4.5h of usage. The eCAFÉ MX HD weighs in at 1.27kg (2.8lbs) but then you get a much larger 6800mAh battery pack which is said to be good for some 13h of usage and over 14 days in standby mode. The Slim HD will retail for $229 while the MX HD goes for $269 which actually seems pretty reasonable for what you get, even if we're looking at something of a hybrid here between a netbook and a smartphone/tablet.S|A
The following two tabs change content below.
Latest posts by Lars-Göran Nilsson (see all)