Flash chips get even smaller, but not for much longer
How low can we go?

Intel (INTC) and Micron (MU) now holds the record thanks to 20 nm lithography IMFT Flash Technologies have just introduced a 64 Gb part based on 20 nm process technology.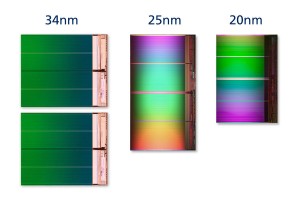 The chip with an area of just 112 mm2 is the smallest yet, but the show won't go on forever. As you can see from the photos the new chip is roughly 50 percent smaller than the previous generation – and even smaller than two 32 Gb chips from way back. IMTF plan to ship the new chip in volume during Q2, at which time they will also show their first 128 Gb chip using the same process technology. Reducing the feature size, reduces the chip size, enabling higher storage density as well as a higher output from the fab. The higher output should hopefully eventually result in lower prices.
In a few generations we are likely to hit the limit for how small the cells that flash chips are made up of can get. Each cell holds two bits of information. This means that the read and write logic needs to able to distinguish between 4 different charging levels representing the bit patterns 00, 01, 10 and 11.As the cells get smaller and smaller they will hold fewer electrons – potentially making them unstable.
Therefore the most important thing to read out of the press release from IMFT is that Intel and Micron have managed to keep the performance of the new chip the same as the old one, which is quite remarkable.
When we hit the ultimate wall in 3-5 years, we will need to look at completely new memory technologies as DRAM is expected to expire at roughly the same time.
The new memory and storage will quite likely be a unified architecture where you do not distinguish between memory and certain types of storage.
Promising technologies are magnetic RAM as well as phase change memory. Phase change memory scales well but there are still minor issues with the heat spreaders that are used when the material is heated to change between crystalline and amorphous structures.S|A
The following two tabs change content below.
Latest posts by Mads Ølholm (see all)