It looks like PowerColor is going to be the first out of the gate with a dual ATI 68xx/Barts card, and it does look tasty. It looks like the Nvidia dual GF114 card is going to have some serious competition.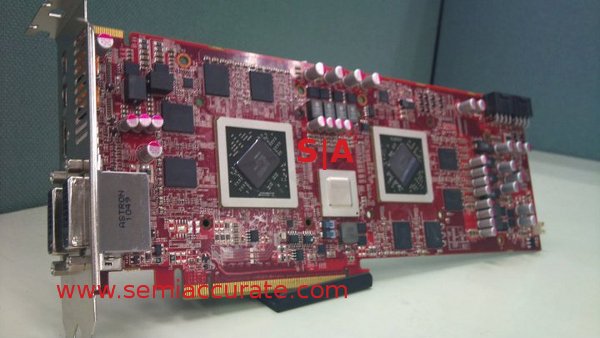 This is the card you are looking for
It isn't going to give 6990 owners heartburn, but depending on where the final clocks are set, this little beastie is going give a lot of cards some serious price/performance headaches. 6870s are already an amazing deal, with a recent round of rebates dropping cards below the $180 mark, including a copy of Shogun.
The new card, as yet unnamed, has 1GB GDDR5 per card, you can see that much from the pictures. PowerColor isn't talking about the rest of the specs, but more is promised at Computex. Looking at the power setup, it has 2 8-pin PCIe connectors, meaning a lot of juice on tap. That says 'serious overclocker', and since it is a custom PCB, it is likely to live up to that reputation. At worst, you can expect it to not blow up under normal use like certain other lines.
If PowerColor can keep the price at or below that of two 6870s, they look to have a killer part on their hands. The dual Barts chips should slap a 6970 around for only a bit more cash, and seriously undercut the dual GF114 coming in Q3. All we need now is a watercooled version with 8-way Crossfire drivers and…..S|A
The following two tabs change content below.
Charlie Demerjian is the founder of Stone Arch Networking Services and SemiAccurate.com. SemiAccurate.com is a technology news site; addressing hardware design, software selection, customization, securing and maintenance, with over one million views per month. He is a technologist and analyst specializing in semiconductors, system and network architecture. As head writer of SemiAccurate.com, he regularly advises writers, analysts, and industry executives on technical matters and long lead industry trends. Charlie is also available through
Guidepoint
and
Mosaic.
FullyAccurate
Latest posts by Charlie Demerjian (see all)