Sapphire brought out the motherboards at Computex, with all the latest toys on boards from high to low end. GPUs were not neglected either, there were two significant updates at the show too.
The first one up is the new HD6950/2G Dirt 3 edition card. It may sound like nothing more than a game bundle, but this version has a completely different heatsink setup from the older ones. As you can see below, there is a massive chunk of copper with five heatpipes and two slow spinning fans. The vanilla Sapphire 6970 was notably cooler than the reference design, so I have high hopes for this part.

Lots-o-copper plus a game
Then there is a new 6670 passive card, nothing amazing, just a 6670 with lots of fins and heatpipes, but no fan. To make things nicer, all new Sapphire cards at the 6600 level and above come with Dirt 3, so this is a nice upgrade for a HTPC. A $60 game with a $100 card, not bad at all.
Moving on, Sapphire has a part to fill the most often asked for thing on our forums, a Brazos board without all the bells and whistles, just a solid HTPC/SFF board with enough goodies to base a system on. This one is the Sapphire Pure White Fusion Mini, and as you can see, the board is a brilliant black. Expensive bits like SoDIMM slots and Bluetooth are gone, but the things you actually use are still there. These boards are now under $100, and will likely keep going down as they always do. Progress!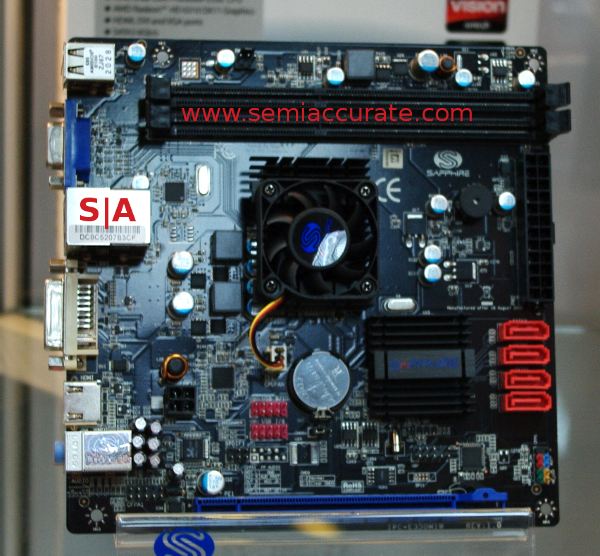 The box is white……
The next one up is the PT-A8A75 Llano board. In case it isn't obvious, it is meant for the A4/6/8 chips, and uses an A75 chipset. Not much to say about this one, it has a full width 16x slot, four DIMMs and a bunch of video outs. Because it is an A75, there are also at least 4 USB3 ports, and the always handy post code LED readout.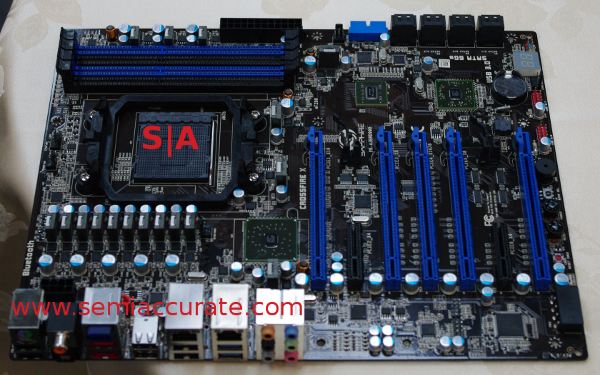 AM3+ plus NF200 = Pure Black 990FX-N
What do you get if you put a NF200 on a 990FX board? 5 PCIe 16x slots with at least 8x run to each, plus two 4X slots for good measure. Toss in 4 USB3 and 12 USB2 ports, and four way Crossfire and SLI support, and you have a board that probably does what you need. Also, check out the chokes on the board, Sapphire calls them 'Black Diamond', and the embedded metal chunk looks really good. Between them and Gigabyte, you have some very cool chokes.
Last up is the often overlooked Flex line from Sapphire. Basically, Sapphire took the six display controllers and wired them to three DVI dual link ports, something no one else seems to be doing. This may not sound like much, but for business use, it makes life a lot easier, especially if you don't want to buy new monitors. The news from Computex is that there are a few more addons to the line, you can get a Flex from 5670s to 6950s, with more to come. If you don't want to spend a lot on Active DP dongles, this is your card.S|A
The following two tabs change content below.
Charlie Demerjian is the founder of Stone Arch Networking Services and SemiAccurate.com. SemiAccurate.com is a technology news site; addressing hardware design, software selection, customization, securing and maintenance, with over one million views per month. He is a technologist and analyst specializing in semiconductors, system and network architecture. As head writer of SemiAccurate.com, he regularly advises writers, analysts, and industry executives on technical matters and long lead industry trends. Charlie is also available through
Guidepoint
and
Mosaic.
FullyAccurate
Latest posts by Charlie Demerjian (see all)