Powercolor had tons of things, from dual 6950s to remote video boxes at Computex. They were even showing off some unannounced CPUs and new product lines.
First up is the big stuff, the dual HD6870 boards we told you about a month ago are now nearing final form. Just to make sure that they had something new to show off, Powercolor also had a dual HD6970 as well. They are cunningly called the HD6870X2 and the HD6970X2, a product that is not the same as the highly binned out HD6990.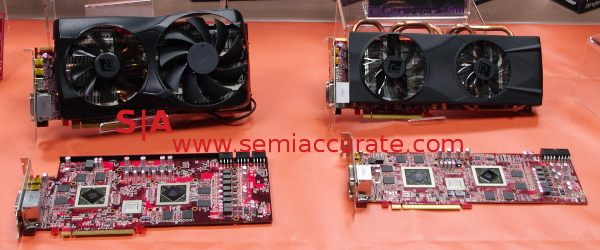 2X the X2s, 2X the fan … err fun
You may notice that both parts have asymmetrical fans, these are not simply repackaged reference designs, both are ground up new boards and coolers. Also take note of the massive heat pipes on the 6870X2, the 6970X2 has them too, but they are well hidden. You might also notice the 6970X2 has a stiffening plate up top, and three 8-pin power plugs. Can you say 525W capable?
The 6870X2 is said to cost around $449 retail, undercutting the GTX580 by a bit, and slapping it around for performance. Some benches show >30% more speed from the X2 but realistically expect only about 20% more than the top (non-explosive) NV card can muster. The 6970X2 is not a go for production yet, so don't expect it any time soon. What's not to love?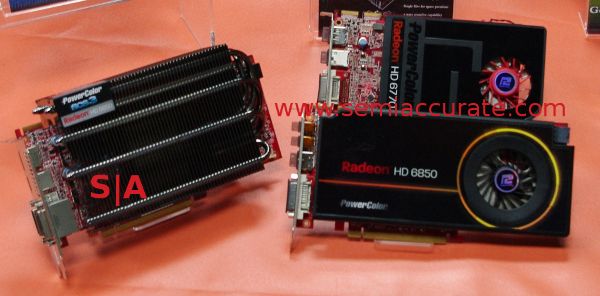 Two new HD6850 coolers
That brings us to two new 6850 designs from the boys (and girls) by the Acer building, a 1 slot and a passive design. I can't figure out why people would want a one slot 6850/1G, cooling isn't as good and noise is higher, but apparently there is a lot of demand. You can get one now if you want. You would be a lot better off with the passive 6850 to the left though, it may be more, umm, slotty, but it is definitely less noisy.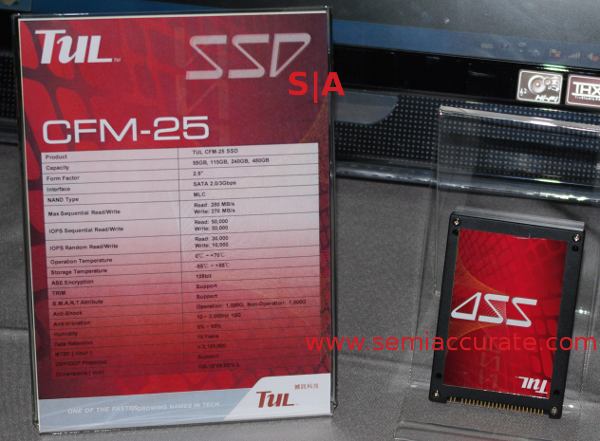 Logo of the show goes to TUL
Moving on to the new SSD line from TUL, Powercolor's parent company, you can get 55, 115, 240 and 480GB versions, all with Sandforce controllers. So far so good, until you turn the logo upside down. Errr. Still, it wins my vote for the best logo of Computex by a long shot.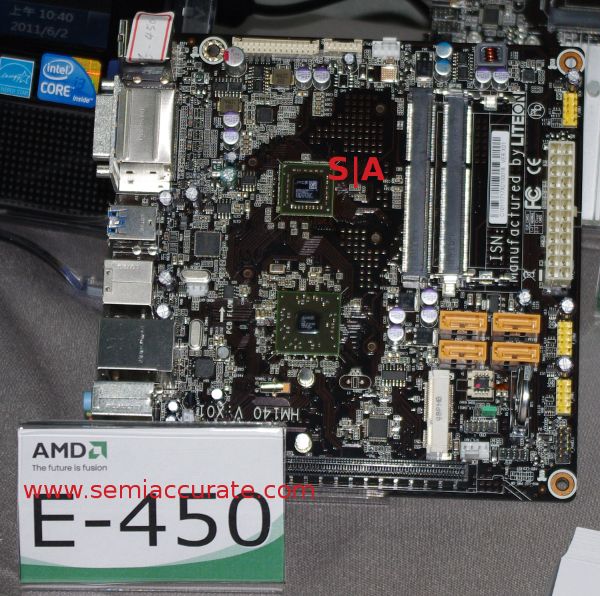 E-450 boards look like E-350 boards
In the "Are you sure it is OK to show that?" department comes the E-450 based Brazos board. Not much to say here, take a current E-350 board, swap the CPU out with a C0 step version, and you gain a few more MHz and turbo. This is the step that enables tablets, the turbo is likely a side effect of fully debugged power management circuitry.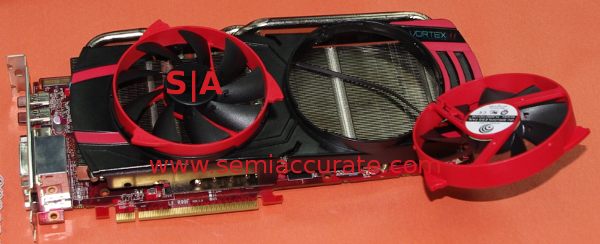 Quite unique fans
The new Vortex 2 cards from Powercolor have something that I haven't seen before, fans you can extend and angle. The two red fans push down if you don't have much room in your case, or twist and pull them for better airflow. In a twist that no one else has done, you can lock them at an angle, half in and half out, to angle the airflow in an optimal way for your case. They also pop out to clean the heatsink. Does it matter? I am not sure. Does it hurt? Nope. Is it unique? Definitely.
Last up is a little black box that has an HDMI and USB in, plus a twin with the same ports going out. They are called the Powercolor Wireless Media Center (WMC), a wireless HDMI link that is good for up to 30M range. Since it worked at Computex, it will probably work at your house, the RF noise is likely orders of magnitude less there.
While wireless HDMI is nothing unique, WMC has two nice features that few if any others have. It also passes USB, so you can have a keyboard/mouse/whatever at your TV with the PC on the other side of the building, no additional hardware needed. WMC can also pass 1080p in 3D, so 120FPS, something that most others are not capable of. No word on pricing or availability, but it was polished enough so that it probably won't be long.S|A
The following two tabs change content below.
Charlie Demerjian is the founder of Stone Arch Networking Services and SemiAccurate.com. SemiAccurate.com is a technology news site; addressing hardware design, software selection, customization, securing and maintenance, with over one million views per month. He is a technologist and analyst specializing in semiconductors, system and network architecture. As head writer of SemiAccurate.com, he regularly advises writers, analysts, and industry executives on technical matters and long lead industry trends. Charlie is also available through
Guidepoint
and
Mosaic.
FullyAccurate
Latest posts by Charlie Demerjian (see all)