At CeBIT, Thecus went upmarket, and Computex saw more of the same. This time, they are expanding the business side of their offerings quite a bit, filling in the gaps between home and enterprise devices.
The first new box is basically a new set of guts in the old N4100 chassis. The new version is called the N4100Eco, and it is different from the older N4200Eco in basically every way. The N4200Eco was an N4200 with a UPS built in, the N4100Eco is an N4100 with the new XXX (Atom based in Thecus parlance) boards, and tweaked for lower power use wherever they could. Thecus is claiming the new Eco will draw <10W in standby, and costs less than the old one too.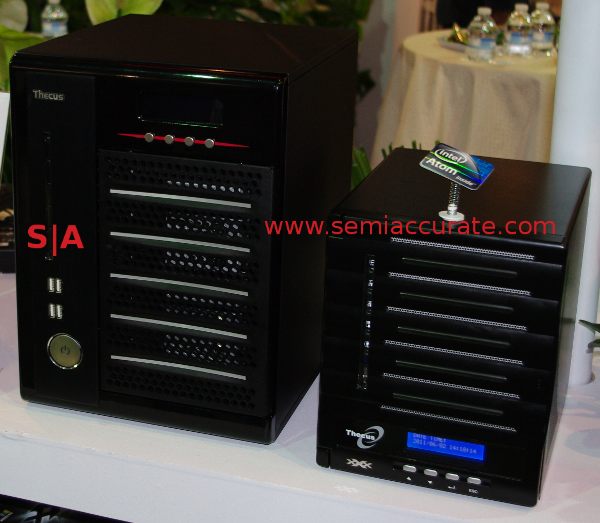 TopTower N6 and an N4100Eco
Much more interesting in the new TopTower Nx series, a much higher end product than the older Nxxxx line. Some earlier complaints about the first generation Thecus boxes were that they didn't have the raw CPU power to move the data at rates that they probably should have. This was quickly rectified in later generations, and the TopTower puts that to rest for good with a Sandy Bridge at its heart.
The N6 pictured above is the small one of the line, it has 6 drive bays, USB3 connections, and HDMI out. N8 and N10 expand the drive count to 8 and 10 respectively, and a full blown Sandy should still be more than enough to twiddle the needed bits with a lot of room left over. The TopTower line won't be out until late Q3, more likely Q4, so the final specs are a bit fluid at this point.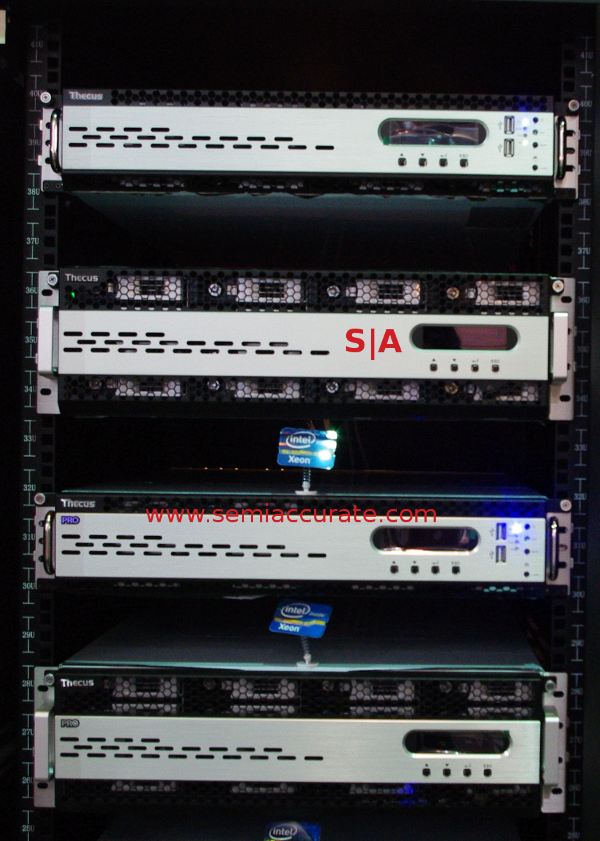 N16000, now with added Pro
Last up, the N16000 rack mount NAS/SAN box, and presumably the 'little' N12000 too, have been updated to Pro status. This means a bump from from a 3.06Ghz to a 3.33GHz Xeon, and 10GBaseT networking on the back. For those not up on recent networking standards, that means 10GigE over copper, not fiber, hugely expanding the market for such products.
Overall, it is pretty clear that Thecus is going after the SMB market now, home/small business storage needs are pretty well covered by their current offerings. It is going to be interesting to see how they are accepted in this market, especially at the high end where service and support are mandatory before a maker is even considered for approval. If Thecus can make a good pitch here, they are going to crater prices in this segment, and that is good for everyone.S|A
The following two tabs change content below.
Charlie Demerjian is the founder of Stone Arch Networking Services and SemiAccurate.com. SemiAccurate.com is a technology news site; addressing hardware design, software selection, customization, securing and maintenance, with over one million views per month. He is a technologist and analyst specializing in semiconductors, system and network architecture. As head writer of SemiAccurate.com, he regularly advises writers, analysts, and industry executives on technical matters and long lead industry trends. Charlie is also available through
Guidepoint
and
Mosaic.
FullyAccurate
Latest posts by Charlie Demerjian (see all)