The fabless Chinese semiconductor design house Spreadtrum Communications, Inc. (NASDAQ: SPRD) has just released a highly integrated set of SoCs based on ARM Cortex-A9 processor design in a 40nm implementation.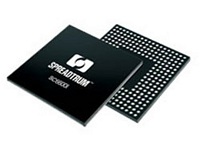 The SoCs named SC8805 and SC6810 are based on the architecture from ARM and can be delivered complete with reference designs for the design and manufacture of basic smartphones with up to 4 SIM cards. They support GSM/GPRS, but not 3G.
The smartphones run Android 2.2 that has been ported to these two SoCs.  In addition the SoCs include a multimedia accelerator for 2D graphics, touch screen controller, backlight controller, 16M/32M pSRAM.
The first phones are expected to hit the domestic market in China around Christmas at a price around $40.
"The SC6610 and SC6620 chipsets are the result of our unwavering focus on innovation," Dr. Leo Li, Spreadtrum's President and CEO said, "Our continuous efforts within R&D and market expansion have provided us with cutting-edge technology and a loyal and growing customer base. We intend to build on this trend in order to accelerate our pace to provide more innovative products for customers that will help them reduce handset development cost, shorten time-to-market, and ultimately enhance their competitive edge."
We all hope to see the phones outside of China real soon, as they will surely boost the competition in the traditional and expensive smartphone market.  Also we find it refreshing to see a couple of new chips based on ARM from a country where MIPS seems to be the flavor of the day.S|A
Updated: December 12, 2011 2.30pm.  Adjusted chip numbers per corrected press release from Spreadtrum.
The following two tabs change content below.
Latest posts by Mads Ølholm (see all)