Today we're taking a look at Intel's newest highend motherboard, the DZ77GA-70K. This motherboard is based off of Intel's Z77 chipset and packs just about every feature you could want. We've been playing with this board in the orbital lab for a few days now and we'd like to give you a short preview of what Intel's bringing to the table.
Simply put, it's that time of year again and Intel is preparing to refresh its desktop product lines. The motherboard we're looking at today is but one, admittedly rather expensive, tenet of this general yearly refresh that will be rolling out in the near future. With that in mind lets take a closer look at what Intel's 7 series based motherboards have in store for us.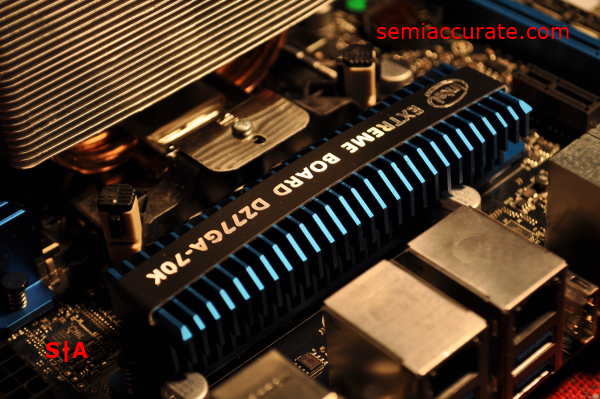 Sporting Intel's standard black and blue color scheme the DZ77GA-70K is a tastefully colored gaming motherboard. Like most other gaming motherboards these days Intel's opted to use a pair of beefy heatsinks to cool the power circuitry on this board. It's also chosen to emblazon the Southbridge heatsink with a bit of decorative flare, in this case a silver outlined black skull.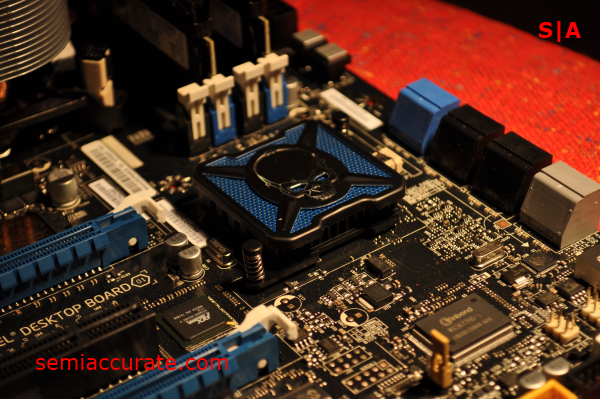 Intel has also seen fit to offer four SATA III ports, four USB 3.0 ports, and dual Gigabit Ethernet ports, in addition to the standard fare of USB, PS/2, Audio, eSATA, and i1394 options. Connectivity wise the only thing that's missing on this board is Intel's Thunderbolt. But there's an open spot in front of the first PCI-E x16 that looks perfect for someone to solder in a chip to fix that oversight.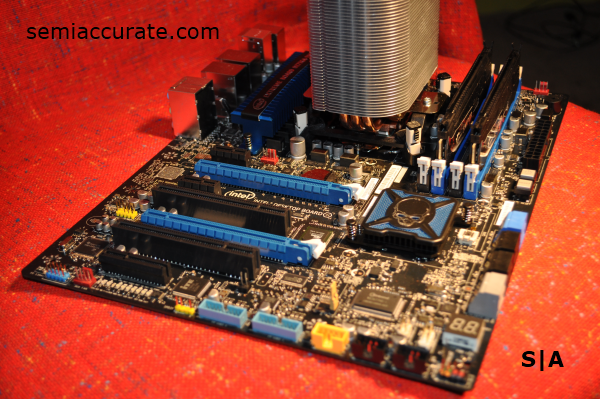 A chip from PLX has been rather curiously placed between the two PCI-E x16 slots that this motherboard offers. I say curiously because this particular PLX chip offers six additional PCI-E 2.0 lanes to the eight lanes that are already set aside from graphics on Z77 chipsets.
Intel has used a pretty standard layout for the expansion slots on this motherboard, the most notable slot being the PCI-E x4 slot at the very bottom which is probably intended to be used with high bandwidth storage solutions like OCZ's Retrodrive X2.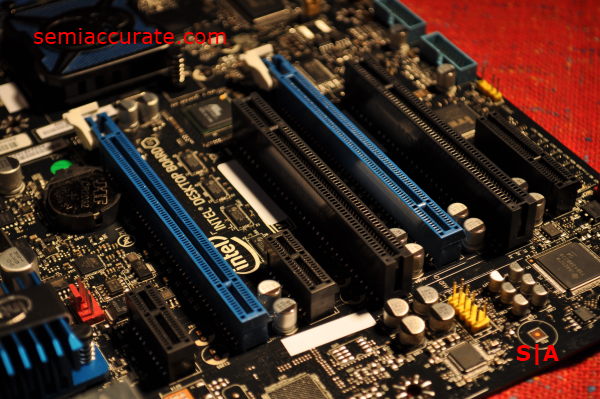 Looking at the board from the bottom up, we can see that Intel's offering plenty of USB 2.0 and HD Audio headers for cases with those front panel options. We can also see that an error code reader has been thoughtfully positioned on the bottom right hand corner of this board.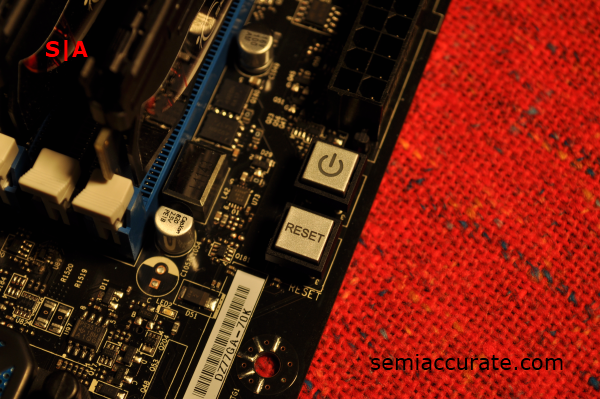 My one major gripe with the layout of this motherboard is the lack of a CMOS clear button. Instead, Intel has provided the same well known three pin CMOS clearing system we've known for years. It seem like a bit of an oversight to me that Intel placed both power and reset buttons on this board, but skipped over a clear CMOS button.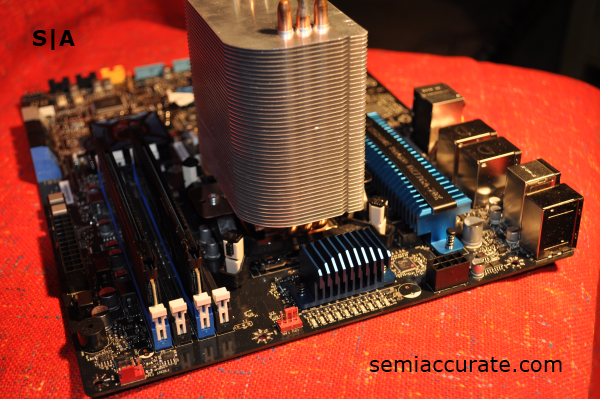 Expect to see more of this particular motherboard as the month goes on. As of today Intel has confirmed that existing, Sandy Bridge based, LGA 1155 chips will work in 7 series chipset based motherboards. If you're looking for Ivy Bridge based chips from Intel to accompany this motherboard you won't find them today, but you can take some solace in the knowledge that you don't have much longer to wait.  It's finally Spring, and things are just getting started.S|A
Updated: April 11, 2012 12pm.  Intel indicates that there is, in fact, a clear CMOS capability.  "We have the "Back-to-BIOS" button on the back panel that works like a Clear CMOS button but only better."
Update 2:  April 13, 2012 3:40pm.
We would like to note that we did try to use the Back to BIOS button in our initial testing, but found that it did not perform the same function as a standard clear CMOS button.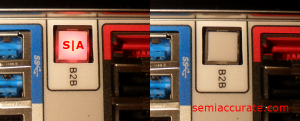 A clear CMOS button will reset your CMOS, and thus your BIOSes settings back to their defaults. This allowing your system to boot (in a perfect world) after pressing the button without need to go back into your BIOS to change the setting that stop your system from booting in the first place. Back to BIOS works a bit differently than a standard clear CMOS button. Instead of clearing your CMOS and allowing your system to boot, the Back to BIOS button blocks your system from booting and prompts you to either enter new BIOS settings or again attempt to boot with your current settings, when the button is activated.
As you can see this is a different, yet similar, function to a more traditional clear CMOS button. As the Back to BIOS button didn't clear my CMOS and

allow me to boot immediately, I initially opted to use the three pin system located near the bottom right hand corner of the motherboard, which resolved my issue. Having now had more time to work with the Back to BIOS button I can say that it may actually be a superior option to a standard clear CMOS button depending upon your usage scenario.
The following two tabs change content below.
Thomas Ryan is a freelance technology writer and photographer from Seattle, living in Austin. You can also find his work on SemiAccurate and PCWorld. He has a BA in Geography from the University of Washington with a minor in Urban Design and Planning and specializes in geospatial data science. If you have a hardware performance question or an interesting data set Thomas has you covered.
Latest posts by Thomas Ryan (see all)