With the recent launch of Nvidia's GTX 670 a few weeks ago we decided that it was once again time to try and get a feel for what supply looks like at our favorite internet retailer. For this article we're going to focus mostly on what we found browsing through Newegg, but rest assured that the trends we are presenting here are representative of the other dozen or so e-tailers that we looked at.
Since our last installment back in mid-March, Nvidia has brought a number of new 28nm products to the market. Specifically the GTX 680, the GTX 690, and most recently the GTX 670. Supply problems have abounded since launch for the GTX 680, with the small quantities of cards selling out almost as soon as they became available. Despite the passing of time, the GTX 680 supply situation has failed to improve to any great extent. Occasionally one of the GTX 680 SKUs will be in stock, but often it goes back out of stock within a few hours. The practical implication of this phenomenon is that those who are willing to go the extra mile to acquire a GTX 680 can get a hold of a card. But the option for a consumer to impulse buy a GTX 680 is severely limited. Things have not turned out any better for Nvidia's flagship GTX 690 whose supply situation almost mirrors that of the GTX 680, but on a smaller scale due to its price point.
The one bright spot in Nvidia's 28nm based GPU line-up is the GTX 670 which has, somewhat miraculously, stayed in stock since it became available a few weeks ago. Admittedly we're only talking about a few SKUs here, but it's a much better situation than what we've seen from Nvidia's other 28nm GPUs.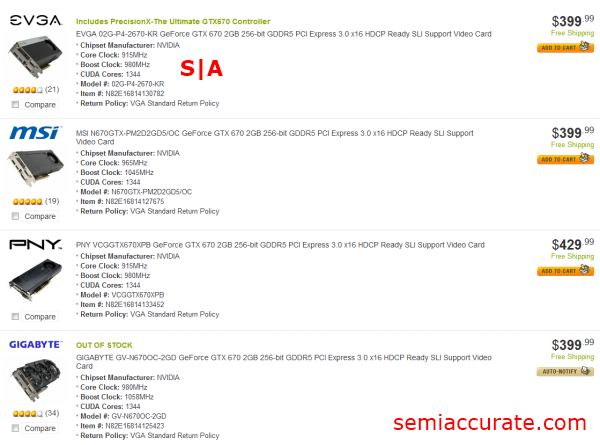 Looking here at Newegg's GTX 670 page we can see that three of the eight SKUs offered are in stock.

Moving onto Nvidia's second most recently launched product, we can see that of the two GTX 690 SKUs listed on Newegg, neither are in stock.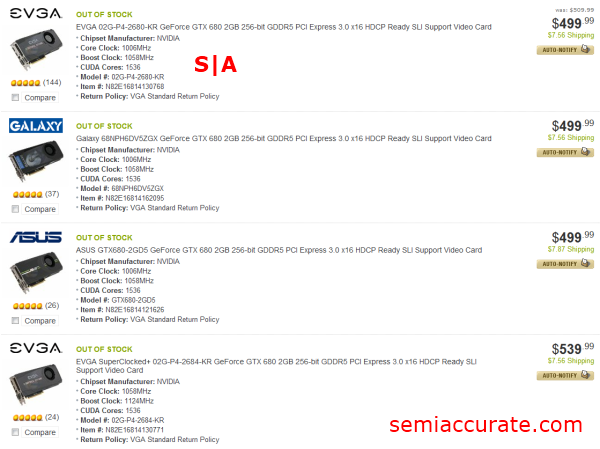 Judging by the number of product reviews, it seems that EVGA is Nvidia's favorite partner in terms of their allocation of GTX 680 chips. Concerning stock, none of the 17 SKUs listed on Newegg were in stock as 6pm PST on Monday.

The one item that is in-stock on the list of GTX 680 related products, is a back plate kit from EVGA.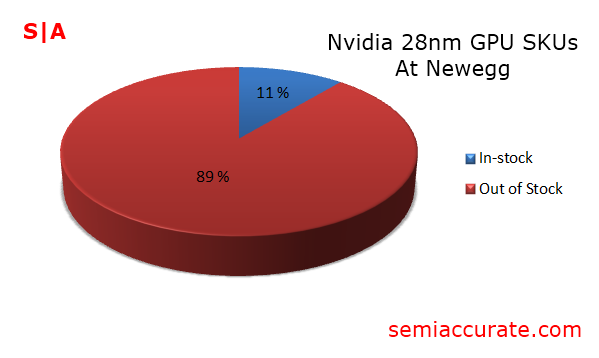 Stepping back and looking at all of Nvidia's listed 28nm products on Newegg we can see that stock is limited at best, and almost 90 percent of all the SKUs are without stock. It's been almost two months since the GTX 680 first appeared, and at this point I think it's fair to say that the volume of Kepler based GPUs is ramping up at a far slower pace than the volume of Southern Islands based GPUs did in Q1.
Speaking of Southern Islands, let's check in on the AMD side of the fence and see how the supply of HD 7000 series parts is faring.  At the time of writing only one of the 18 HD 7970 SKUs was out of stock at Newegg. Moving to the HD 7950, two of the 15 listed SKUs were out of stock. The Pitcairn based HD 7870 also has only one of 15 SKUs out of stock. The one weak spot in AMD's supply situation is the HD 7850, which had only four of 12 SKUs in stock when we checked. Of the 22 HD 7770 SKUs on Newegg, only one was out of stock. And rounding out AMD 28nm line-up we have the HD 7750 with 12 SKUs, of which only one is out of stock.
So it seems that any notions of AMD having issues supplying 28nm based products can finally be put to rest.
So let's consider the mix of 28nm and 40nm products on the market. Much like Nvidia's last process node transition back in 2010, it seems that its new GPUs will remain in short supply until some point later in the year. It also worth mentioning that Nvidia's last generation 40nm products are still widely available from online retailers, and we have yet to see the number of 500-series SKUs decline in any meaningful way.
Things are markedly different on the AMD side of the fence, there are now only six HD 6970 SKUs listed on Newegg; additionally only four HD 6950 SKUs are still listed. It also appears that AMD has ended production of the HD 6990, as Newegg has deactivated all of the listings for that product. Moving down to mainstream and low-end products, the HD 6800  series and below is still widely available, and due to the gap in between the HD 7700 series and the HD 7800 series, and due to the lack of new low-end products in AMD's line-up, it's likely that these 40nm products will continue to be available for sometime.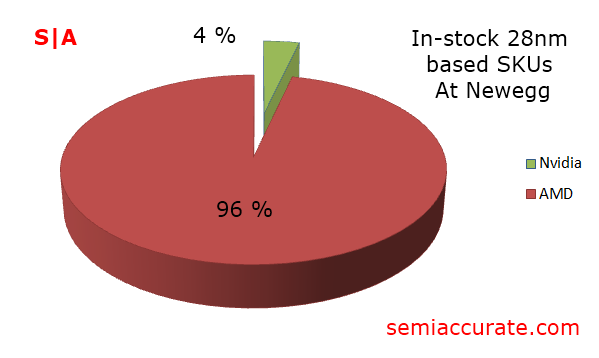 Comparing the availability of Nvidia's 28nm products to AMD's directly we can see that only four percent of the in-stock SKUs on Newegg are from Nvidia. Make of that what you will, but the supply situation of Nvidia's GTX 600 series is looking pretty grim in light of what AMD has managed at this point. Let hope this supply shortage ends quickly, or we're bound to see AMD's prices start to creep up in the next few months. Until next time, try and stay in stock.S|A
The following two tabs change content below.
Thomas Ryan is a freelance technology writer and photographer from Seattle, living in Austin. You can also find his work on SemiAccurate and PCWorld. He has a BA in Geography from the University of Washington with a minor in Urban Design and Planning and specializes in geospatial data science. If you have a hardware performance question or an interesting data set Thomas has you covered.
Latest posts by Thomas Ryan (see all)