In light of the recent launch of Intel's Small Business Advantage Utility we decided to test out the functionality of this IT management software package. Intel's SBA is a set of tools designed to help small businesses manage their PC infrastructure. It's aimed at small to medium businesses that are looking to upgrade their unmanaged PC infrastructure to a managed model. To this end Intel is bundling its SBA software suite with all of its B75 chipset based offerings. We reviewed Gigabytes B75-D3V last week and covered all of the basic info on that specimen and its Ultra Durable composition, in prior articles. In this article will be using that motherboard as a platform for our exploration of Intel's SBA software.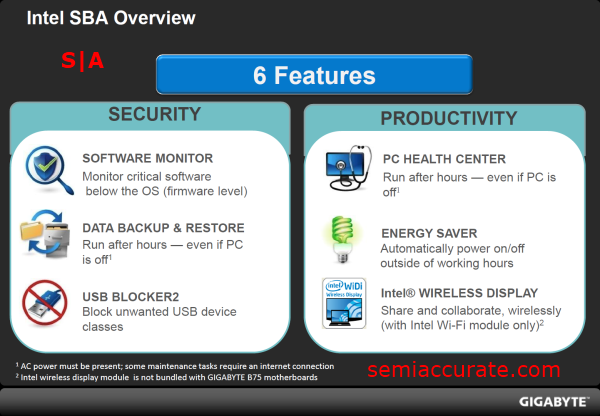 With support for up to 99 PCs, there are six main features of the SBA software suite. They are software monitoring, data backups, USB device blocking, the somewhat ambiguous "PC health center", energy saver, and Intel's WiDi. Enabling the software monitor allows you to get e-mail notifications about issues with certain compatible programs. In the case of our test bed, we only had one compatible application installed, Microsoft Security Essentials. So to test out the functionality of this monitoring service I disabled MSE active monitoring. This caused the Windows Action center to have a small heart attack, but the SBA software monitor didn't even twitch. It would seem to me that if a user disabled a system's active security protection software, the SBA software should be sending out an e-mail notification. The fact that we didn't witness this, causes me some concern.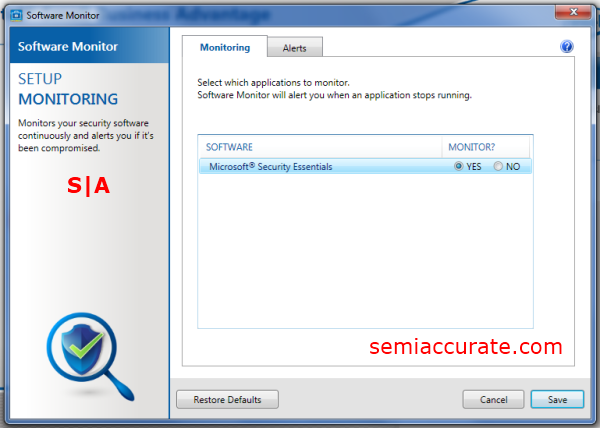 Moving on to the data backup and restore feature of Intel's SBA suite we found that this feature is basically just a front-end for the backup and restore services that Windows 7 ships with. Clicking on the "Launch Backup" button opens the utility built into Windows for this very purpose, and the only thing that the SBA suite seems to do is put this service on a schedule, and offer to wake your computer up, after you've powered it off, to execute this task.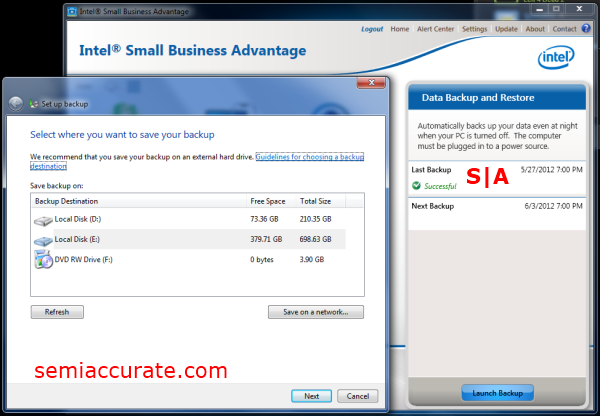 The next feature on the list is USB Blocker2, a rather self-explanatory name for a feature that allows you to white-list certain USB devices, and block everything else. We had a little trouble configuring this feature due to its inability to enable USB blocking when a non-white-listed devices is already connected to the computer. But after we removed all of our attached USB drives, we were able to enable the blocking service and start receiving lovely little pop-up messages letting us know that it was actively blocking our evil mass storage devices.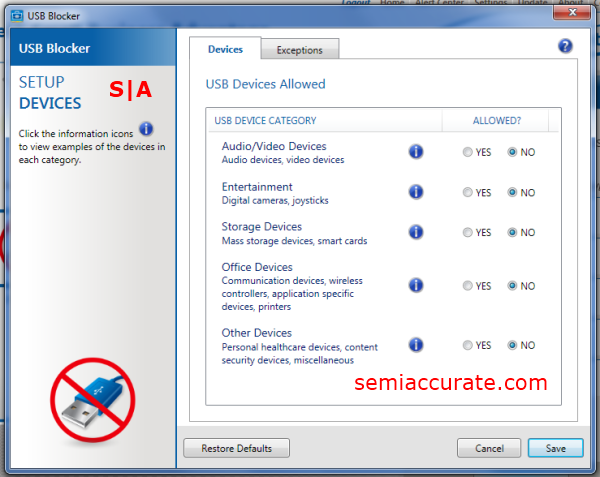 As I mentioned earlier, the name "PC Health Center" is pretty ambiguous. What this feature actually does though can be quite useful. The PC Health Center allows you to set maintenance services, like Disk Defragmentation or  Windows Update, to run either at 2:00 AM every day or at 2:00 AM once a week. On our test platform there were five services we could chose from, Windows Update, Windows Back-up and Restore, Disk Defragmentation, Delete Temporary Internet Files, and Delete Cookies. So if you want to have your systems automatically update or complete maintenance tasks late at night then Intel's SBA software is the tool to use.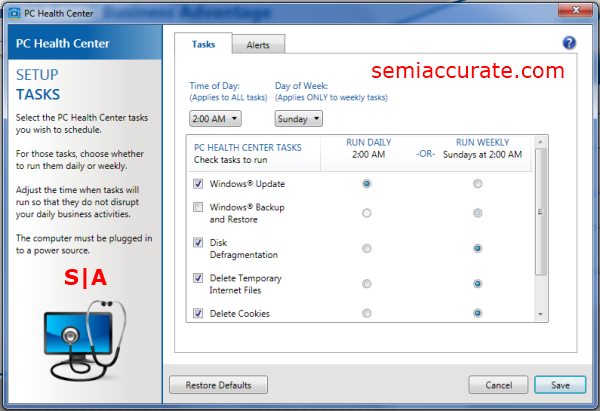 I'm going to skip ahead on the features list here to tell you that we didn't get a chance to test out Intel's wireless display technology. Unfortunately none of the displays in the S|A orbital lab natively support this functionality, nor do we have any of the necessary TV adapters to go that route.
.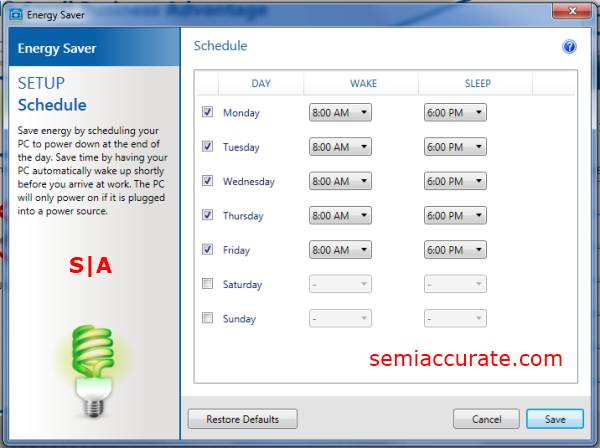 We were able to test out the energy saver feature of Intel's SBA suite though. Energy saver allows you to choose when your computer starts up for the day, and shuts down for the night. For instance you can configure it to wake your PC at 8:00 AM every morning and to put it to bed at 6:00 PM after everyone's gone home for the day. As I'm sure you can already tell, this is a better solution than having someone wander around the office at the end of the day and pretend that they're the "power" police </pun>.
SBA As A Value Additive
So of these six core features three just aren't really all that useful. The software monitor looks promising, but it could use a bit more polishing, and support for a wider array of applications wouldn't hurt either. The data back-up and restore feature is a bit redundant, as you can achieve the same result by using the PC Health Center or using Windows 7's integrated back-up scheduling abilities. Intel's WiDi remains a bit of mystery as we were unable to test it, but its importance for business applications is somewhat suspect, as I doubt that anyone is really planning on using it to stream Intel Insider content to their TV for work related endeavours.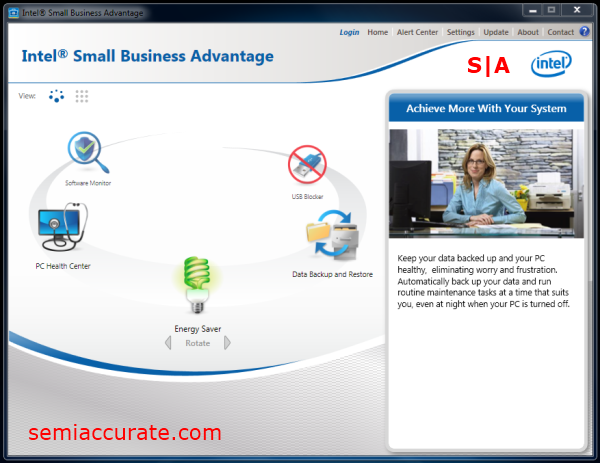 The features that are actively useful within Intel's SBA suite are pretty self-evident. USB Blocker2 seems to be the most useful feature to me, as it allows you to both block unknown USB devices, and selectively white-list those that are pre-approved. Take for example the environment of a small lab of computers on a school campus that serve only the purpose of teaching students how to type. In addition to using restricted client accounts to limit what applications they can access, you can block anyone from using a USB drive to launch a game off of, and prevent your quiet typing lab from tuning into another rowdy LAN party.
The PC Health Center is another one of the useful features. By allowing you to chose to run maintenance tasks in the background, it can make managing the health of you systems a bit easier. Again, it wouldn't hurt if Intel was able to expand the variety of maintenance tasks that could be scheduled through this app, but the selection is workable.
And last but not least Energy Saver; while it's basically a glorified timer, it is quite useful from a management perspective. I'm sure there are plenty of small businesses that leave their PCs running 24/7 rather needlessly, and using Energy Saver's functionality to attend to that isn't a bad idea.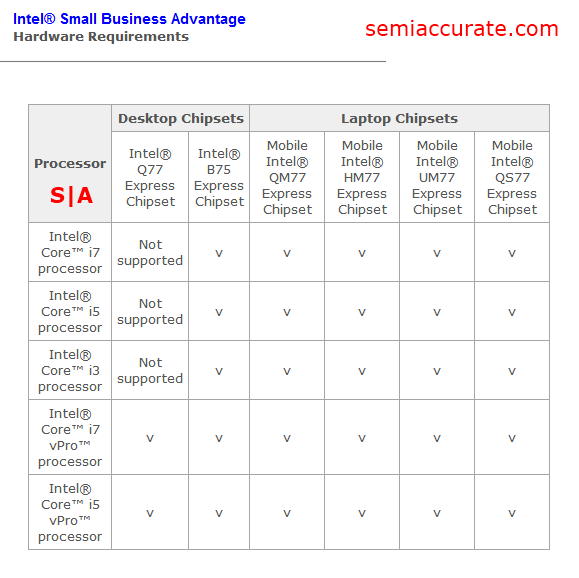 Another important thing to keep in mind is how Intel is splitting apart its vPro and non-vPro product tiers. We can see that this software will only be available on certain chipsets, and in the case of Intel's Q77 chipset, only with vPro chips installed.

More to the point, the differences between vPro features and SBA features seem a bit murky, and the short explanation we found on Intel's website does little to enlighten us other than to demonstrate a difference of scale between vPro deployments and non-vPro deployments.
So there you have it, Intel SBA Software Suite in five minutes or less. I think it's safe to say that Intel has effectively created a value add with its SBA software. Although how desperately you need to move to a PC infrastructure that supports Intel's SBA suite will probably depend on price, and how much you value security. Whatever your choice, it's nice to see that Intel's vPro up-selling strategy hasn't stopped some benefits from trickling down to their low-end offerings as well.S|A
The following two tabs change content below.
Thomas Ryan is a freelance technology writer and photographer from Seattle, living in Austin. You can also find his work on SemiAccurate and PCWorld. He has a BA in Geography from the University of Washington with a minor in Urban Design and Planning and specializes in geospatial data science. If you have a hardware performance question or an interesting data set Thomas has you covered.
Latest posts by Thomas Ryan (see all)