We picked up this slide a few minutes ago from a tweet by AMD's Phil Hughes. Basically it's a quick run down of the advantages of AMD's new "Jaguar" low-power CPU core over the current generation Bobcat core. Just about all of the information in this slide was cover in Charlie's article, but more color on an interesting subject it never a bad thing.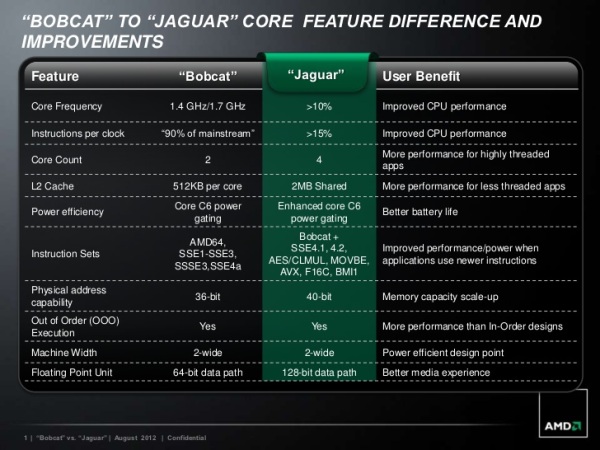 All in all, Jaguar is shaping up to be a competent sucessor to Bobcat and we're looking forward to seeing how the retail products fair against Intel's increasingly aggressive Atom roadmap.S|A
The following two tabs change content below.
Thomas Ryan is a freelance technology writer and photographer from Seattle, living in Austin. You can also find his work on SemiAccurate and PCWorld. He has a BA in Geography from the University of Washington with a minor in Urban Design and Planning and specializes in geospatial data science. If you have a hardware performance question or an interesting data set Thomas has you covered.
Latest posts by Thomas Ryan (see all)