Recently a dear friend of mine purchased an A10 "Trinity" based laptop from HP. I talked him into bringing it over so we could get some photo's of it, and see what a high-end Trinity based laptop looks like. The particular model that we're looking at here is the Dv6, a 15.6″ model with a starting price of $699. This was custom build for my friend through HP's website, so be forewarned you will not find this at Best Buy. He had the standard 720P screen upgraded to a 1080P option, and the stock A8 swapped for an A10, and added a discrete AMD GPU for Dual Graphics capabilities. With the ongoing back to school sale he ended up paying just a hair over $800 when all was said and done.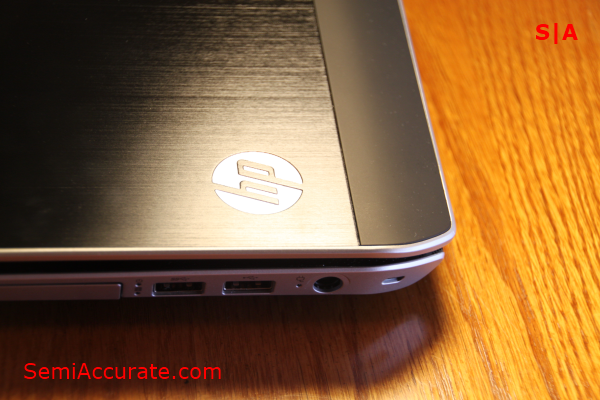 As you can see the build quality on this particular laptop is pretty good. HP has opted to use a brushed meal finish on the lid with a rubberized plastic finish above the screen hinges as the surface of the lid tapers down.
Looking more closely at the right hand edge of the laptop we can see the that the Dv6 packs a slim DVD drive, as well as a pair of USB ports and a battery charging port. Interestingly, you can also see the three tiny LEDs that HP has set aside for showing when the laptop is powered on, when the hard drive is in use, and when the battery is being charged.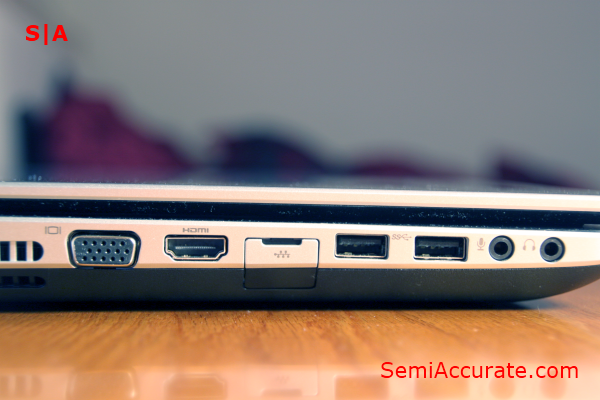 On the opposite edge we have a much wider array of ports including an HDMI out offering. We can also see another pair of USB ports, a VGA port, an Ethernet port, and a Microphone-in and headset-out pair of 1/8″ ports. There is also a vent on this side of the Dv6 for cooling.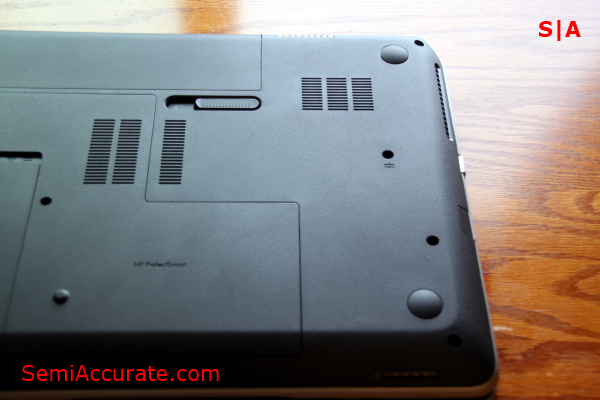 Looking at the base of this laptop we can see a number of different things. First of the battery release latch is visible just under the corner of the battery pack. We can also see four air vents around the base of this laptop, with two located on the bottom, and two located on the edges. Additionally, we can see the rather wide rubber feet that HP has kitted the Dv6 out with. This is an interesting choice give that other manufactures tend to opt for rubber feet that are skinnier and sharper than the ones HP chose here.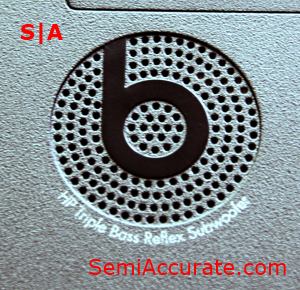 Also on the bottom of the Dv6 is one of HP key laptop value propositions, Beats. The advantage of HP's Beats over a traditional laptop sound systems in this case is the inclusion of a small sub-woofer on the Dv6. In terms of sound quality and loudness the Dv6 is nothing special, but at the same time there is nothing glaringly wrong with the sound quality either. Beats is not a must-have feature, but it doesn't hurt the Dv6 either.
Here we have a better view of the entire lid of the Dv6. Again you can see the brushed metal finish and the silver polished metal edges of the lid.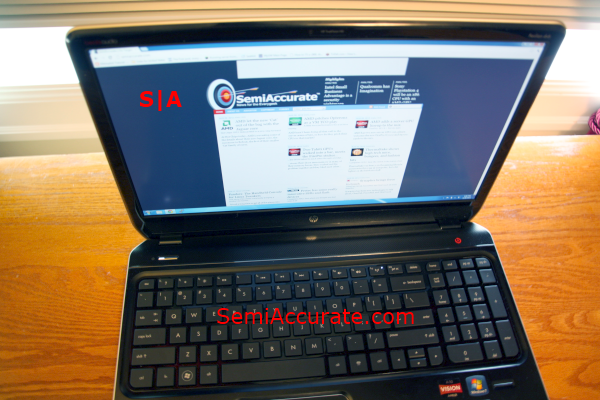 Opening up the clam-shell we can see the full glory of the HD screen, and the island-style keyboard. HP has once again chosen its tried and true approach of covering all of the interior surfaces with glossy hard plastic. So if you demand matte plastic surfaces this is not the laptop for you.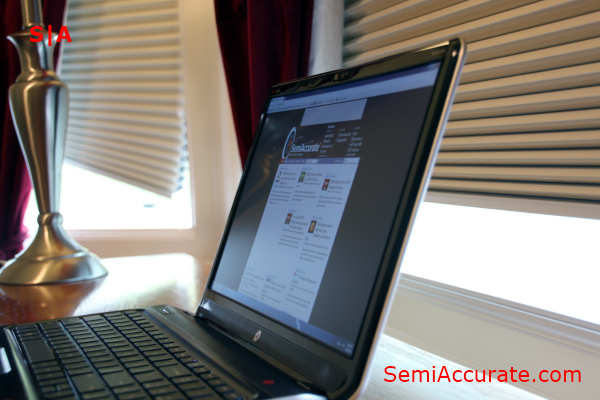 Moving to more of a profile view we can see the speaker bar located under the matte, not glossy, screen. You can also see how thin the keys are on the Dv6. It is a full keyboard, but I can't say that HP has managed to perfect its keyboard designs yet.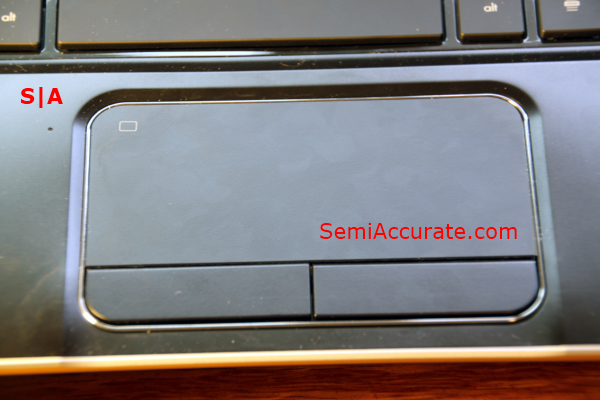 One thing I do want to talk about is the touch-pad on this laptop. More than a year ago, at AMD's inaugural AFDS I had a chance to play with 17 HP notebooks all based on AMD then flagship "Llano" notebook APU. One thing that became increasingly clear as I moved down the line and played with each one of those laptops, was that the touch-pads HP had chosen for them were just horrible. They were slow, occasionally unresponsive, and jittery. They just ruined those laptops for me, which is why I'm so pleased to find that the touch-pad on the Dv6 does not share those issues.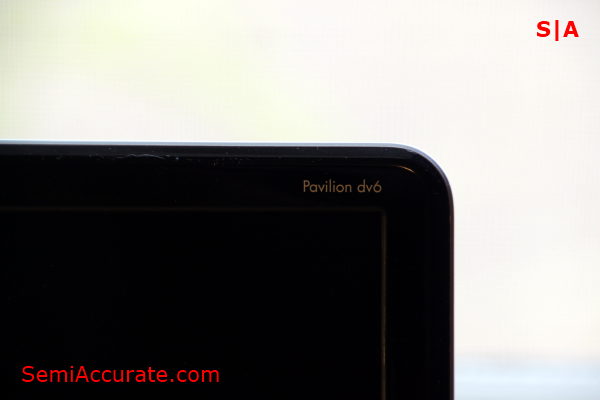 Here we have a closer look at the right corner of the Dv6's screen. As you can see HP has keep the plastic bezel at a reasonable size, but do to it's glossy plastic construction, hairs and dirt are easily visible.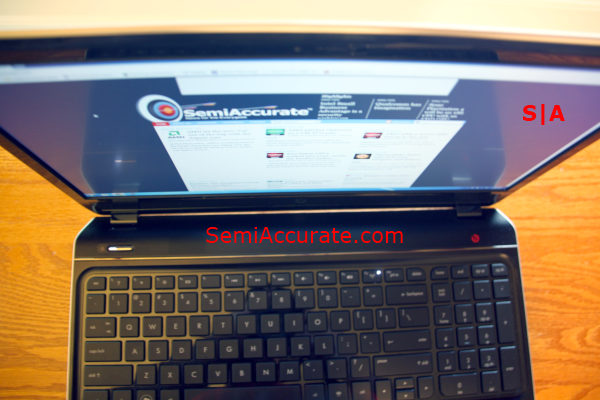 Last of all, I wanted to show off the quality of the upgraded screen on the Dv6. One of the biggest problems with laptops these days are the cheap 1366 by 768 TN panels that OEMs seem to love to saddle them with. The 1080P screen on this Dv6 has good picture quality at extreme viewing angles, and plenty of pixels for its 15.6″ size. Props to HP for not destroying an otherwise fine laptop with a awful screen.
Now since I only had the laptop for a few hours I wasn't able to run any benchmarks on its A10 APU with Dual Graphics. But I was assured that it was more than capable of playing games at medium to high settings at 1080P.  Another key point is battery life, this unit has a six cell battery that, from anecdotal evidence, is good for about 5 hours of web surfing and just over two hours of HD video playback.
Overall the build quality that the HP Dv6 brings to the table is quite good. Plus HP will allow you to customize this offering however you want, and then you can make a pretty powerful APU based machine out of a build with otherwise pedestrian internals.S|A
Editor's note:  This looks to be a significant update to the HP Dv6 S|A had in house four years ago.  The motherboard burnt on that one.  It also had the worst soldering of USB ports we've every experienced.  Hopefully HP has upped their game with this, it looks to be the case, but only use and time will tell. Ed.
The following two tabs change content below.
Thomas Ryan is a freelance technology writer and photographer from Seattle, living in Austin. You can also find his work on SemiAccurate and PCWorld. He has a BA in Geography from the University of Washington with a minor in Urban Design and Planning and specializes in geospatial data science. If you have a hardware performance question or an interesting data set Thomas has you covered.
Latest posts by Thomas Ryan (see all)