Sapphire had a little gem hidden in their show room during Computex.
It's a specially designed motherboard for multi-display applications, especially digital signage markets, with a layout that's quite different from a normal desktop board.
The motherboard specifications are not necessarily spectacular, the board has Socket FM2 for Trinity APU support, two DDR3 SO-DIMMs, and four HDMI 1.4a display outputs. For the connectivity options, the board has a great variety of options on board: five SATA 6.0 Gbit/s ports, dual Gigabit Ethernet ports, one mini PCI Express slot, one mSATA slot, an additional open-ended PCI Express x1 slot and four USB 3.0 ports (more from the USB headers on-board).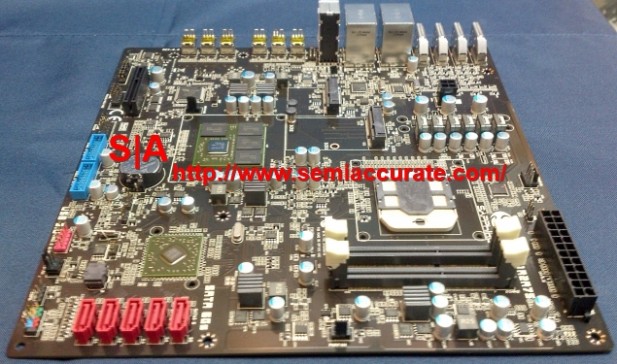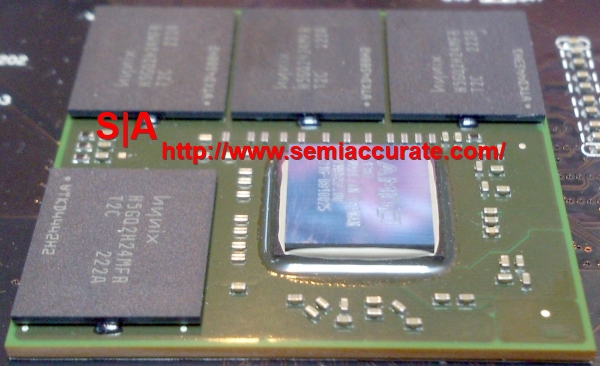 With a little twist, Sapphire put an AMD Radeon E6760 embedded GPU on-broad with 1 GB (128-bit) GDDR5 memory on the GPU package. And since this little embedded GPU can support Eyefinity with up to six monitors Sapphire rightfully put an additional six mini DisplayPort 1.2 display outputs on-board, thereby getting ten display outputs for the whole motherboard. Here's a shot of the back panel showing four HDMI (from the APU integrated graphics) and six mini DisplayPort connectors (from the Radeon E6760 discrete GPU).


If this board should ever hit the market, it would be placed inside a wall-mounting chassis with all the components, the APU, the memory, the SSD (or traditional SATA 6.0 Gbit/s HDDs), the power supply and all necessary stuff included and sold as a complete system with ten display outputs, with the addition of a PowerCastX software license for display configuration and content management as a package. The customer can connect the system to the LAN with the GbE ports, and configure this digital signage system remotely for easy management.
Although this motherboard is only a proof-of-concept design it's actually the sheer amount of on-board display connectivity that counts, unlike the other 18-screen setup at another corner of the same room. A neat motherboard indeed. S|A
Have you signed up for our newsletter yet?
Did you know that you can access all our past subscription-only articles with a simple Student Membership for 100 USD per year?   If you want in-depth analysis and exclusive exclusives, we don't make the news, we just report it so there is no guarantee when exclusives are added to the Professional level but that's where you'll find the deep dive analysis.
The following two tabs change content below.
Leo Yim is our correspondent from the far flung reaches of East Asia. Fluent in Mandarin, Cantonese and English he'd rather be talking about computers no matter what language. A true detail man he dreams of building gaming rigs from workstation class parts.