The usually high-profile NVIDIA surprisingly took the low-profile route of marketing during Computex 2013.
So basically what they do is to rely on their partners' booths, each provided a corner as a showcase of "collaborated" products between NVIDIA and the partner company; coupled with a lucky draw event.
On the show floor: The spot-the-girls game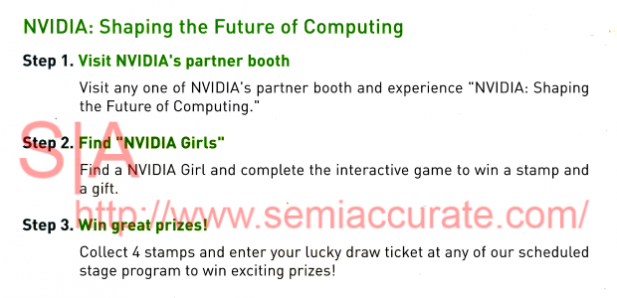 There are showgirls standing around different partners' booths each day, 20-30 minutes for each partner booth (maximum 2 sessions in the same 30-minute slot). The showgirls held demo units of NVIDIA-enabled gadgets (including NVIDIA Shield and a Tegra 3 tablet), attendees are free to try the devices (not free to play with, this will be explained later). After the experience session, a lucky draw leaflet containing the schedule of the showgirl activity/partner stage events and several small gifts will be handed out, and the attendees will also get a stamp on their lucky draw ticket. Collecting all 4 stamps from the showgirls and collaborated partner stage events will entitle the person one lucky draw entry with unspecified NVIDIA products as prize, and winners will be notified after the show through the personal information (including email) provided on the lucky draw ticket.
However, the showgirl schedule is completely unbeknownst to any attendees until you meet the first NVIDIA showgirl in front of one of their partner booths, and get the leaflet with the timetable printed inside.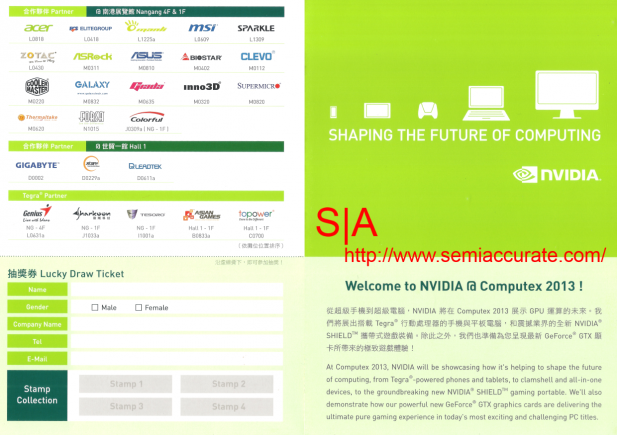 The leaflet (Click for a larger version)


The showgirl/partner stage event timetable (Click for a larger version)
So they have a booth there!?
Yes, they have, the actual booth number is N1427, but it's only a small room for potential buyers with a counter in front for reception purposes (and collecting the lucky draw tickets), the room is surrounded by solid NVIDIA green walls. [Author's note: The NVIDIA booth is so plain that the author forgot to take a picture, which is a shame.] Compare their surprisingly small booth this year, a small little booth that's away from the center of the showfloor and the large brands, last year's booth is a fairly large booth among the big names that's still near the center of the showfloor. The same showfloor, different strategy.
The alternative they chose? NVIDIA has a demo suite (by invitation) up in the Grand Hyatt Taipei Hotel, showcasing some of their technologies, like Tegra 4i prototype tablet and smartphone [Author's note: Think about why NVIDIA didn't show an actual partner design in this kind of tradeshow?], NVIDIA Shield showing it's streaming capabilities and NVIDIA GRID.
Don't know where to look?
There is one "partner" that's not on the list above, the company is called BungBungame, a mobile app developer and a tablet maker based in Taiwan. The company is showing an actually neat tablet, called KALOS, with all the top-end features, 13 megapixel Sony camera, 10.1-inch 2560×1600 IPS IGZO screen from Sharp, Miracast support, 4K video output capabilities and Android 4.2 operating system. The best thing, it uses NVIDIA Tegra 4 processor. <deadpan>Yay. </deadpan> The price is not disclosed, but under that package we were a little worried about the battery life and capacity, also the product volume to actually make it worthwhile.
So why the low-profile?
For any large computer trade show, any company would want a big launch to coincide with it, this year Intel did with their Haswell processors, AMD with Kabini and Temash. What about NVIDIA? They have nothing. Tegra 4 and 4i were announced in January and February respectively, NVIDIA Shield started accepting pre-orders two and a half weeks before the show, and GRID VCA was announced in March. And these are what they were showing in the demo suite.
The GK11x line (sans GK110) should launch during Computex 2013, that was, however, canceled in favor for an impending series of rebrands based on a new bin of the old GK10x line, the graphics cards authorized board partners have nothing shiny and new from NVIDIA to show in their booths besides these rebranded cards, namely GeForce GTX 780 and GTX 770, that were announced at May 23 and May 30 respectively, all reference designs and no custom PCBs. Therefore, to keep the brand awareness around the showfloor, they had to rely on their partners.
However, this is not the best way to do a trade show event by avoiding direct comparison on the show floor. The company still has a few victory announcements pre-show, claiming the design wins from their partners, this is, however, nothing spectacular. For those who didn't attend the public showing day of Computex 2013 on June 8, 2013, you didn't miss a thing from NVIDIA this year, see you in Computex 2014. S|A
Have you signed up for our newsletter yet?
Did you know that you can access all our past subscription-only articles with a simple Student Membership for 100 USD per year?   If you want in-depth analysis and exclusive exclusives, we don't make the news, we just report it so there is no guarantee when exclusives are added to the Professional level but that's where you'll find the deep dive analysis.
The following two tabs change content below.
Leo Yim is our correspondent from the far flung reaches of East Asia. Fluent in Mandarin, Cantonese and English he'd rather be talking about computers no matter what language. A true detail man he dreams of building gaming rigs from workstation class parts.