Gigabyte was not shy about showing accessories this year and they had a few unique twists as well as some more mainstream offerings. Of particular interest was a GPU cooler, two mice, headphones, and a speaker set.
Enthusiasts always gravitate to the high-end GPUs and Gigabyte had one new item there even though the base offerings were not updated for Computex. The new GV-NTITANOC-6GD-B is an overclocked Nvidia Titan card that has a custom cooling solution. Most of you will remember that Nvidia is only selling reference design Titans as a complete device, an AIB can't make their own version. Worse yet the cooler is likely limiting performance because the Titan doesn't overclock well if you don't have a 'completely average' press sample.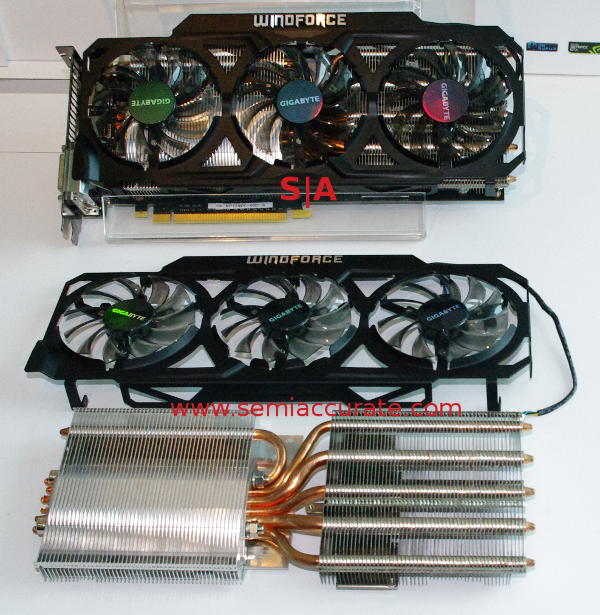 The card in exploded form
Gigabyte gets around this by shipping you a stock Titan complete with stock heatsink and fan, and also puts their own version in the box. This is a very serious cooler, there are six heatpipes and two fin arrays all capped off by three large fans in a metal, not plastic frame. The new cooler is said to be able to dissipate 450W or so, 150W in Nvidia Fermi-speak, more than enough for even insane overclocking work.
All of this fits in the normal 2-slot cooling form factor so there shouldn't be any clearance problems. That said you might want to keep a slot free between this and the next card just to be on the safe side, 450W is borderline hairdryer territory. What do you get for all of this? Core clock are set at 928MHz instead of the stock 837, memory clocks are a bit over 6GHz, and boost clocks are up 104MHz to 980. These are not trivial increases, nor is the effort Gigabyte goes through to get to them.
SemiAccurate doesn't write about mice very often but the Gigabyte Aivia Uranium is different from the rest in several unique ways. On the surface it sounds like a typical wireless gaming mouse, 6500DPI optical engine, 50 hours use on two AA batteries, 10 programmable keys, retractable cord, and programmable everything. So far, so me-too.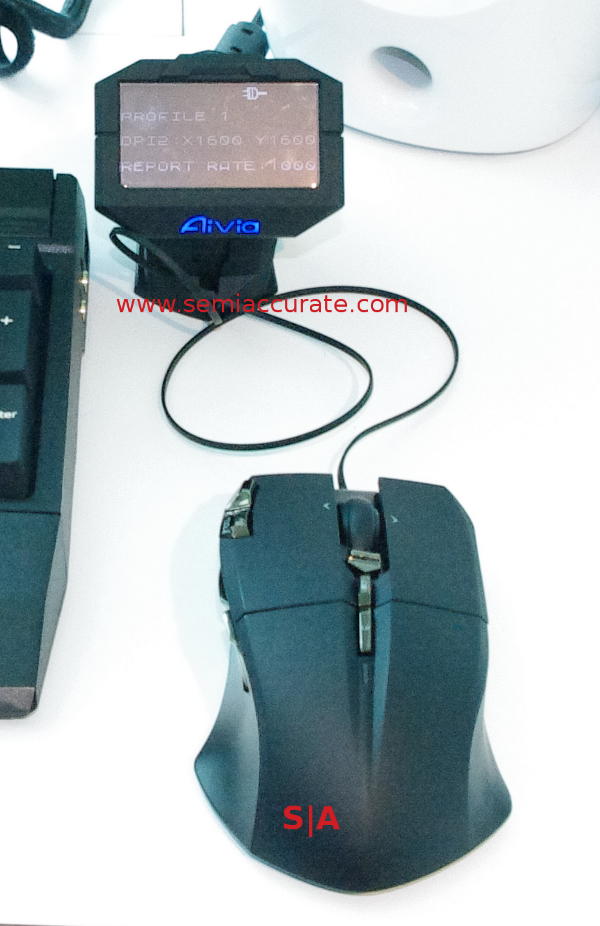 Note the screen on top of the mouse
The base station and charger are where things take a turn for the very interesting starting with a fairly large and bright OLED screen. This base station allows Gigabyte to remove the memory and settings from the mouse itself saving weight, cost, and battery life. The mouse only has what it needs, the rest is in the base, and the settings can be shown off on the screen for those who like fiddling. There is a full menu system so you can program things from the mouse directly and change all sorts of settings without leaving the game itself. It may not change the world but it is a really handy feature to have especially since there aren't any compatibility worries when dropping out of the game to tweak.
Next up we come to two audio devices, a speaker set and a pair of headphones. The headphones are called Fly because they are really lightweight, 79g in fact. In spite of this weight, or lack thereof, Fly has 40mm drivers and soft leather cushions. The sound is quite nice for such small and light headphones, and best of all the weight means they are comfortable and won't dig in during long-term use.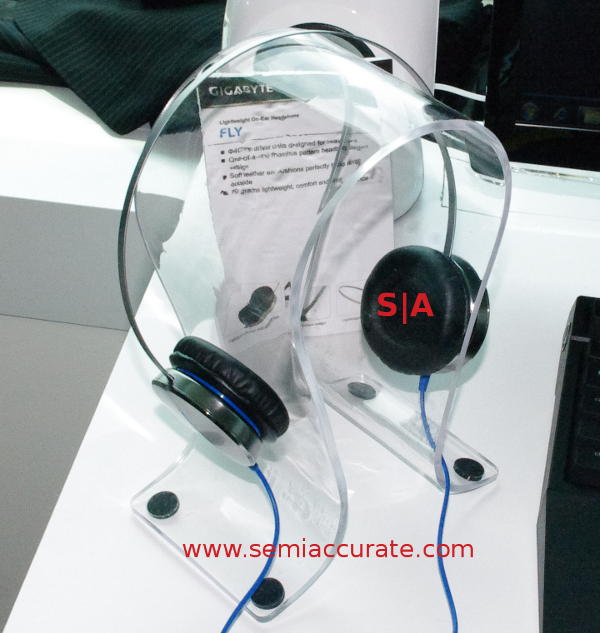 Fly headphones weigh a bit more than their namesake
On the desktop side the S3000 speakers are notable because they are not USB speakers, they are USB3 speakers. If you are getting flashbacks to the days of Internet compatible mouse ads, fear not, there is a good technical reason for speakers to be USB3. USB3 offers more power delivery than USB2 so that the speakers can be louder especially on the bass side. The S3000s demonstrated at Computex won't shatter your eardrums but they are notably more powerful than the current USB2 versions.
The last thing up is the Aivia Neon, another wireless mouse with enough twists for a series of mystery books. It is a rechargeable wireless mouse with a dockable USB radio module. Neon also is a full 'air mouse' gyroscopic presentation device as well with a laser pointer built-in for good measure. This is unusual but not unique. What really got our attention was the USB transmitter, it doubles as a charger. There are two contacts on it and in the bay so that when you plug it in to the mouse, you have an integrated USB charger. This is so much nicer for the business traveler than yet another cord in the bag that it is almost laughable.
Gigabyte had a lot of things at Computex that were not the usual boards or laptops. All of them had at least one feature that made us stop and take notice. There were several other companies that had standout single devices, but none with the sheer breadth of what Gigabyte was offering. Who says innovation is dead?S|A
Have you signed up for our newsletter yet?
Did you know that you can access all our past subscription-only articles with a simple Student Membership for 100 USD per year?   If you want in-depth analysis and exclusive exclusives, we don't make the news, we just report it so there is no guarantee when exclusives are added to the Professional level but that's where you'll find the deep dive analysis.

The following two tabs change content below.
Charlie Demerjian is the founder of Stone Arch Networking Services and SemiAccurate.com. SemiAccurate.com is a technology news site; addressing hardware design, software selection, customization, securing and maintenance, with over one million views per month. He is a technologist and analyst specializing in semiconductors, system and network architecture. As head writer of SemiAccurate.com, he regularly advises writers, analysts, and industry executives on technical matters and long lead industry trends. Charlie is also available through
Guidepoint
and
Mosaic.
FullyAccurate
Latest posts by Charlie Demerjian (see all)