MSI was showing off two interesting mobo lines at Computex, the Power and Gaming series both of which had some interesting features. Due to the lack of new GPUs the normal plethora of OC cards was sadly absent.
The highest end boards are the xPower family with x being either Z or M, some with the Max tag appended for good measure. The highest end version is the Z87 XPower, an XL-ATX form factor Haswell board based on the Z87 chipset. In case you are wondering why any company needs to design a board in this massive form factor, take a look at the PCIe slots.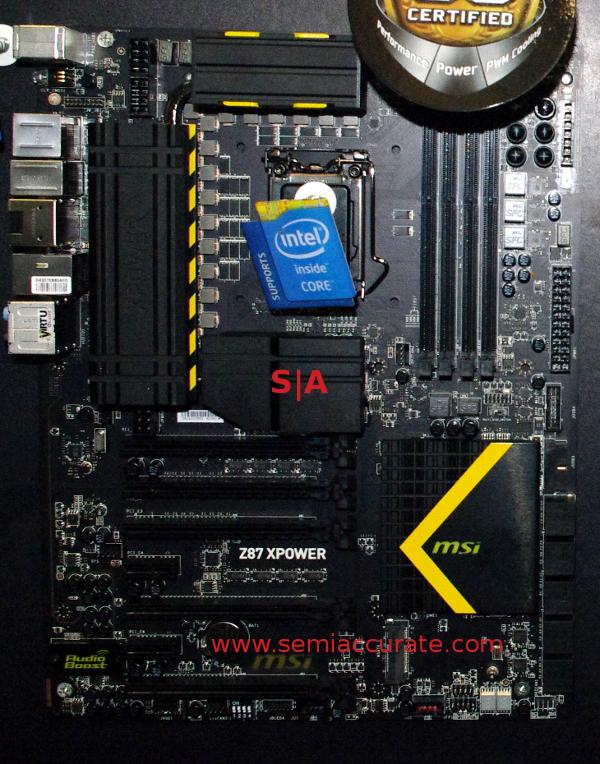 5-Slots for 4-way CrossfireX
If you are looking for a board that has everything, this one is pretty close to hitting all the checkboxes. 5 PCIe slots? Yup, all 8x but that is expected with a PLX chip doing the heavy lifting. 32-Phase power checks the 'sufficient' box there along with 4 DIMM slots rated to DDR3-3000 if you can find the RAM for that speed. Add in 10 SATA6 ports for a decently fast RAID array and 12 USB3 ports if that isn't enough. Should you need any more there are also six USB2s as well, massive boards have their up sides.
Should you not want to take up more floor space than a decent bed for your PC, the Z87 MPower Max shaves a few inches off with a normal sized board. It 'only' has 3 PCIe slots, 20-phase power, 8 SATA6 ports, and 10 USB3 plus 6 USB2 for good measure. Even this 'cut down' board should be more than enough for most enthusiasts.
From there MSI offers several lower end parts that are smaller, less expensive, and have a few less of all the major features listed above. Even the lowest end version is pretty feature packed, something you would expect from a high-end overclocking board. The best part of this line is that the color scheme is not painfully garish, MSI managed to pull off yellow and black colors without burning retinas. Good job there.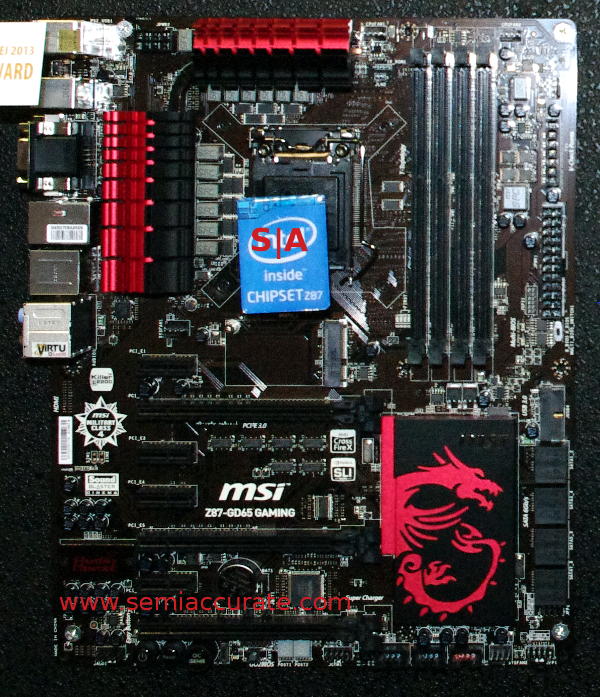 Look sir, dragons!
The next step down from the Power line is the Gamer line, but many would say it is a step sideways. Instead of the massive power delivery and OCing features, the Gamer line is aimed at, no points if you guessed it, gamers. The features are a little less aimed at sheer speed and more aimed at playing games.
This line is topped out by the Z87-GD65 Gaming, a Z87 based Haswell board with 3 PCIe3 slots. Differentiating this from the Power line is mainly down to the Killer Ethernet chip and Military Class components, not to mention added support for higher end audio. There are a few less SATA6 ports, eight, and a few less USB3 with six, but USB2 has upped the number to eight. If you are a gamer, this board is a much better choice than the Power line if you aren't in to pushing OCing limits.
Lower down the stack there is a Z77A-G43 gaming for Sandy/Ivy chips based on the Z77 chipset, and also some more lower end Haswell/1150 and Sandy/Ivy boards too. All have a few less of everything but nothing that most people will miss, the core features are the same. If you can live with one less PCIe slot or a handful fewer USB or SATA ports, these might be worth a look.
Best of all MSI did the color scheme in a tasteful way once again. The big red dragon on the heatsink is big and red but it is a subdued red. No retina searing colors makes for a good color scheme in our book, and this one is actually very nice. That is a good summary of the MSI boards at Computex, lots of features and tasteful, dare we say good-looking, colors.S|A
Have you signed up for our newsletter yet?
Did you know that you can access all our past subscription-only articles with a simple Student Membership for 100 USD per year?   If you want in-depth analysis and exclusive exclusives, we don't make the news, we just report it so there is no guarantee when exclusives are added to the Professional level but that's where you'll find the deep dive analysis.

The following two tabs change content below.
Charlie Demerjian is the founder of Stone Arch Networking Services and SemiAccurate.com. SemiAccurate.com is a technology news site; addressing hardware design, software selection, customization, securing and maintenance, with over one million views per month. He is a technologist and analyst specializing in semiconductors, system and network architecture. As head writer of SemiAccurate.com, he regularly advises writers, analysts, and industry executives on technical matters and long lead industry trends. Charlie is also available through
Guidepoint
and
Mosaic.
FullyAccurate
Latest posts by Charlie Demerjian (see all)