Corsair was showing its new components focus at Computex with a wide range of gaming devices for the end-user. While flash was a little quiet this year, the DRAM that they are known for hit some rather silly heights.
The first thing you saw when you walked in to the Corsair suite is a big case, and we mean really big case. The monster below is called the Carbide Air 540, and if it looks like two mini-tower cases welded together side by side that is mainly because this is what the 540 is. The left side is for the mobo and all things directly mounted to it, and the front has massive fan mountings where drives normally go. The rear is also fan mount heavy so there is a straight airflow path over the high wattage components.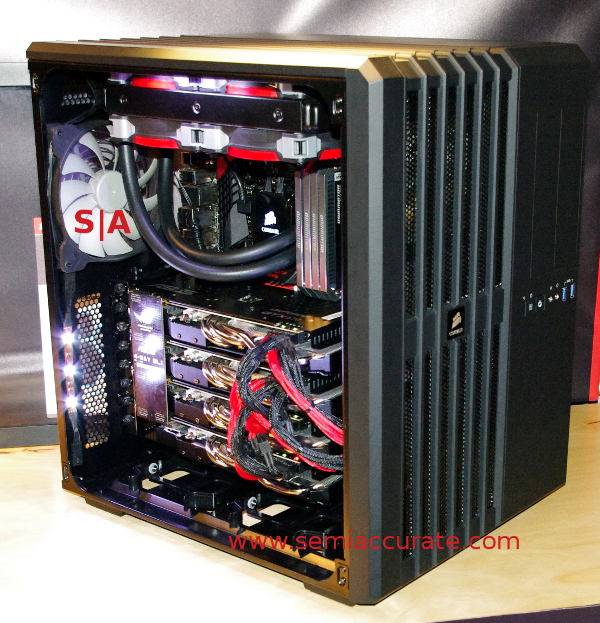 Carbide Air 540 Mobo 'hot' side
The other side is for cooler components, drives, SSDs, and PSUs. It is separated by the metal mobo mounting plate so most of the heat will not be radiated in to this side. While you could mount fans in this area, the ones in the PSU should be more than sufficient to keep everything cool. HDDs and SSDs do not make good cooking implements to begin with, mild airflow is plenty. This dual case design is an interesting idea, from my point of view there is no real downside to it.
You are probably familiar with the Corsair keyboard line, and this year there are three new keyboards, the Vengeance K70, K65, and Raptor K50. The K70 is not really new but now it comes with Cherry blue or brown mechanical switches in addition to the previous red ones. K65 is the same thing without a 10-key pad, and both have the same per-key lighting feature that is really handy gaming in the dark.
K50 is an addition from Corsair's purchase of Raptor so it is a bit different from the Vengeance line. It has full 24-bit RGB backlighting so you can make every row a smooth color gradient without banding or dithering effects. Because Cherry switches don't have enough leads for proper backlighting the K50 uses rubber domes so win some, lose some. This one has the full complement of gamer features, 18 programmable keys, multimedia buttons, and on-device profile storage.
The Raptor purchase also added two new mice to the range, the M30 and M40. The M40 is a 4000DPI optical mouse that looks a lot like an M65-lite. It has all the usual gaming features plus three adjustable weights on the bottom and a heavy metal scroll wheel. I would expect an M65 update to add most of these features, if not the M65 seems a little pointless.
On the other hand the M30 is a completely different beast, it looks nothing like the rest of the Corsair line and is bereft of the usual shiny blinky things from this category. It has a big plastic scroll wheel, big PTFE pads, and grippy rubber coatings, think function over frills. Under the hood it has the same 4000DPI scanner and a 1000Hz poll rate for gamers. This could be a nice option for the majority who don't need all the 739 settings that many mice come with.

Vengeance Pro now comes in gold
What would a trade show be without Corsair pushing the boundaries of memory speeds? The new Vengeance Pro has an 8-layer PCB and ups the speeds from DDR3/1600 to 2933 for the main lines, good luck getting a mobo that will support that with any regularity though. If you do happen to have one Corsair has a more limited run of DDR3/3200 parts at CAS 11. Those who have been in the PC space for a while might recall that DDR3 was meant to run from 800-1600MHz and now Corsair just doubled that number. Nice one.S|A
Have you signed up for our newsletter yet?
Did you know that you can access all our past subscription-only articles with a simple Student Membership for 100 USD per year?   If you want in-depth analysis and exclusive exclusives, we don't make the news, we just report it so there is no guarantee when exclusives are added to the Professional level but that's where you'll find the deep dive analysis.
The following two tabs change content below.
Charlie Demerjian is the founder of Stone Arch Networking Services and SemiAccurate.com. SemiAccurate.com is a technology news site; addressing hardware design, software selection, customization, securing and maintenance, with over one million views per month. He is a technologist and analyst specializing in semiconductors, system and network architecture. As head writer of SemiAccurate.com, he regularly advises writers, analysts, and industry executives on technical matters and long lead industry trends. Charlie is also available through
Guidepoint
and
Mosaic.
FullyAccurate
Latest posts by Charlie Demerjian (see all)