AMD is updating their Never Settle games bundle to include more cards, tiers, and variety. The new Never Settle Forever bundle adds a lot but removes a little.
The first thing you can say about Never Settled Forever (NSF) is that lawyers were involved with its creation because forever is defined as infinite time up until December 31, 2013 when the program ends. With that downer in mind there is a lot of good in NSF including three tiers called Bronze, Silver, and Gold. With these levels you can pick one, two, or three games from a list depending on which card you bought.
It works like this, buy a 7700 series card and get a Bronze bundle, 7800 series for Silver, and 7900 for Gold. You either get a physical card in the box with a code or an email with that code in it depending on who you buy the card from and what brand it is. In the end you get the same bundle regardless of the delivery method.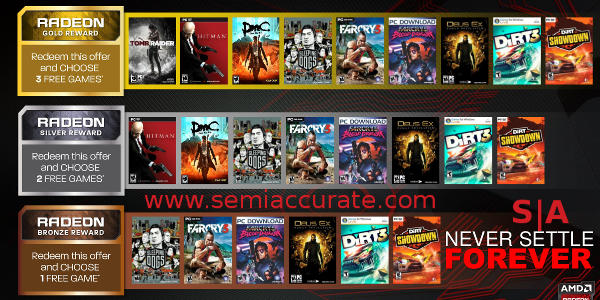 Three levels, up to three picks from nine choices
From there the user logs into the NSF portal on AMD's site and picks the 1-3 games they want from the above list. If you have multiple choices, you must redeem all games at one time, you can't pick one and then wait to decide on the rest. This is a bit unfortunate because AMD is promising to add games to the bundle at a later date. If there is one you want now and one coming next month, you have to wait on both or pick something else. That said the choice is better than a fixed bundle any day.
From there you are given a code for Steam or whatever developer digital download program offers the games you want. If you lose your code or whatnot you can always log back in to the portal and grab another copy of it and use it however Steam or other services allow. It is a pretty simple scheme which means only a large number of people will screw it up.
AMD puts the value of the bundles at $50 for the Bronze, $100 for Silver, and $150 for Gold or about half the price of the card. If you shop around you can find many of the choices on sale for quite little money but all told it is a solid deal. The only down side to the choices are that Bioshock Infinite and Crysis 3 from the last bundle are absent. Hopefully this will change with a few updates and additions in the near future, this isn't a static program.
Looking forward in time it is easy enough to see where this is going. Adding developers and titles to the mix, adding and subtracting offers as prices fluctuate, and even one time deals to sweeten end of life products. Do you want an HD8799 now or will you wait 4 months to get the impending HD9799 for about the same money? What if we threw in a copy of Unreal 6 and Final Final Fantasy 4 for free? For things to get really interesting AMD just needs to implement a way of 'upgrading' levels for a small fee.
If AMD pays $5 or so per title, a lot of Bronze buyers would step up to Silver for $10 and Gold for $20. Registered owners could get an email with special $20 offers for one more title here and there too, loyalty programs are quite effective you know. Better yet about two years after a purchase, an email saying, "If you upgrade to a new AMD card in the next 60 days, you will get a bonus title on the next bundle for free" would be one heck of a nudge to many gamers, especially if it included the "New Hot WW7 Shooter Part 4: Return of the Guy You Killed Twice in Part 3!" they were drooling over the release of. The rabbit hole only gets deeper from there, hopefully it will only be used for good.S|A
Have you signed up for our newsletter yet?
Did you know that you can access all our past subscription-only articles with a simple Student Membership for 100 USD per year?   If you want in-depth analysis and exclusive exclusives, we don't make the news, we just report it so there is no guarantee when exclusives are added to the Professional level but that's where you'll find the deep dive analysis.

The following two tabs change content below.
Charlie Demerjian is the founder of Stone Arch Networking Services and SemiAccurate.com. SemiAccurate.com is a technology news site; addressing hardware design, software selection, customization, securing and maintenance, with over one million views per month. He is a technologist and analyst specializing in semiconductors, system and network architecture. As head writer of SemiAccurate.com, he regularly advises writers, analysts, and industry executives on technical matters and long lead industry trends. Charlie is also available through
Guidepoint
and
Mosaic.
FullyAccurate
Latest posts by Charlie Demerjian (see all)