There has been a lot of talk about game bundles and the new R-series GPUs lately and AMD just put it to bed with Battlefield 4. Yes if you buy just about any AMD R9 card you now get Battlefield 4 free.
The reason for this is simple enough, AMD cut prices on their mid-range GPUs and priced Nvidia out of the game. Nvidia responded by cratering prices and adding a somewhat lackluster bundle of games. While bundles don't make up for massive price or performance disparities, when things are close they can sway people here and there. As a response AMD did the expected and bundled the season's hottest game with their cards.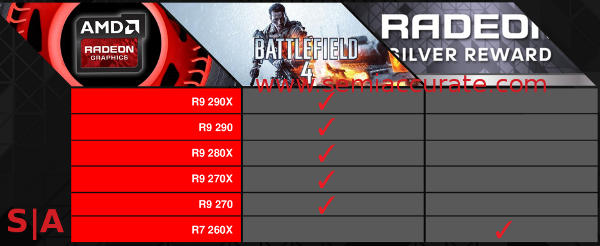 R9 = BF4, R7 260X = Silver, got it?
As you can see above you now get BF4 with any R9 level card, a AAA-level game that most of the target audience for an R9 will probably end up buying anyway. Since the R9 270X currently retails for about $199, getting a $60 game in the box is a pretty hefty discount. This bundle will sway a lot of gamers, count on it.
Of lesser import is the Never Settle Forever Silver bundle that comes with the R7 260X card. The news here is that the choices now include Thief, pick any two of the nine games. Most of the Silver titles however are a bit long in tooth and are available for far less than their $60 MSRP if you do any poking around. That said for a $139 device it is still not a bad deal even if you just want one of them..
In the end this is just another round of the GPU price wars where hard prices are tweaked with various sweeteners. AMD started with hard numbers, Nvidia responded with some hard numbers and a few soft nudges. To this AMD responded with the headshot of Battlefield 4, clean kill. Until next time which if history is any guide won't be long now.S|A
Have you signed up for our newsletter yet?
Did you know that you can access all our past subscription-only articles with a simple Student Membership for 100 USD per year? If you want in-depth analysis and exclusive exclusives, we don't make the news, we just report it so there is no guarantee when exclusives are added to the Professional level but that's where you'll find the deep dive analysis.
The following two tabs change content below.
Charlie Demerjian is the founder of Stone Arch Networking Services and SemiAccurate.com. SemiAccurate.com is a technology news site; addressing hardware design, software selection, customization, securing and maintenance, with over one million views per month. He is a technologist and analyst specializing in semiconductors, system and network architecture. As head writer of SemiAccurate.com, he regularly advises writers, analysts, and industry executives on technical matters and long lead industry trends. Charlie is also available through
Guidepoint
and
Mosaic.
FullyAccurate
Latest posts by Charlie Demerjian (see all)