Today at AMD's Developer Summit the man of the hour was HP's Gary Cambell. Who stood up and told the world about the no-so-secret Opteron X-Series based variant of HP's project Moonshot server architecture. This design win is a big coup for AMD's struggling server business. With new and aggressive leadership from Andrew Feldman, former CEO, of SeaMicro, AMD laid out a new roadmap at the beginning of the year that heavily leveraged its upcoming and existing APU products to compete in both the traditional server market and the micro-server market at which products like HP's Moonshoot are aimed.
HP's promised big reductions in cost, power consumption, and total-cost-of-ownership to project Moonshot buyers. To that end AMD's Opteron X-series chips are well suited to HP's servers due to their low power consumption, cost, and the simplicity of their system-on-chip architecture.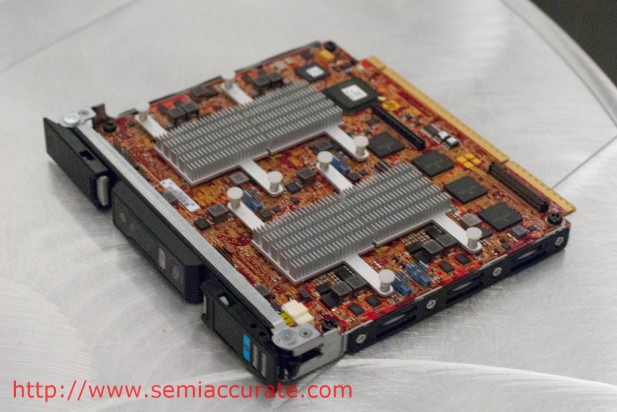 Initially aimed at the Virtual Desktop Infrastructure (VDI) market the AMD-based HP Moonshot cartridge is hopefully the first step towards a tighter relationship with HP and a more prominent server market position for AMD.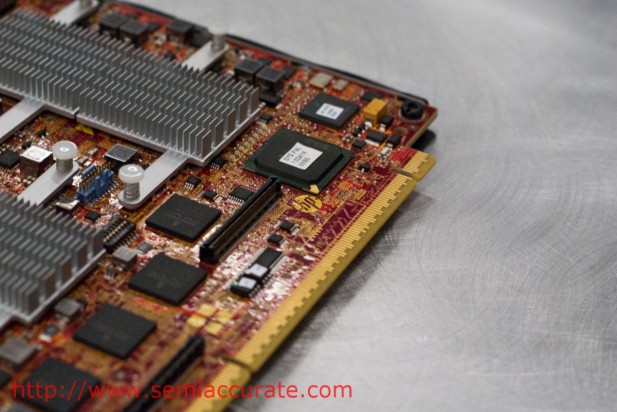 There's a number of interesting thing about the physical design of this board. First off HP has located all of the SODIMM DDR3 memory slots on the under side of the cartridge and situated the heatsinks on the APUs so that air will flow from right-to-left across them. There are also four Broadcom controllers on the top of the PCB that are likely for networking purposes.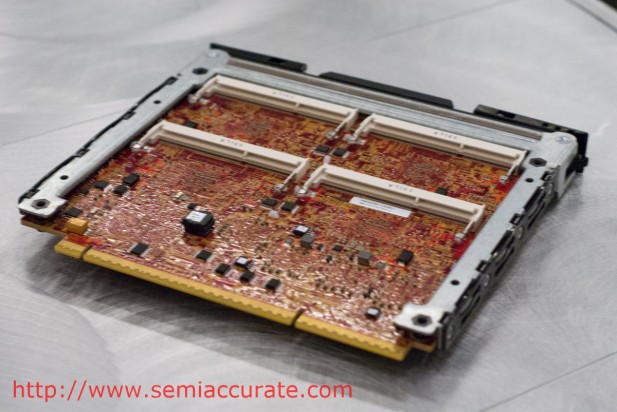 The Opteron X-Series is rated for TDPs of 9 to 22 watts, but based on the low-profile heatsinks on HP's Moonshot board we're inclined to believe that HP's implementation of the X-Series is on the low-end of that spectrum.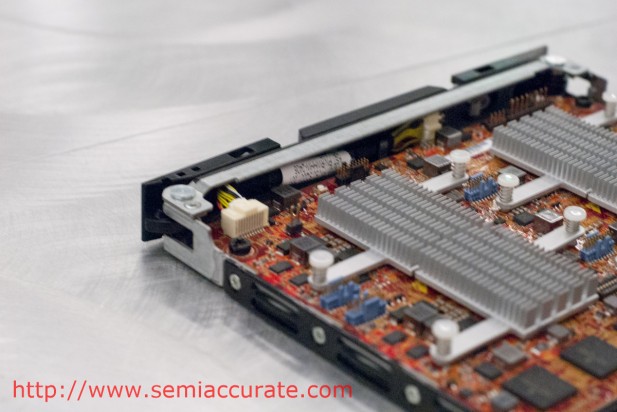 In terms of size the whole moonshot cartridge has similar dimensions to a mouse pad and is somewhere below 20mm thick.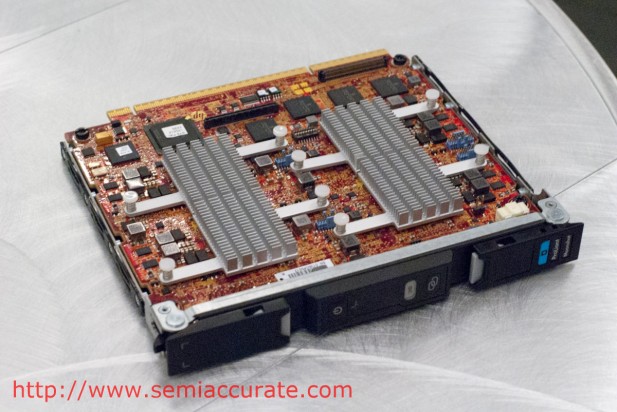 Everything about this Moonshot cartridge shouts from high on the hilltop that it's designed from the ground up for the highest level of density physically possible.
HP's Moonshot was big news when it launched and months later it appears that HP's ready to tackle the VDI market in the hopes that HP can offset the loss of corporate laptop and desktop sales to VDI solutions by bringing in higher margins on the server infrastructure required to power that model of computing.S|A
The following two tabs change content below.
Thomas Ryan is a freelance technology writer and photographer from Seattle, living in Austin. You can also find his work on SemiAccurate and PCWorld. He has a BA in Geography from the University of Washington with a minor in Urban Design and Planning and specializes in geospatial data science. If you have a hardware performance question or an interesting data set Thomas has you covered.
Latest posts by Thomas Ryan (see all)