If the LSI WarpDrive XP line is too tame for you, you might want to consider the upcoming Warpdrive Nytro 7000 series. Since the XP is designed for read intensive workloads and cost you have to wonder what LSI offers for higher end customers, that would be the 7000.
As you might expect, the 7000 line of Warpdrives is above the 6000 line in just about everything from performance to cost to capacity. Since these new parts have not been announced yet LSI personnel were not keen on giving out too many details, but we managed to pry a few bits out of the. It was strongly suggested that it will come in 2TB and 4TB capacities and be a whole lot faster than the 6000 line. How much faster is up in the air, as is price, but we should have both numbers in a quarter or two.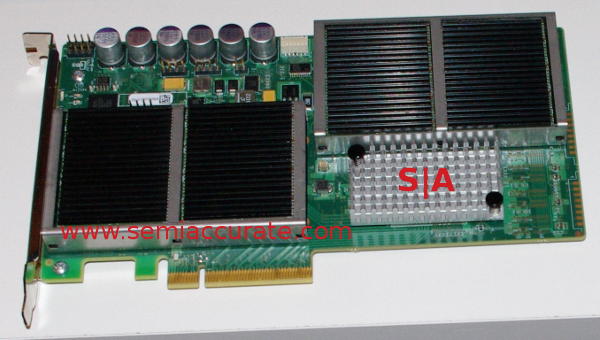 The card of the future, near future
Why are we so sure that it will be faster and better in every way? Where the 6000 line has a few PCIe2 controllers connected to four SSDs the 7000 is a full-blown ROC with an unknown number of channels but quite possibly more than four. The interface was also strongly suggested to be PCIe3 not PCIe2, but regardless it is backed up by a large DRAM cache. The board also has full supercap power backup, it is mandatory now for anything at this level, doubly so because of the cache.
Other than that, not much more detail was given out by the LSI guys. The XP 6000 line is branded a Nytro MegaRAID, the 7000 line will be called the Nytro Warpdrive. 6000 is built for cost and one way performance, the 7000 is built for pure unadulterated speed and has the hardware to do the job. How well does it do? Stay tuned for a little longer to find out.S|A
Have you signed up for our newsletter yet?
Did you know that you can access all our past subscription-only articles with a simple Student Membership for 100 USD per year? If you want in-depth analysis and exclusive exclusives, we don't make the news, we just report it so there is no guarantee when exclusives are added to the Professional level but that's where you'll find the deep dive analysis.
The following two tabs change content below.
Charlie Demerjian is the founder of Stone Arch Networking Services and SemiAccurate.com. SemiAccurate.com is a technology news site; addressing hardware design, software selection, customization, securing and maintenance, with over one million views per month. He is a technologist and analyst specializing in semiconductors, system and network architecture. As head writer of SemiAccurate.com, he regularly advises writers, analysts, and industry executives on technical matters and long lead industry trends. Charlie is also available through
Guidepoint
and
Mosaic.
FullyAccurate
Latest posts by Charlie Demerjian (see all)