If you can't decide between 32Gb FC  (fiber channel) or 100GbE, LSI has a handy solution for you that can do both with one 28nm 28Gbps SerDes. Technically speaking it is a 28nm 28Gbps SerDes demo chip but it did have both FC and Ethernet running on it.
The idea is easy enough to grasp, if you want to have faster protocols you either need wider paths between points or faster links. Faster links means a higher speed SerDes and that is what LSI was showing off, 28nm 28Gbps to be exact. Since neither of the protocols this chip can speak is anywhere near final, think of it as a tech demo mainly because that is what it was. It even looks like a demo, see?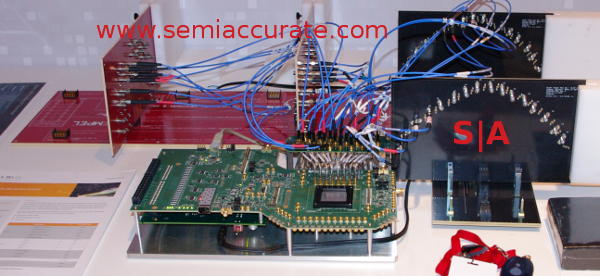 28nm, 28Gb SerDes demo with lots and lots of wires
If you want to make a test chip that will allow you to transmit such a high-speed link and see if it is suited for two upcoming protocols, the best way to do it is to put both protocols in the test chip. That is exactly what LSI did here, the chip supports dual ported 4-lane 32Gb FC and 100GbE at the same time. Other than debugging a 32Gb FC to 100GbE adapter you are designing there isn't much real world use for both at once, hence the demo nature of the device.
If the data logger on the laptop beside this demo was accurate both protocols are up and running as they should be. While you may never see such a chip in the market, as we said earlier it really is pointless to do both at once, you will probably see a bunch of devices that sport one of the two. If the SerDes works the rest of a device is a lot easier to design. That leaves only two open questions, when will we see cheap 100GbE/32Gb FC devices, and what is the plural form of SerDes, SerDii?S|A
Have you signed up for our newsletter yet?
Did you know that you can access all our past subscription-only articles with a simple Student Membership for 100 USD per year? If you want in-depth analysis and exclusive exclusives, we don't make the news, we just report it so there is no guarantee when exclusives are added to the Professional level but that's where you'll find the deep dive analysis.
The following two tabs change content below.
Charlie Demerjian is the founder of Stone Arch Networking Services and SemiAccurate.com. SemiAccurate.com is a technology news site; addressing hardware design, software selection, customization, securing and maintenance, with over one million views per month. He is a technologist and analyst specializing in semiconductors, system and network architecture. As head writer of SemiAccurate.com, he regularly advises writers, analysts, and industry executives on technical matters and long lead industry trends. Charlie is also available through
Guidepoint
and
Mosaic.
FullyAccurate
Latest posts by Charlie Demerjian (see all)