Avant was showing off three storage goodies at AIS, two were evolutionary, the other closer to revolutionary. All three are what you would expect from the big OEM no consumer has really heard of, flash-based storage.
Avant is an OEM for a lot of companies and even sells a bit under their own brands, but for the most part they make stuff for others to sell. With that in mind you will probably never see the three things here with an Avant logo but you may see variants with other brand names on them.
The first of the two looks like a normal USB flash drive, the case is rather irrelevant because it can be swapped out on a whim. Inside however is a USB -> SATA chip backed up by a Sandforce 2281 controller. That is good enough to push a claimed 450MBps R/W speeds if your PC's USB controller is up to the task. Not bad for what looks like a normal flash stick.
Another one that isn't really anything special to look at is the new generation of mini-PCIe based SSDs with higher density flash and an unnamed Sandforce controller on board. Instead of the normal 240GB limit for this otherwise dumb form factor, you will soon be able to get them in 480GB versions. While there are some 480GB ones around now they tend to use non-standard, read expensive, components. This new generation should take a big chunk out of the cost in the near future, but you can see them now on the right of the picture below.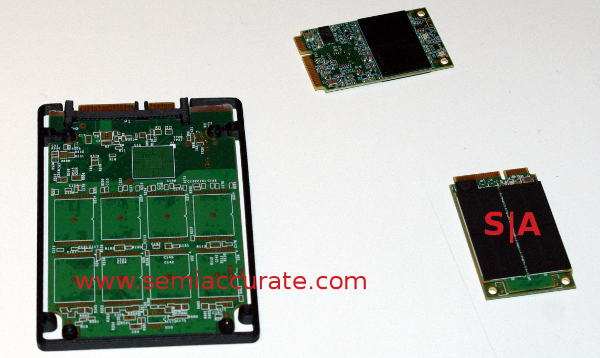 Bloated and huge compared to the mini-PCIe SSD
Last up may look like a big mini-PCIe drive but it is a plain old SATA SSD in naked prototype form. This is the borderline revolutionary device mind you, notice the optional plastic spacer frame around the edges? That 5mm spacer is there to make sure these 4.5mm "thick" drives don't touch each other, but an OEM is welcome to design a case that just slots them in directly.
Why is this important, nay borderline revolutionary? Mainly because it allows you to fit 64 SSDs in the front of a 2U server directly. If you aren't impressed, how does 480GB in said 4.5mm form factor sound to you? Not good enough? When Sandforce releases the final 3700 controllers in a few months, the limit will rise to 1TB in that 4.5mm. Compare that to the best magnetic storage out there which struggles to get 1TB in 7mm, not to mention SSD speeds vs 5400RPM drives. It may not be quite revolutionary, but it is the storage density tipping point.S|A
Have you signed up for our newsletter yet?
Did you know that you can access all our past subscription-only articles with a simple Student Membership for 100 USD per year? If you want in-depth analysis and exclusive exclusives, we don't make the news, we just report it so there is no guarantee when exclusives are added to the Professional level but that's where you'll find the deep dive analysis.
The following two tabs change content below.
Charlie Demerjian is the founder of Stone Arch Networking Services and SemiAccurate.com. SemiAccurate.com is a technology news site; addressing hardware design, software selection, customization, securing and maintenance, with over one million views per month. He is a technologist and analyst specializing in semiconductors, system and network architecture. As head writer of SemiAccurate.com, he regularly advises writers, analysts, and industry executives on technical matters and long lead industry trends. Charlie is also available through
Guidepoint
and
Mosaic.
FullyAccurate
Latest posts by Charlie Demerjian (see all)