OCZ, the consumer arm of Toshiba flash storage, was showing SemiAccurate their next-gen SSD controller and other goodies at CES. The new drives were evolutionary but the new JetExpress controller could make some waves.
The big news is of course the impending successor to OCZ's Barefoot SSD flash controller called JetExpress. The samples they had at their suite were early prototypes and the company was not quoting performance yet but there were a few specs and features given out. As you can see this new chip looks like all the other similar chips, a black square with some white lettering.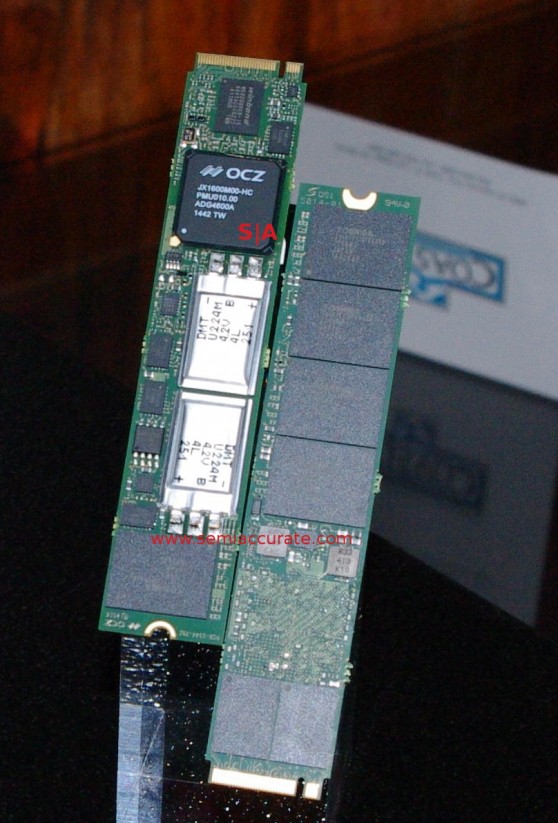 OCZ JetExpress flash controller in M.2 form factor drives
As you might expect this new controller supports both SATA and PCIe3/NVMe interfaces, a necessity for anything coming out from this point forward. JetExpress will do up to 4 PCIe3 lanes for ~32Gbps of throughput, enough for the near term. Other than that it will support M.2, SATA, and SFF-8639 form factors but we are not sure if it will actually do the SAS signalling or just support the PCIe pinouts for the connector.
There is also no word on capacities but we will take a guess that it will support at least 2TB drives. Other than it very likely being fabbed at TSMC we are not sure the process it is built on or die sizes. Don't expect to see anything bearing a JetExpress controller until late this year, there is still a lot of firmware and testing to be done before it is released.
On the device side there are three new parts to talk about starting with a new Z-Drive 6000. This SFF-8639 form factor drive uses a PCM Sierra controller with custom OCZ firmware on top. With 4x PCIe lanes the 6000 is said to be good for 3000/2000MBps R/W speeds and 700K/175K R/W 4K IOPS. As you would expect from an enterprise line it has power protection and more interestingly will run in 15 and 20W low power modes in addition to the normal 25W operation. Look for it in 800GB, 1.6TB, and 3.2TB versions for $99, $189, and $359 respectively. Just kidding on the price, it is probably a lot higher than that but we have no idea what the MSRP actually is.
On the other end of the scale we have the Vector 180, a slightly upscale version of the Vectors that are currently on the market. This one has power failure protection, more reliability features, and a few more extras not found on the lowest price tier. The line uses Barefoot 3 M00 controllers, 19nm Toshiba MLC flash, and has Acronis True Image and an adapter bundled.
On the performance side it will do 550/530MBps R/W and 100K/95K R/W 4K IOPS. Look for it in 240GB, 480GB, and 960GB versions in about a month. As you might expect it looks like almost every other 7mm 2.5″ SSD out there, standard form factors don't make for exciting looking products.
Last is the Saber 1000 line of drives which are also based on the Barefoot 3 controller and Toshiba 19nm flash. This drive is a lower end enterprise part aimed at cost-sensitive markets that need vast storage at a low-ish cost. It has advanced power failure management, that means backup caps and a few more bits to smooth over outages and software for central management. It will come in the same capacities as the Vector 180 but runs a little slower as you expect from enterprise products. Saber is available now.S|A
The following two tabs change content below.
Charlie Demerjian is the founder of Stone Arch Networking Services and SemiAccurate.com. SemiAccurate.com is a technology news site; addressing hardware design, software selection, customization, securing and maintenance, with over one million views per month. He is a technologist and analyst specializing in semiconductors, system and network architecture. As head writer of SemiAccurate.com, he regularly advises writers, analysts, and industry executives on technical matters and long lead industry trends. Charlie is also available through
Guidepoint
and
Mosaic.
FullyAccurate
Latest posts by Charlie Demerjian (see all)