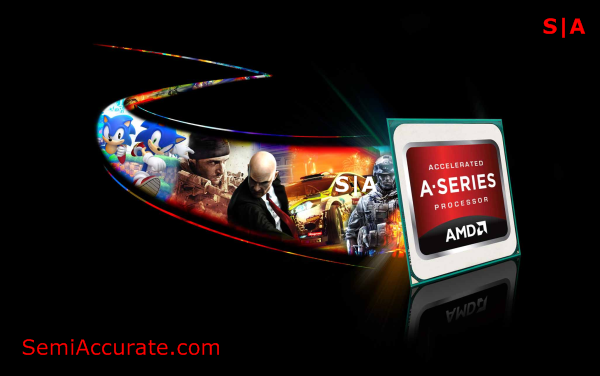 On Wednesday AMD held its Q4 2014 conference call. Unlike Intel, AMD had a rough quarter that resulted in $330 million dollar GAAP loss and a $36 million non-GAAP profit. Q4 is easily AMD's worst quarter of 2014. But while the company lost big on a $233 million goodwill impairment charge, a $71 million dollar restructuring charge, and a $58 million dollar inventory write down; it still managed a small non-GAAP profit. The most concerning item in AMD's Q4 report was gross revenue which clocked in at $1.24 billion down from $1.59 billion a year prior. Part of Rory Read's restructuring strategy for AMD was only going after meaningfully profitable design wins. This coupled with AMD's aging product portfolio and renewed competition from Intel and Nvidia have resulted in a significant decrease in revenue.
The Computing and Graphics business posted an operating loss of $56 million after lower desktop processor and GPU sales. The only bright note for this business unit is that average selling prices were up thanks to notebook sales. The Enterprise, Embedded and Semi-Custom group had a profit of $109 million, flat from the prior quarter, despite 11 percent lower revenue which indicates that AMD's margins are increasing in this segment. Thus it seems that for AMD's two business groups the trends present in Q4 are similar to those from the prior quarter.
There were a number of interesting items that came up in AMD's conference call. According to the company shipments of mobile APUs were up and the mix was better. Shipments of discrete mobile GPUs was also up thanks to new wins. AMD attributes most of the struggles of its Computing and Graphics business to a glut of inventory in the channel. Looking forward AMD expects Carrizo to drive most of the company's growth in 2015 and its Q2 launch coincides with AMD's projections for return to profitability.
More interestingly AMD's CEO confirmed that it is working on new x86 and ARM "leadership" products for the server market powered by Zen and K12. AMD sees growth in the server market as the key to securing more revenue and higher margins. AMD still offers it's Piledriver-based Opteron 6300 Series of server CPUs, but those chips are going on three years old and were uncompetitive at launch. Looking forward it seems reasonable to expect that AMD will launch a direct successor to that line of chips sometime in 2016 alongside the K12 core.
AMD's professional graphics and embedded businesses saw 20 percent revenue growth in 2014 which is a pair of bright spots in a year marked mostly by decreasing revenue.
It looks like AMD's muddled launch of the Trinity APU has come back to bite it this quarter. As the AMD's CFO directly attributed the $58 million inventory valuation charge as a result of the falling value of these chips.  AMD expects to bleed off the rest of this inventory over the next few quarters.
AMD only bought a billion dollars' worth of wafers from Global Foundries for the whole year. This is in contrast to the $1.2 billion the company had expected to buy had Q4 sales not been so disappointing. More importantly AMD finished negotiating the fourth amendment to its wafer supply agreement with Global Foundries and avoided paying any penalties or fees. Negotiations for the 2015 agreement are already underway.
AMD's Q1 2015 looks to be another tough quarter with AMD guiding revenue down by 15 percent from the current quarter which would put it at right about a billion dollars. According to AMD only 7 percent of this decrease is due to seasonality and the remaining 8 percent will be due to a strategic decision by AMD to burn off existing channel inventory.
All in all it's yet again another steady as she goes quarter at AMD. Until AMD can get its post Bulldozer products into the field the company has very limited opportunities for growth. Luckily AMD is continuing to manage its debts and retain enough on hand cash to continue R&D investments and stay afloat. There's not a lot of upside to AMD's 2015 but the company doesn't look like it will be going under even if Q1 leaves them with a net loss.
For more analysis of AMD's near and medium term fortunes check out this article.S|A
The following two tabs change content below.
Thomas Ryan is a freelance technology writer and photographer from Seattle, living in Austin. You can also find his work on SemiAccurate and PCWorld. He has a BA in Geography from the University of Washington with a minor in Urban Design and Planning and specializes in geospatial data science. If you have a hardware performance question or an interesting data set Thomas has you covered.
Latest posts by Thomas Ryan (see all)