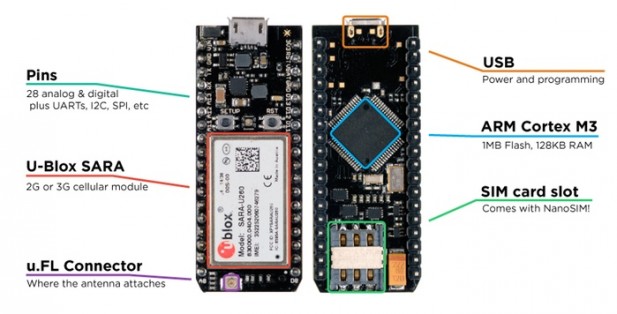 Today the Kickstarter page for Spark IO's Internet of Things cellular-connected development board, Electron, went live. Then Kickstarter promptly went down. Crashing your crowd funding platform, that's an auspicious way to launch. Kickstarter issues aside the Electron is aimed at enabling the next wave of internet connected devices through cellular connectivity, rather than just Wi-Fi like the majority of IOT boards' support. At $39 for the 2G version and $49 for the 3G version the Electron slots in right where you'd expect next to the Raspberry Pi 2 and Intel's Edison. Of course the value of the Electron over those two IOT offerings is Cellular connectivity and Spark's software ecosystem.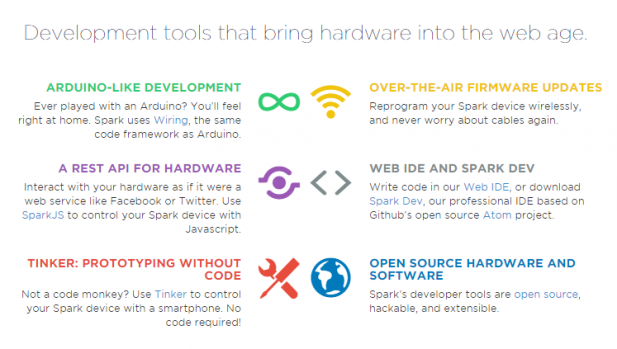 Spark prides itself on providing all types of users with the tools they need to develop with their kits. From the Tinker phone app that allows you to read the real-time voltage levels of the GPIO pins and set temporary parameters for them to the fully open source libraries, development tools, and an Atom project-based IDE that Spark supplies with its development boards the software ecosystem is the biggest value add of Electron over competing solutions. Even more interestingly the Electron is supported by Spark's Spark Cloud API which is a REST-style API users can interact with the Electron like they would with Twitter or Facebook's API.
The game changer that Spark is introducing with the Electron is cellular support. But they're not just sticking a modem on a chunk of PCB and calling it good. Rather they're taking cellular support to its logical conclusion by becoming a virtual wireless carrier and offering their own data plans with SIM cards so that you don't have to deal with all the nonsense that Verizon, T-Mobile, and Sprint would put you through. The data plan that Spark is offering alongside the Electron is $2.99 a month for 1 Megabyte of cellular data and $0.99 for each additional Megabyte with no contract. If those prices strike you as a bit high then you're not alone, but apparently this is the best Spark could do given the drawbacks of working with the wireless industry.

Spark is shaking up the IOT market with its Electron. While the data rates may seem obscene it's still better than any other company has managed to offer thus far. The Electron also offers a competitive hardware ecosystem and excellent software ecosystem and does so at a reasonable price point. If you were looking for a cellular connected IOT development kit then look no further than Spark's Electron.S|A
UPDATE: As of press time Spark's Electron has met and exceeded its funding goal on Kickstarter.
The following two tabs change content below.
Thomas Ryan is a freelance technology writer and photographer from Seattle, living in Austin. You can also find his work on SemiAccurate and PCWorld. He has a BA in Geography from the University of Washington with a minor in Urban Design and Planning and specializes in geospatial data science. If you have a hardware performance question or an interesting data set Thomas has you covered.
Latest posts by Thomas Ryan (see all)