Gigabyte just launched three new ARM server products that don't look like much on the surface. Under it however there is something that signifies a sea-change in the entire server market.
The three products are a board and a 1U system based on the Applied Micro X-Gene SoC and a 1U storage unit built around an quad-core A15 from Annapurna Labs. Like we said earlier it doesn't sound all that exciting to describe, this has all been done before.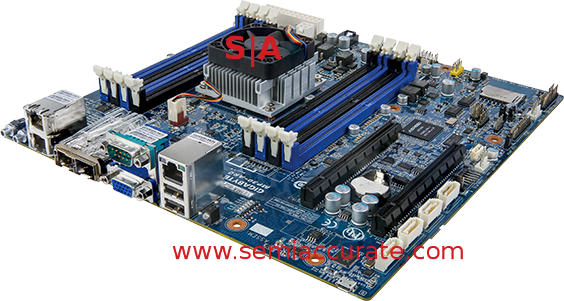 The look of an ARM server board
First up is the MP30-AR0, a microATX board with a single X-Gene 1 SoC soldered to it. It has eight cores at 2.4GHz, a 45W TDP, eight DDR3 DIMMs spread across four channels, and a 128GB max capacity. Connectivity comes from the built-in 2x 10GbE plus 2x GbE from a Marvell LAN chip and one GbE for the ASpeed AST2400 management controller. In short it is a bog-standard X-Gene board with an extra LAN and management controller. The R120-P30 is a 1U rackmount chassis with an MP30-AR0 on board.
The D120-S3G is a little more interesting on the surface but nothing that hasn't been done before. It is a 1U chassis with 16 3.5″ SATA6 bays for a claimed 100TB of capacity, not really a trick with modern drives. It all looks pretty standard for a modern high-density storage device, only lacking the slick mounting rails and easy removal bits that no one seriously considering this type of density uses. It is hot-swap everything, just not up to the ease of use of some on the market.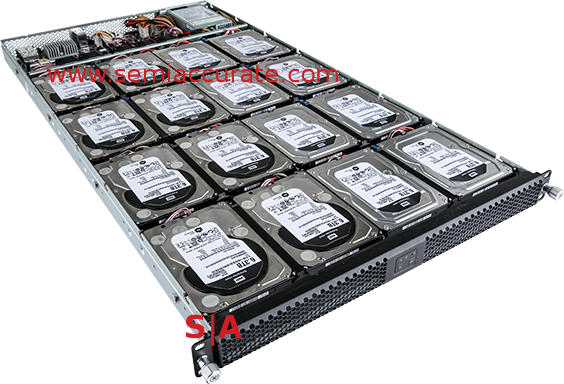 Another nondescript storage appliance, right?
Things get interesting when you read the spec sheet, a quad-core A15 called AL5140 running at 1.7GHz is pushing all the bits around. This A15 is from Annapurna Labs, an Israeli startup that was purchased by Amazon in January. Their web site is about as useful as mainstream tech media, pretty but devoid of actual content. At least we know who is going to be buying the D120-S3Gs from Gigabyte. Other than that it has one DIMM slot, 2x10GbE, 2x1GbE, an ASpeed 2400, and lots of SATA ports. Obviously there is hardware RAID5/6 on the AL5140, an A15 is going to go all of nowhere fast trying to push 20Gb of RAID computations on its cores.
So on the surface we have yet another Applied Micro X-Gene 1 board and yet another 1U rack mount storage controller, why the fuss? In fact why bother writing these things up at all, there is nothing to talk about right? Wrong, start by reading this or re-reading it if you have before. (Note: Link is for Professional subscribers only).
Note: The following is for professional and student level subscribers.
Disclosures: Charlie Demerjian and Stone Arch Networking Services, Inc. have no consulting relationships, investment relationships, or hold any investment positions with any of the companies mentioned in this report.
The following two tabs change content below.
Charlie Demerjian is the founder of Stone Arch Networking Services and SemiAccurate.com. SemiAccurate.com is a technology news site; addressing hardware design, software selection, customization, securing and maintenance, with over one million views per month. He is a technologist and analyst specializing in semiconductors, system and network architecture. As head writer of SemiAccurate.com, he regularly advises writers, analysts, and industry executives on technical matters and long lead industry trends. Charlie is also available through
Guidepoint
and
Mosaic.
FullyAccurate
Latest posts by Charlie Demerjian (see all)