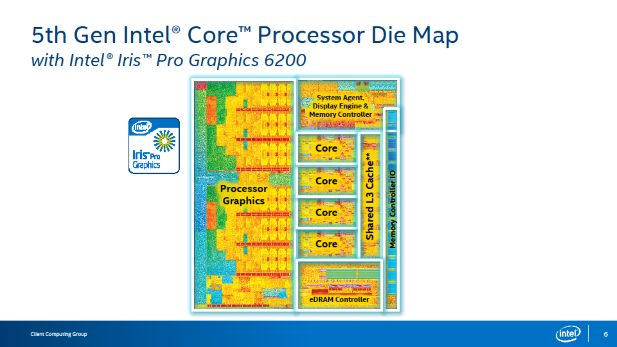 Yesterday Intel announced the imminent availability of ten new desktop and mobile processors from its 14nm Broadwell family of chips. Of these chips nine use Intel's Iris Pro Graphics 6200 and two have the LGA packing required to slot into Intel's 9-series motherboards. Intel's new Iris Pro Graphics 6200 incorporates 48 execution units and frequencies ranging from 1150 Mhz to 1005 Mhz for the boost clock and 300 Mhz for the base clock speed. All chips carrying Intel's Iris Pro Graphics 6200 branding are equipped with 128 MBs of eDRAM, the high-bandwidth key to their recorded setting performance.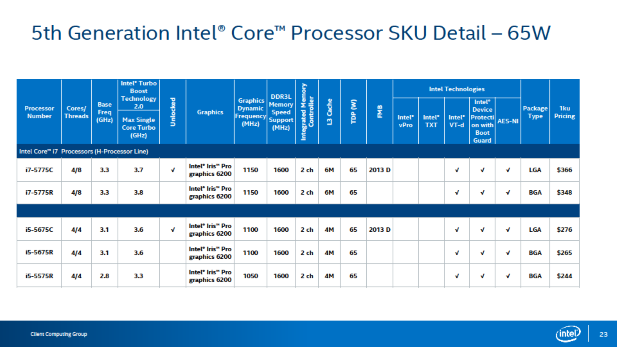 As others have detailed extensively Intel's graphics architecture is designed to prize power-efficiency over all else. This differs from AMD and Nvidia which more often than not design their chips to attain the performance crown rather than the power efficiency crown. This is not to say that Nvidia's Maxwell architecture and AMD's GCN 1.3 aren't very power efficient designs, they clearly are, but rather it's to emphasize that Intel's biggest concern is power efficiency above all else.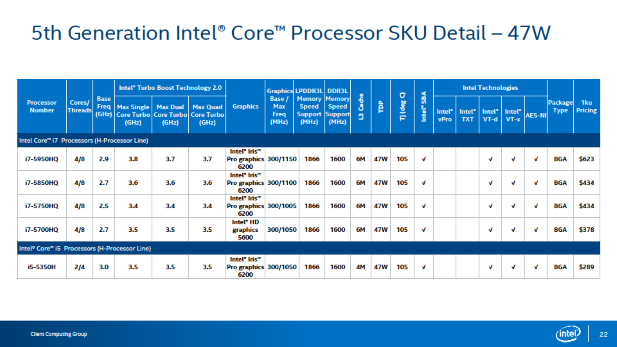 With that in mind it should come as no surprise that Intel's new Broadwell chips sip power. The mobile chips equipped with Intel's Iris Pro Graphics 6200 have a 47 Watt TDP and the desktop versions offer 65 Watt TDPs. Compare this to AMD's top desktop APU A10-7850K which is rated for 95 Watts and appears to be handily beaten in graphics testing by Intel's new chips.
Core clock speeds range from 3.8 Ghz to 3.5 Ghz for the maximum single core turbo, 3.7 Ghz to 3.4 Ghz for the maximum dual core and quad-core turbo for Intel's mobile 47 Watt chips. 65 Watt TDP Desktop chip's core clock speeds range from 3.8 Ghz to 3.3 Ghz for the maximum single core turbo and 3.3 Ghz to 2.8 Ghz for base frequency. Interestingly Intel's new desktop chips are limited to a DDR3L speed of 1600 Mhz while the mobile versions offer a LPDDR3L speed of 1866 Mhz and a DDR3L speed of 1600 Mhz.
For the last few iterations Intel seems to have settled on 6 MBs of cache as the right size for the L3 on its quad-core chips. These desktop and mobile performance Broadwell SKUs are no exception. Although Core i5 branded models only have 4 MBs of L3 cache enabled. Yay binning.
Both LGA packaged chips in this new line up, the Core i7-5775C and the Core i5-5675C, come from the fab with an unlocked clock multiplier. This is good news for overclockers that have been dreaming of getting their hand on with an L4 cache.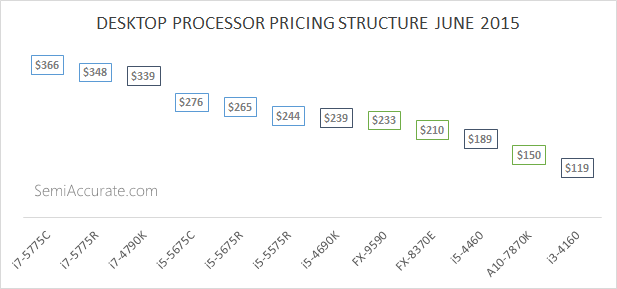 As far as pricing goes these ten chips are aimed at the performance segment and they are priced accordingly. The cheapest desktop SKU will go for $244 and the cheapest mobile SKU is $289. With that said Intel's pricing for these new Broadwell chips isn't out of line with its existing pricing structure. The socketed Broadwell parts command a $30 to $50 premium over the Haswell-based parts that they replace.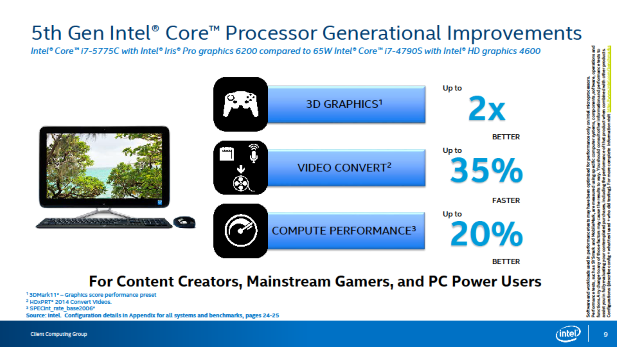 With no competition from AMD's parts above the ~$230 price point Intel is only pricing constraint is its older Haswell chips. For now, there is a clear premium required when purchasing a Broadwell chip. Is there enough new goodness in Broadwell to justify the price bump? Of course that depends on your use case, but as interesting as these chips are we'd recommend holding off just a bit longer.S|A
The following two tabs change content below.
Thomas Ryan is a freelance technology writer and photographer from Seattle, living in Austin. You can also find his work on SemiAccurate and PCWorld. He has a BA in Geography from the University of Washington with a minor in Urban Design and Planning and specializes in geospatial data science. If you have a hardware performance question or an interesting data set Thomas has you covered.
Latest posts by Thomas Ryan (see all)