Cavium was finally showing SemiAccurate customer designs for ThunderX silicon at Computex. It has been a long time coming but real ARM servers are finally here, as are some other nice boxes.
Although it isn't related to ThunderX, the first thing we saw at Cavium was their Xpliant switches. There were four designs, three which are pictured below, from Inventec, Lite-on, and two unspecified vendors. If you aren't familiar with the Xpliant line of chips, they are 'upgradeable' and somewhat software defined devices. We wrote up the tech here, and now you can see the boxes from real customers.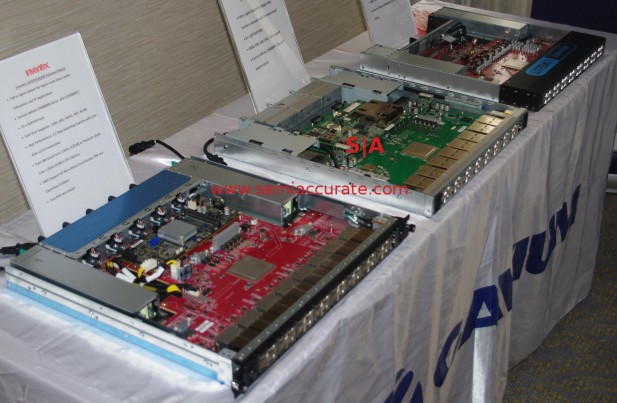 Note how clean the designs look
These switch boxes support 3.2Tbps of throughput, that would be 100Gbps on all 32 ports. If you aren't keen on 100Gbps networking, they also support 50G, 40G, 4×25/port, 40G, and 4x10G/port. That should be enough for most home users to support media center devices and cable gateways. For the neighborhood. And then some.
Back to the ThunderX line of ARM servers we have a few new designs from Gigabyte, Inventec, and some unspecified OEMs. There were pretty standard looking 1U and 2U boxes with two and four 2S blades respectively, plus some 1U short chassis 1S boxes. Given the sheer number of variants, you have to think there are a fair number of customers for these ThunderX customers, designs on this level don't tend to be made without a known buyer.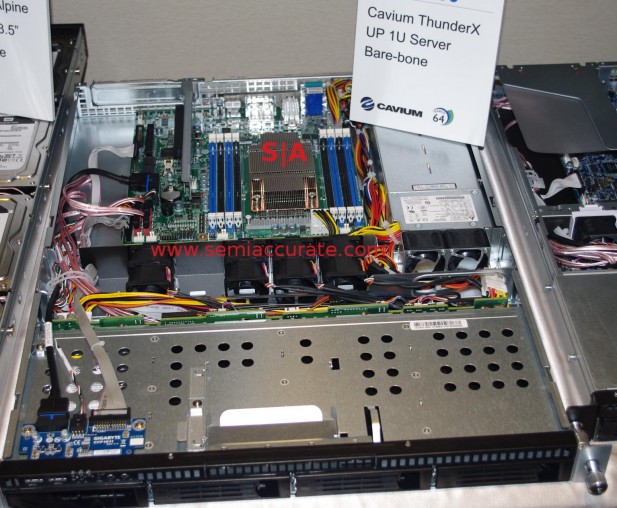 The smallest of big boxes from Cavium and Gigabyte
To show off these boxes, Cavium was showing off three demos not surprisingly from their main target markets. Those demos were MySQL, NGINX, and Hadoop, for database, web serving, and big data respectively. For some reason these three tests all are a good fit for the ThunderX architecture and all are big, really big, markets. So in summary, Xpliant switches are here, ThunderX servers are here, and it is game on for the server market.S|A
The following two tabs change content below.
Charlie Demerjian is the founder of Stone Arch Networking Services and SemiAccurate.com. SemiAccurate.com is a technology news site; addressing hardware design, software selection, customization, securing and maintenance, with over one million views per month. He is a technologist and analyst specializing in semiconductors, system and network architecture. As head writer of SemiAccurate.com, he regularly advises writers, analysts, and industry executives on technical matters and long lead industry trends. Charlie is also available through
Guidepoint
and
Mosaic.
FullyAccurate
Latest posts by Charlie Demerjian (see all)