Today Intel is releasing a lot of 'new' Skylake processors to no great fanfare. While there could be some good in the silicon, Intel's syphilitic trickle of news has essentially made the few like SemiAccurate who still care turn away.
That said here are the SKUs that are launching today, 46 variants fused from five basic die. If you think that number is impressive, bear in mind they fit into six families across mobile and desktop. The saddest part however is there are seven _MORE_ lines to be launched in "Q4 and into 2016", if you didn't care by now, you really won't like the next 17 or so launches which each add a single bullet point, two if you are lucky. Intel's 'strategy' has effectively doomed Skylake, they made the press just not care.
Note: While Skylake technically launches today, it is only actually available in Asia. The rest of the world has to wait 6+ weeks for Skylake parts for no real reason. As you will see below, there is a lot to wait for.
Before we get into the details we will just say that there really aren't any details. Die sizes were not disclosed, transistor counts were not shared, shader counts were not disclosed, the simple fact that there were two variants of Crystalwell/eDRAM of 64 and 128MB respectively were not disclosed, and the it just got sillier from there. The press did ask, Intel just wants us to repeat the glory of the new silicon without any actual facts to back it up. SemiAccurate does not play that game, others take the money and run.
Things descended into a farce when we got to the architectural briefings the following day which had vastly more info than the embargoed press briefing, but were not embargoed. SemiAccurate will write those up at a later date [Author's note: I have been sick and am way behind, sorry].
It got so bad that the architect, when asked about basic numbers during a developers architecture sessions, had to fall back on something like, "I can't comment on parts that are not launched yet". You could have walked out of that session, down three flights of stairs, crossed the street, and bought one of these 't0p sekrit' parts, but the shader count was forbidden information. No we are not joking, it was that comical as long as you didn't have to sit through multiple 3-4 hour briefings with literally no content.
Our sentiments at the first launch were nothing compared to the general feelings of the press surrounding the quality of data given out at IDF. About the only bright spot, and it was very bright and unexpectedly excellent, was the GPU technical briefing. Simply put it was what Intel used to do. Hats off to those guys if they still have a job after doing the right thing for their audience.
So back to the SKUs, what is launching today? Here are the slides without comment because we really don't have enough to comment on. We can't say which die is which, shader counts, Crystalwell, and all of that. The seemingly random fusing off of features is sure to be there, just not on always on the list. Intel has a long habit of not putting columns in slide decks that they fuse things off arbitrarily for, Haswell SKUs with transactional memory anyone?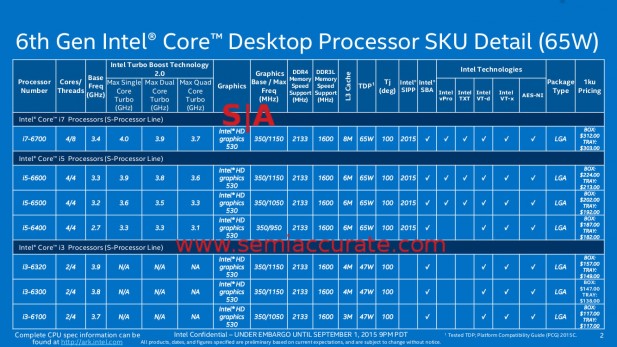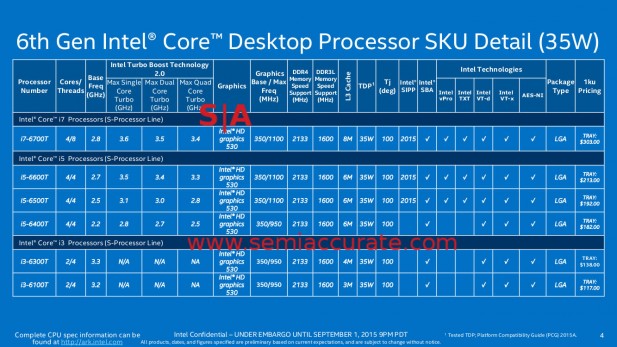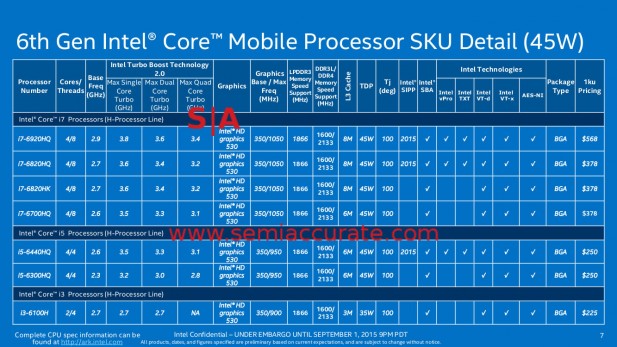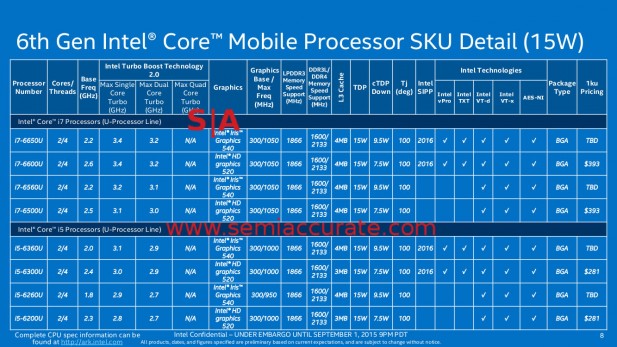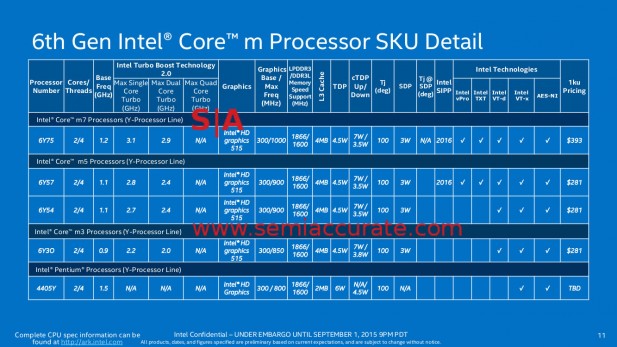 Now for the conclusion, something that tends to start out with, "You should buy a Skylake CPU because". In this case we really don't see a reason to actually buy one, it really brings nothing to the table. Other than video encode/decode, there really aren't any features worth mentioning and it is slower than Haswell.
No we are not joking, there is a best case IPC improvement of ~10% for two generations, 5% for Broadwell and another 5% for Sky, give or take a bit. Haswell could clock to 4.4GHz and Sky tops out at 4.0 so you can do the math yourself. At best it is breakeven. If you stop and question why Intel changed the comparison point for new machines from a "three-year old laptop" to a "five-year old laptop", that should explain everything. In short Skylake doesn't beat a three-year old CPU but it will trounce a 2010 era Sandy Bridge.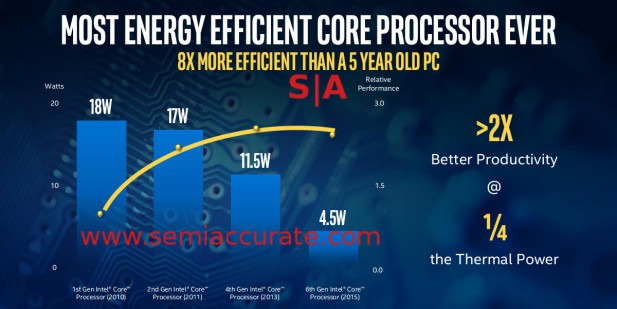 Desperation in numbers, 8x is good, right?
Sure Sky is more efficient but is that worth upgrading for? The graphics are better but any sane gamer will have a discrete card so that isn't an issue. On the laptop front, if you need a new laptop, other than price there isn't a real reason to avoid Sky but if a Broadwell or Haswell device is notably cheaper, go for those. Haswell was the last Intel CPU with a GPU driver that worked sort of correctly, that is a big plus for sticking with 22nm devices.
So in the end Sky is an incremental increase in IPC but that advance is removed by the incremental decrease in clocks. It is marginally better at power draw, better at the video encoding that you do faster on your phone anyway, and costs a lot. Other than that there is really nothing else to talk about, the rest is BS marketing terms. With this in mind I'll bet you can't wait for the next seven family launches either. Whimper.S|A
The following two tabs change content below.
Charlie Demerjian is the founder of Stone Arch Networking Services and SemiAccurate.com. SemiAccurate.com is a technology news site; addressing hardware design, software selection, customization, securing and maintenance, with over one million views per month. He is a technologist and analyst specializing in semiconductors, system and network architecture. As head writer of SemiAccurate.com, he regularly advises writers, analysts, and industry executives on technical matters and long lead industry trends. Charlie is also available through
Guidepoint
and
Mosaic.
FullyAccurate
Latest posts by Charlie Demerjian (see all)