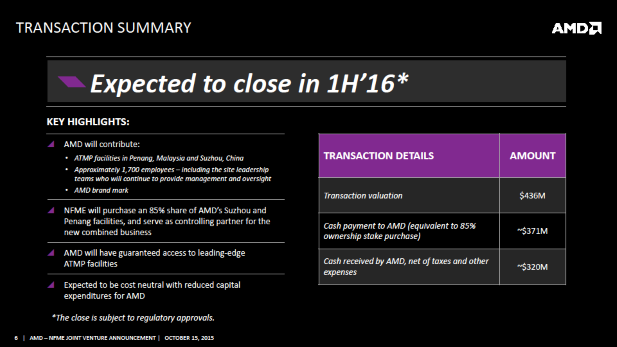 Just before its earnings call today AMD announced that it had signed an agreement with Nantong Fujitsu Microelectronics (NFME) to create a new joint-venture that will free AMD from most of its remaining manufacturing assets including its facilities and most of its employees in Malaysia and China. AMD will receive $371 million dollars from NFME in exchange for contributing those facilities and almost 1,700 employees to the new Joint-Venture. NFME will have a controlling 85% ownership stake in the Joint-Venture while AMD will hold on to the remaining 15%.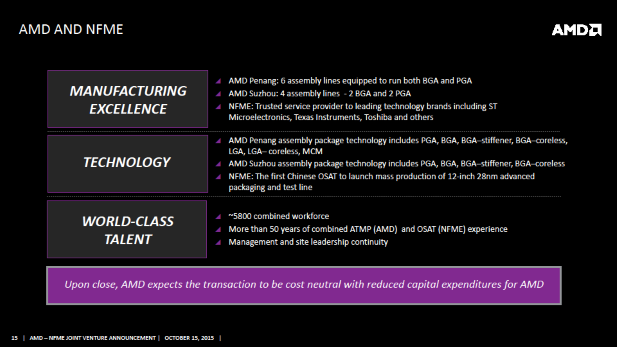 The facilities that AMD is selling to its new Joint-Venture specialize in the assembly, testing, marking, packing (ATMP) of its microprocessor products. These services while important and highly technical are not specialized enough to AMD's products to make continued capital investments into their competitiveness. The market for ATMP services is actually quite diverse so AMD stands to gain from contracting out this kind of work rather than doing it internally thanks to market-based competition.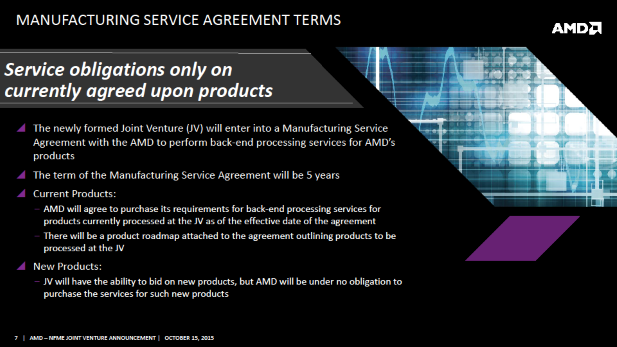 AMD has signed a 5-year agreement to continue using the facilities it's selling to the new Joint-Venture for its current products. This will ensure that this deal doesn't cause any production interruptions for AMD's existing products. For AMD's new products the Joint-Venture will have to bid on the contract just like any other company. This is a far better deal that the onerous wafer supply agreements that AMD had to sign with its last major selloff which resulted in the creation of Global Foundries.
The benefits of this deal are very clear for AMD. The company will receive about $320 million in cash after taxes. AMD will also cut its operating expenses considerably given that it will no longer employ 1,700 people or maintain manufacturing facilities in two foreign countries. Given that AMD maintains a workforce of a bit under 10,000 people sale of its ATMP operations combined with the recent corporate restructuring efforts represent a about 20% workforce reduction. This workforce reduction comes on the heels of high-profile employees like processor architect Jim Keller and leader of AMD's HSA efforts, Phil Rogers, leaving the company.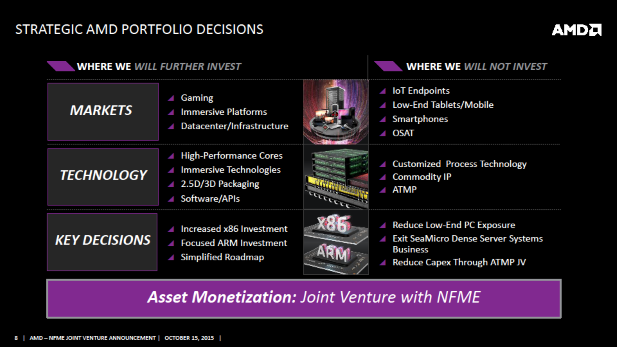 Interestingly AMD released a list of areas where they will be prioritizing the use of this money to invest in the future of their business. This list highlighted areas like gaming, high-performance cores, and increased x86 investment as the company's investment focus. While it also called out segments like the Internet of Things, custom process technologies, and commodity IP as areas where it would not be investing. In her comments on the Q3 2015 conference call shortly after this deal was announced AMD's CEO, Lisa Su, reemphasized her company's commitment to investing in and producing high performance products like Zen.
Assuming that Zen is a success AMD won't see its first full year of revenue contribution from those products until the end of 2017. This means that the company will be, in the best-case scenario, cash poor until that point in time. For AMD's executive team this means that assessments of their job performance over the next two years will be based less on their technical vision and more on leveraging their business acumen to sell off AMD's assets in an intelligent way until Zen starts earning the company meaningful revenue. The likelihood that we will see AMD engage in additional asset sales between now and the end of 2017 is high.S|A
The following two tabs change content below.
Thomas Ryan is a freelance technology writer and photographer from Seattle, living in Austin. You can also find his work on SemiAccurate and PCWorld. He has a BA in Geography from the University of Washington with a minor in Urban Design and Planning and specializes in geospatial data science. If you have a hardware performance question or an interesting data set Thomas has you covered.
Latest posts by Thomas Ryan (see all)