We've spent a good bit of time sleuthing around motherboard boxes as of late here in the S|A orbital labs. One of the more interesting thing we saw, was a new little logo from our friends in Redmond.
Some of you may remember all of the controversy and lawsuits surrounding a simple little sticker from Microsoft that read, "Windows Vista Capable". Well, those awful days are long and gone, but Microsoft is still trying to get consumers to purchase Windows 7 hardware even as Windows 8 waits just behind the curtains.
Even with that in mind, we were still a bit surprised to see this little beauty out in the wild.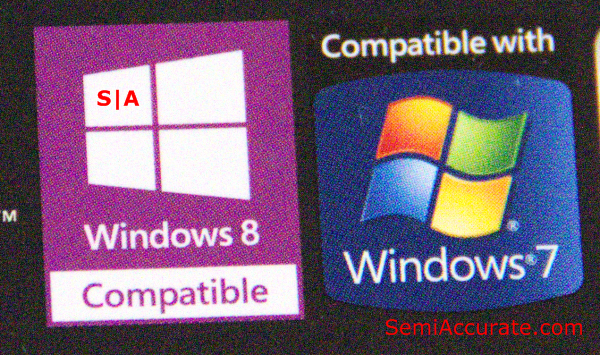 It's easy to make a quick comparison the the Windows 7 logo nestled right beside it. Alas that comparison isn't so favorable depending upon who you talk to. But still it's interesting to see that Microsoft is playing the same old song all these years later.S|A
The following two tabs change content below.
Thomas Ryan is based in Seattle, Washington. Thomas first began to appreciate the wonders of the semiconductor industry while doing research on his previous favorite hobby, PC gaming. Having co- purchased his first computer at the ripe old age of 11, with $150 and the help of Craigslist he's been buying and building computers ever since.
Latest posts by Thomas Ryan (see all)