With "Interlagos" now shipping we thought it would be a great time to chat with AMD. John Fruehe, AMD's director of product marketing for its Server, Embedded, STREAM products, was kind enough to answer our questions. In his marketing role, John is one of the more widely known figures at AMD. Earlier this year he acted as AMD's spokesperson in a series of interactive videos about "Bulldozer" and been involved in numerous events around the globe since then. As such, John is a very busy man and we were interested in trying to get a window into what he does on a daily basis.
What's the most difficult part of your job?
Staying on top of customer needs. I spend a good amount of time in aluminum tubes flying around the world talking to different customers, and understanding what their needs are. It can be difficult because the server world is so varied. For instance, in my upcoming trip, I will be meeting with our local teams to train them on the new products, I will meet with financial customers to talk about private cloud services, I will meet with manufacturing customers to talk about production automation and I am sure that I will spend plenty of time talking to large cloud providers about data center density and power efficiency. Then, after all of that, I will start day 3 of my 14-day trip. Understanding the nuances between financial applications, virtual machine density, HPC clusters and remote Exchange services can be a real challenge, but staying on top of customers' business trends can be the toughest part of the job.
Focusing on customer needs is a great goal, and I am amazed that John is able to juggle so many different objectives at once. Because here at S|A trying to understand the nuances between different types of applications and saying on top of business trends, is not just part of our job, but really the basis of what we report to you, our lovely readers.
Focusing in a bit, we asked John about who's buying the chips he's selling.
What types of customers do you see as the biggest buyers of AMD Opteron products?
Customers with highly scalable applications are the best candidates for AMD Opteron processors. We bring a higher core density so customers running virtualization, HPC, database, web and cloud or other scalable applications will see the biggest benefit.
Virtualization, HPC, and the Cloud, are three very popular buzz words in the tech press these days. Although, it seems that John is sincere in his use of these terms as AMD's current products are aimed, and marketed, directly at those applications.
AMD is continuing its strategy of catering to applications and environments that scale well with additional cores. As opposed to Intel's more mainstream strategy of designing chips that tend to trade scalability for increased single threaded performance.
As a little historical note we decided to ask John about the longevity of demand for AMD's CPUs.
What is the oldest Opteron that AMD is still manufacturing? What about selling?
We are still manufacturing the old AMD Opteron 2000 and 8000 Series processors. We continue to sell whatever customers are interested in buying, but the vast majority of our processors sold today are the AMD Opteron 4000 and 6000 Series processors.
It's unsurprising, but still a fun fact, that AMD continues to produce these older Opteron products that date as far back as the 90nm manufacturing process.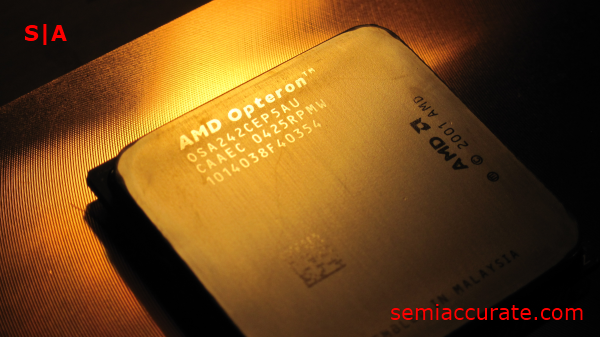 Naming schemes have gotten really wacky an unpredictable lately. A good example of this trend is Intel's Core-iSomethingmeaningless nomenclature. We wanted to know if AMD was going to be sticking with it current naming scheme which is a bit more user friendly.
Is it safe to assume that AMD will continue its current SKU naming pattern with Opteron products?
We have been public already with the fact that these will be the AMD Opteron 6200 and 4200 Series processors. Because these fit into the same sockets, we wanted to maintain consistency with what we had released before. You will not necessarily find consistency between the core counts and clock speeds in the last 2 digits of the part number. There is a method to the madness of product numbering but we don't really share that with the wider market. Parts with odd numbers are customer-specific parts that we create for individual customers that buy in large volume. These typically have some of the attributes customized to the customers' specific environment.
There doesn't seem to be any customer specific SKUs on this list from CPU World. But I suppose that companies like HP won't list SKUs that are going to only be ordered by Facebook, if they are even allowed to for competitive reasons.
Zooming way out, we wanted to learn more about where John, and for that matter AMD, sees the server market heading.
What major changes do you foresee occurring in the server market at large?
The biggest change to the server market is going to be the movement to the cloud. Over the past few years CIOs have wholeheartedly embraced virtualization and the efficiency that it brings, but today, the CEO is asking "what's next?" How do you make data centers more agile, more flexible and lower cost. The reality is that virtualization is the gateway to the cloud. Once you have virtualized your data center, taking the next step to the cloud is that much easier. Cloud will deliver more flexibility, faster deployment, and blur the lines between your data center and external services. But this is not being driven by technology, but it is being driven by the need for businesses to be more flexible and act quickly. The world is becoming more competitive and cloud helps keep companies out front.
That's a very strong endorsement of the cloud, and it makes one wonder why AMD is such a fan. In any case it's apparent that AMD sees the cloud as the next step on the road toward perfecting the information technology infrastructure of modern businesses.
From here we tried to drill down into AMD's enthusiasm for the cloud.
How is AMD trying to capitalize on the move to the cloud?
We believe in the cloud and we eat our own dog food. AMD has a private cloud for all of our engineering projects. 115,000+ cores are deployed now and that continues to grow. This allows us to quickly allocate resources to critical projects without having to redeploy new servers. For instance, when we saw a need for bringing the first APU to market, we were able to allocate resources dynamically to help support the engineering teams that were doing validation, pulling resources in to make sure that the project was accelerated.
For your reference, the APU John is most likely referencing is AMD's very successful "Brazos" chip.
Cloud workloads are often spiky, with peaks and valleys. The two things that cloud customers need are more cores to handle those peaks and more power efficiency for those valleys. AMD Opteron processors have a combination of more cores and deep power management to match the needs on both sides of that equation.
AMD's new Opterons look well poised to achieve the goals that John has outlined here. Based on testing of AMD's FX chips we can extrapolate that Opterons based on the "Bulldozer" architecture should offer higher core counts and lower idle power consumption than their predecessors, thus improving the situation for the peaks and valleys in John's hypothetical cloud workload.
Moving back out to the server market at large, we wanted to find out how AMD is selling its Opterons.
In your opinion what is the single most important metric to judge a server product by?
Well, it's not performance. If you look at the sales of server processors, you'll see that the majority of customers are buying much further down the stack; they are more focused on price/performance and value than raw performance. Less than 5% of the sales are top bin processors, or, conversely, 95% of the customers are valuing either price/performance or performance/watt over raw performance. That doesn't necessarily make the marketing people happy because bar charts look sexy, but the reality is that value drives the server market. What you get for your money is more important than just about any other metric. That being said, there is a "basic level" of performance that you need to have, like the "if you are this tall you can ride the ride" signs at the amusement park. As long as you are providing the right level of performance, customers are happy. But what they really focus on are the price, the power consumption and the configuration. It is all about "what can I get for my budget dollars" or "how can I maximize my purchase" – those have the biggest impact in the purchase decision.
The assertion that performance is not the most important metric to judge a server product by gives you a good idea of how hard the economic down turn has been on the server market. Conditions have really changed since the first Opterons were released, now a product is far more likely to be judged by performance per watt or performance per dollar than by absolute performance alone.
It's also interesting that John brings up the concept of a competitive performance floor. AMD has been accused occasionally of being below this floor, but what John seems to be alluding to here, is that ARM based server offerings, like Caldexa's new chips, are going to have a hard time gaining acceptance in the market do to their low per chip performance.
Focusing in again on a specific segment, we wanted to find out what AMD's high-end server strategy was going to be when "Interlagos" based offerings hit the market en mass.
Is AMD going to position the new 6200 series to compete against Intel's Westmere-EX? And if so, to what degree?
We have processors that are capable of running in platforms with up to four processors, so, to that extent we are competing with them. But the fact that their platforms, for the comparable performance level, can cost 2-3X more and draw considerably more power makes it a bit harder to "compete" with them. We believe that we deliver a much more significant value proposition to the market and that our competition is still trying to grapple with how to position Westmere EX and Itanium in the same space. We have the luxury of not having to figure out how to protect a proprietary platform and that allows us to bring a better, uncompromised, product to market.
John brings up a good point here about Intel's Itanium positioning. With every new generation Intel's Xeons gain more data integrity features and moves farther into Itanium's traditional market space. On the other hand, Itantium seems to be in a holding pattern comparatively, and many pundits have predicted its death for sometime now.
The sentiment that John is expressing is very similar to what we've been hearing from AMD for a while now; more cores, less power, and lots of value for your dollar. With the recently lay-offs and leadership changes, it will be interesting to see if AMD changes its tune at all in the coming quarters. But for now AMD's pumping virtualization, diving into the cloud, and creating some large-customer specific SKUs. On that note I'd like to extend my thanks to John, and to AMD, for walking us through their marketplace.S|A
The following two tabs change content below.
Thomas Ryan is a freelance technology writer and photographer from Seattle, living in Austin. You can also find his work on SemiAccurate and PCWorld. He has a BA in Geography from the University of Washington with a minor in Urban Design and Planning and specializes in geospatial data science. If you have a hardware performance question or an interesting data set Thomas has you covered.
Latest posts by Thomas Ryan (see all)