AMD is launching its Radeon HD 7700 series discrete GPU today as the world's first one GHz GPU for the $99 to $199 mainstream market segment. Starting from December last year AMD has been providing monthly updates to the Southern Islands GPU family. Radeon HD 7970 (Tahiti XT) paper-launched in December, with real availability in January, followed by the Radeon HD 7950 (Tahiti Pro) hard launch shortly thereafter.
In an odd turn of events, AMD have decided to launch Cape Verde in February, before releasing Pitcairn, the replacement to Radeon HD 6800 series (Barts), in March. However, we are not going to discuss the reasons behind this decision here.  Although there is some suspicion Nvidia's wafer release at TSMC might have landed here.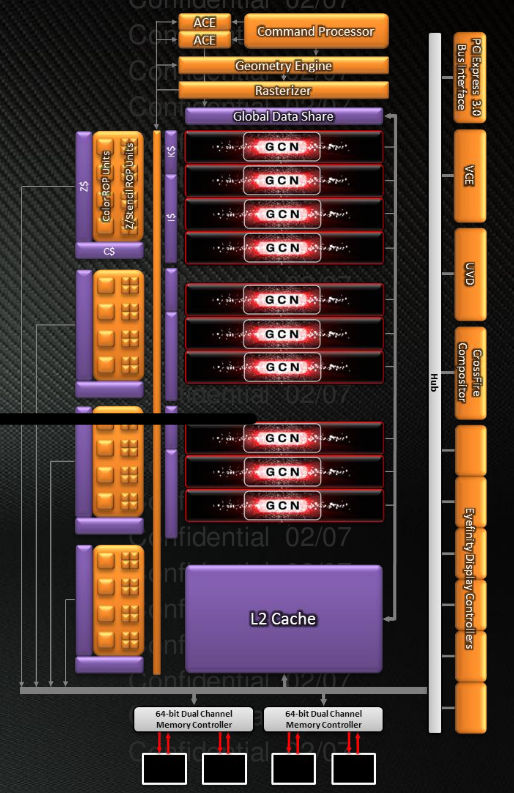 The architecture block by block
The Cape Verde GPU is made with 1.5 billion transistors on TSMC 's 28 nm process, in a 123 mm² die size, and is based on the GCN architecture. There are two variants, namely the "Radeon HD 7770 GHz Edition" GPU, which has 10 active Compute Units (CU) and 40 Texture Units (TMU), with suggested e-tail price (SEP) of $159. While the "Radeon HD 7750" GPU, which has 8 active Compute Units and 32 Texture Units, with SEP of as low as $109. All equipped with 1 GB GDDR5 running at 4500 MHz on a 128-bit memory bus.
The rest of the features, like AMD Eyefinity 2.0, AMD HD3D, Super-sampling Anti-aliasing (SSAA) for DirectX 10/11, Video Codec Engine (VCE), PowerTune, AMD ZeroCore Power, Discrete Digital Multi-point Audio (DDM Audio), 4k display support through HDMI 1.4a 3 GHz and DisplayPort 1.2 HBR and PCI Express 3.0 x16 bus interfaces, are common among Cape Verde and Tahiti variants, and are expected to be the same for Pitcairn variants.
7750 on top, 7770 on the bottom
AMD is marketing the Radeon HD 7770 card as world's first one GHz GPU as they are making the stock GPU frequency 1 GHz, and gave it a fancy "GHz Edition" name, along with a 80 Watts typical board power and 6-pin power connector. The Radeon HD 7750 has fewer CUs and Texture Units running at a lower clock at 800 MHz, with a typical board power of around 55 Watts and is perfectly fine with power supplied from the PCI-E slot on your motherboard.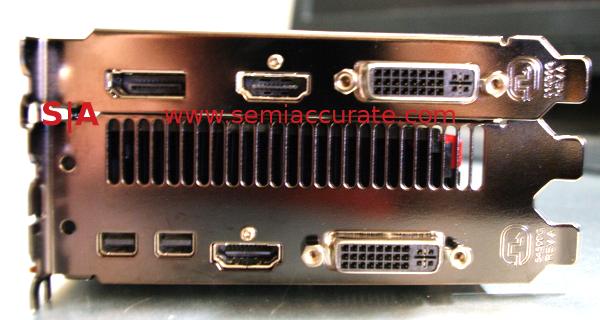 Once again 7750 above 7770
Another difference would be display connectivity on the boards, the higher end Radeon HD 7770 features two mini DisplayPorts while Radeon HD 7750 has only one DisplayPort. This means that  when the Multi-Stream Transport (MST) hub and monitors supporting daisy-chaining arrive in Summer  of this year as AMD promised, you can drive six 1080p screens on the Radeon HD 7770, while you are limited to 5 such screens with more complex cabling if you have the Radeon HD 7750.
For Cape Verde, AMD touts the large overclocking headroom to overclocking enthusiasts, with 6-pin power connector, you could supply 150 Watts to Radeon HD 7770, enough even for extreme overclocking. AIB partners are jumping on the overclocking bandwagon and are ready to launch overclocked versions of the Radeon HD 7770 card with GPU clocks as high as 1.125 GHz.
To make the 1 GHz milestone even more memorable to the reviewers, AMD even prescribed fictional "Verdetrol 1GHz" pills (which are actually green jelly beans) to reviewers for "Natural Performance Enhancement" with "Give 1 tablet by fan intake, four times daily" as the usage instructions. They made a video too, and you can watch it on the official site for Verdetrol.
Some could find this Verdetrol marketing amusing, some could find this annoying given the inadequacy and age message that accompanies such pills. But if you are one of the overclocking enthusiasts, you know what you really need instead of these pills: unlocked GPU BIOS, a good power supply and some best-in-class TEC coolers or water/LN2 blocks.
AMD also gave more freedom to their AIB partners for custom fansinks and/or PCBs on their cards, more than 70% of the cards from AIBs were shipped with custom fansinks (even PCBs) from day one of launch.  Sapphire even offers a dual-slot passive cooling version of Radeon HD 7750. So we can expect board costs to drop gradually, just as the previous mainstream parts from AMD have dropped in price, albeit slowly.
If you can buy decent performance, the same feature set as Radeon HD 7900 series cards and massive overclocking headroom for under $160, what's not to love for everyone? Well, at least until NVIDIA can get their GK106/GK107 released… S|A
The following two tabs change content below.
Leo Yim is our correspondent from the far flung reaches of East Asia. Fluent in Mandarin, Cantonese and English he'd rather be talking about computers no matter what language. A true detail man he dreams of building gaming rigs from workstation class parts.