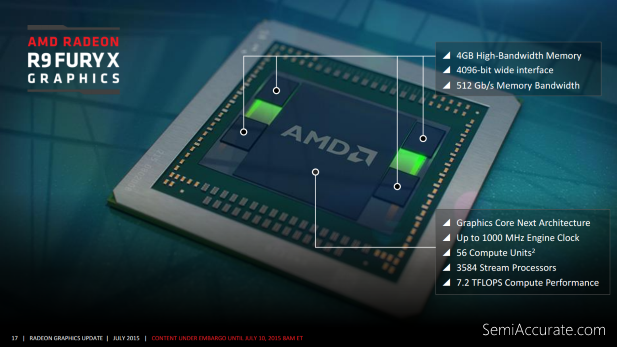 Today AMD is launching the Radeon R9 Fury. This graphics card is the follow-up to the Radeon R9 Fury X which launched a few weeks ago. It offers similar, but of course slightly lower, performance than the X version and it fills in the rather large gap in AMD's pricing stack between the Radeon R9 390X and the Radeon R9 Fury X. The R9 Fury offers 56 compute units, down from the 64 compute units found in the Fury X, and slightly lower clock speeds at a cool 1 Ghz core clock. According to AMD's documents there have been no changes to the memory sub system which still offers half-terabyte of bandwidth that AMD brought to the table with the Fury X.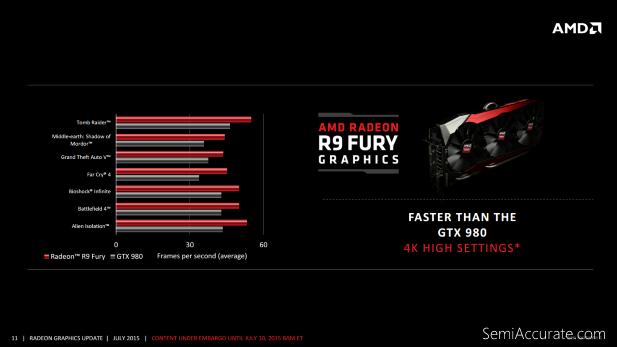 As far as performance is concerned AMD is targeting this X less Fury to take on Nvidia's venerable GTX 980 (non-Ti).  This is a target which according to AMD's own benchmarks, of course, it bests handily. Based on the performance levels that the Fury X offered I'd be surprised if this slightly handicapped Fury didn't beat the regular GTX 980.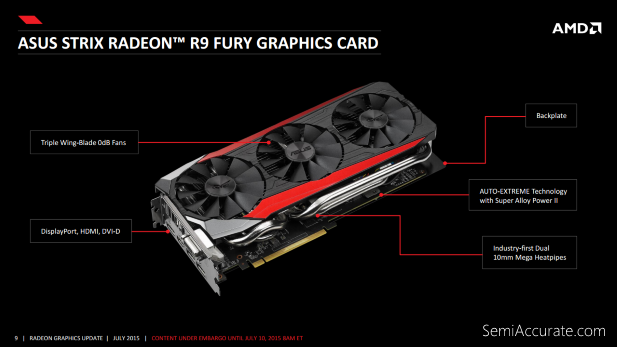 As part of this product's announcement AMD is showing off two partner designs: one from ASUS and one from Sapphire. Both look like really solid offerings but if I had to choose between the two I'd put my money on the Sapphire card given the extremely positive experiences I've had recently with other TRI-X branded offerings.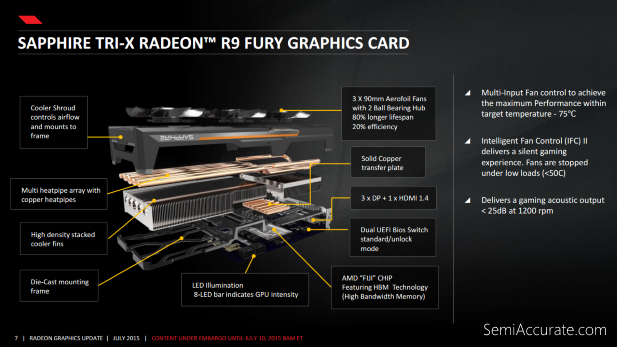 All in all we have another GPU from AMD. This one is nothing new but given the right pricing the R9 Fury could put some pressure on Nvidia's GM204. It's hard to find a lot to say about the R9 Fury given that it's the most objectively normal offering in AMD's Fury lineup. With the R9 Fury Nano and the R9 Fury X2 on the horizon this vanilla version seems rather bland. No word on pricing or third-party benchmarks for now, but we'll update this article when we know.S|A
The following two tabs change content below.
Thomas Ryan is a freelance technology writer and photographer from Seattle, living in Austin. You can also find his work on SemiAccurate and PCWorld. He has a BA in Geography from the University of Washington with a minor in Urban Design and Planning and specializes in geospatial data science. If you have a hardware performance question or an interesting data set Thomas has you covered.
Latest posts by Thomas Ryan (see all)