At Computex, Corsair had updates to just about everything they make, plus one surprise part. The only thing that they were not showing off were new flash drives.
First up were two new PSUs, the AX650 and the HX1050. The AX650 is just a lower Wattage AX PSU, no major changes. The same can't be said for the HX1050. While it sounds like a mildly updated HX1000, it is actually a ground up new part. The HX line has been with us for a while, and was thoroughly tweaked and updated. With new regulations like EUP coming, the decision was made to re-do the line, and the HX1050 is where we ended up. End result, EUP and 80+ Silver while costing less. No complaints here.
Then comes cases, a new line in fact called Carbide. Carbide is a lower cost gamer/lan party targeted case, thinner and slightly less featured than the older Graphite. The low end 400R has 10 fan mounts, side mounted removable drive bays, and a under-mobo cable routing space with the familiar rubber grommets. The case has USB3 mobo headers, not pass-throughs, a lot of front mounted ports, and space for a long PSU too.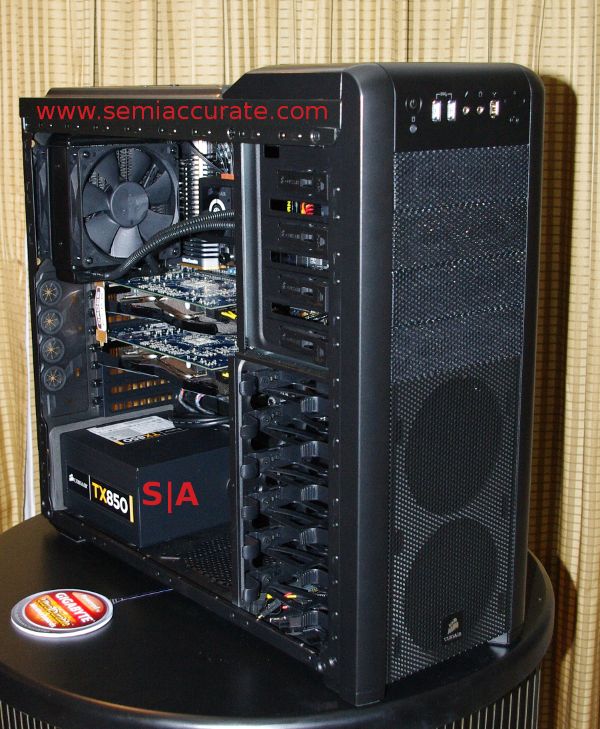 Not bad looking 500R
The bigger brother 500R has a few more features, most notably a bunch more fan mounts and a 200mm side window fan. The 400R only has mounts for two 120mm fans, none included. To aid cooling, the 3.5″ bays are removable and re-positionable, you can move them up to free up PSU airflow should you need it. You can get 400Rs in grey or black for $99, the 500R adds white as an option and costs $129.
It wouldn't be a major show if Corsair didn't put out more overclocking memory, and the new toys here are the Vengeance LP line. LP stands for Low Profile (duh), and they are the standard Vengeance OCing memory with the top fins lopped off. You can get them in Black, Red, and Blue just like the non-LP versions. So far, so 'meh'.
There is one special version, the Vengance LP Super Low Voltage. Surprise! If the name isn't enough of a clue, they run at 1.35v, extremely low for OC parts, but not unheard of in server memory that tops out around half the speed. The nice thing about the SLV parts is that they come in white, and it is a very nice white too. Not only does it look spiffy against a dark mobo, but the finish is of much higher quality than the other colors, it just feels good.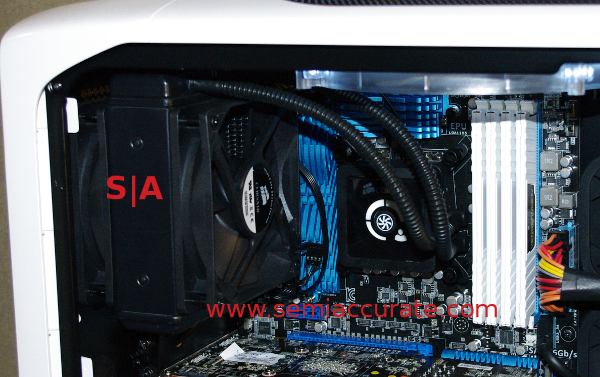 Note the LEDs on the head unit
Last up is a new line of water coolers, the H60, H80, and H100. These three are based on Cool-It tech, so they are all 'smart', and tie in to the Corsair Link controller and system. The H60 is the mainstream model, with dual fans on either side of the remote radiator. The CPU head/pump setup also has a fan controller on it, with low/medium/high settings, and LEDs to show where you are. The H100 adds a second radiator, but is essentially the same. You can get them now for $75, $109, and $119 for the H60, H80, and H100 respectively. S|A
The following two tabs change content below.
Charlie Demerjian is the founder of Stone Arch Networking Services and SemiAccurate.com. SemiAccurate.com is a technology news site; addressing hardware design, software selection, customization, securing and maintenance, with over one million views per month. He is a technologist and analyst specializing in semiconductors, system and network architecture. As head writer of SemiAccurate.com, he regularly advises writers, analysts, and industry executives on technical matters and long lead industry trends. Charlie is also available through
Guidepoint
and
Mosaic.
FullyAccurate
Latest posts by Charlie Demerjian (see all)