Today AMD launched their new mid-range Radeon 6700XT GPU. Unfortunately it was a nearly fact free teaser more than a real launch so SemiAccurate can only provide a few details.
First lets start out with the good news, AMD is starting to come around on disclosure. With the 6700XT launch, AMD didn't take a step backward but took several steps forward in terms of proper disclosure. While they still have a long way to go to get to the high bar set by Intel, SemiAccurate has hope that the trend will continue from the current state of near-acceptability.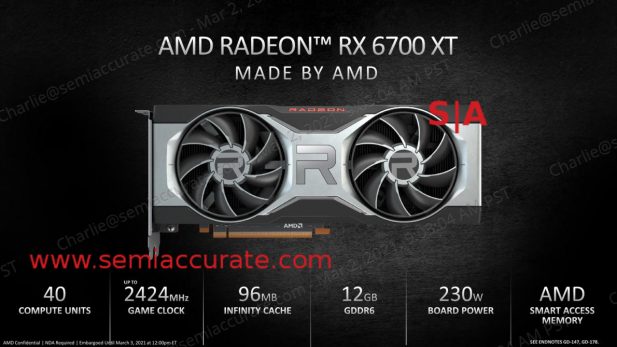 About all we can tell you
Above you see about all the facts we got on the new Radeon 6700XT other than the $479 price tag and the March 18 availability date. If you look at the slide above and think, "Oh, that's just a half-big-Navi", you would be wrong, it is slightly more than a half big Navi. The slightly part is made clear by the clocks, about 10% higher than the 6800/6900 dies are rated at, and the picture below.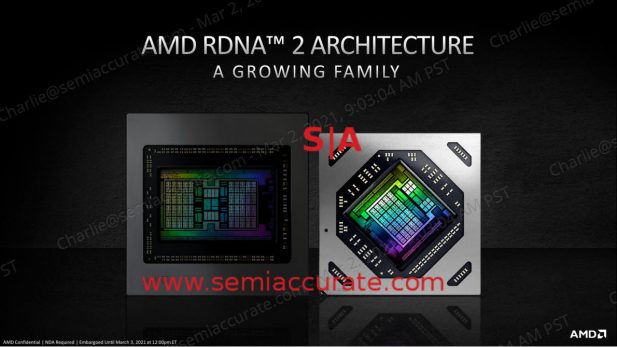 Count the units
As you can see there are now 40 shader cores vs 80 on the big die, all clearly visible in the picture. There are also six memory controllers on the outside edge as opposed to eight on the big die which explains the 12GB memory number which is coupled to the 96MB of cache, both are 3/4 of the big die so it might be a little higher performance than a mere chop. That efficiency gain is obviously lost because the ring around the shader cores that keeps the bits from leaking out is fully enclosed on the big die but open on one side on the 6700 die. That is a joke, that ring is the cache itself for reference. Counting pixels to get the die size should be pretty easy this time around.
Update Feb 4, 2021 @ 1:30pm: Changed 192MB to 96MB above.
Now for the cool technical details we know SemiAccurate readers like. The resizable BAR is now supported on Ryzen 3K CPUs too, the end. Really, that's it, we told you it was a nearly fact-free teaser, did you think we were kidding? There was a little on driver features but since those are OS specific and likely to be forgotten in the next generation devices anyway, we won't bother you with them. So there you have it, Half-Big-Navi-Plus-A-Little on March 18th for $479, not bad.S|A
The following two tabs change content below.
Charlie Demerjian is the founder of Stone Arch Networking Services and SemiAccurate.com. SemiAccurate.com is a technology news site; addressing hardware design, software selection, customization, securing and maintenance, with over one million views per month. He is a technologist and analyst specializing in semiconductors, system and network architecture. As head writer of SemiAccurate.com, he regularly advises writers, analysts, and industry executives on technical matters and long lead industry trends. Charlie is also available through
Guidepoint
and
Mosaic.
FullyAccurate
Latest posts by Charlie Demerjian (see all)