Gigabyte was showing off three mobos before Computex, two Llano based and one Z68 with a twist. All of them are worth looking at if you are in the market for a new machine, with one caveat.
The first two are kissing cousins, the GA-A75-UD4H and the GA-A75M-UD2H boards. Both are A75 based boards, so they will have full USB3 capabilities. If you can live without USB3, there will almost assuredly be several A55 boards that lack those ports for a few dollars less at the Llano llaunch, whenever that may be.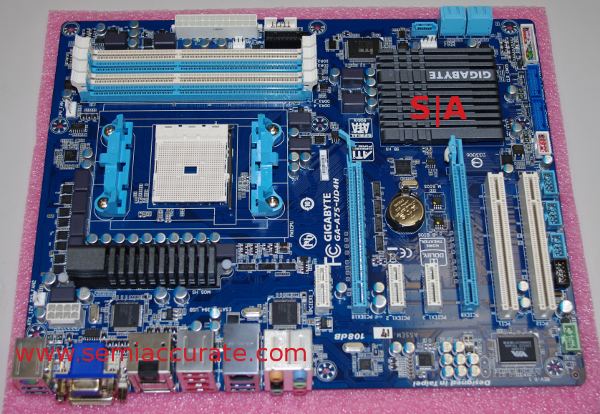 Gigabyte's new GA-A75-UD4H Llano board
Far from being a plain vanilla board, Gigabyte did their usual tweaks to these two, and added a few things on top of the now standard Ultra-Durable features. The first one is quite hard to see, but both Llano boards have an Etron USB3 chip. Yes, this board has 4 more USB3 ports on the ones provided by the AMD chipset. To top it off, all ports have the 3x power that Gigabyte debuted a while ago. The 3x power USB2 ports are red while the 3x power USB3 are the usual blue color.
More interesting is an 'always on' USB port header, it is the white on in the middle of the right side of the board. Gigabyte is claiming that this will be really useful for people who charge their tablet, phone, or odd Japanese imported gadget. You don't have to leave your full PC on all night, just plug it in, the logic is really hard to argue.
The UD4H is a full sized board while the UD2H is a smaller variant. It loses a PCI slot, 2 PCIe 1x slots, some USB3 headers and probably a few more bits, but is basically the same board. Which one to buy comes down more to the form factor you want versus any features.
One last thing to note, look at the heat sink retention brackets. They are open on the sides now, something Gigabyte claims will offer better cooling. While a few degrees here or there won't kill a system, it is never a bad thing to allow better airflow.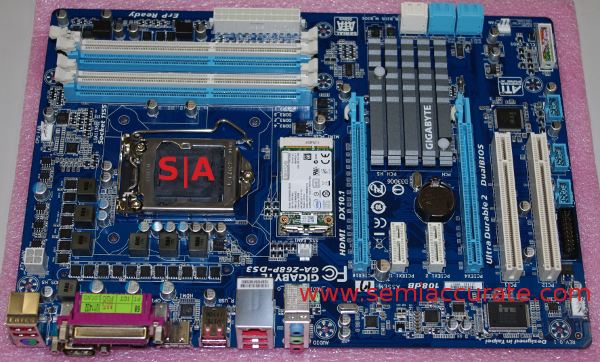 Gigabyte GA-Z68XP-UD3-iSSD
Moving on, we come to the smartly named GA-Z68XP-UD3-iSSD, a name that almost slides off the tongue. If you take a Z68 board with the Smart Response/Dumb Name combo (SRDN) and put in a mSATA port, you end up with the perfect board for SRDN. If you bundle it with an really fast 20GB Intel mSATA SLC SSD, you have a really slick board with one minor problem.
The board and SSD bundle are the only ones on the market that we are aware of, and will cost less than buying both separately. If you want to do the SSD acceleration thing, this is a very tidy way to go. It also saves a bit of money on top of the nice packaging job. One thing to bear in mind, it is wired in to a SATA port, so if you use the mSATA socket, you lose one external SATA port, but that is a very fair tradeoff.
The one problem? SRDN is Windows only, so if you buy a Z68 board and plan to use a real OS, you just wasted money. SRDN should probably be renamed NQFBDT (Not Quite Fully Baked Drive Technology), and Intel should once again feel embarrassed over their still broken driver stack. Come on guys, this is just getting sad, especially in light of MS publicly playing you for idiots with WARM.
Other than that, it is about what you would expect, a solid Z68 board. The standard Gigabyte features all are there, including the new red/blue color scheme for the 3x power USB ports. The hardware is spot on, but I would be very wary of buying this until Intel gets their driver act together. *SIGH*S|A
The following two tabs change content below.
Charlie Demerjian is the founder of Stone Arch Networking Services and SemiAccurate.com. SemiAccurate.com is a technology news site; addressing hardware design, software selection, customization, securing and maintenance, with over one million views per month. He is a technologist and analyst specializing in semiconductors, system and network architecture. As head writer of SemiAccurate.com, he regularly advises writers, analysts, and industry executives on technical matters and long lead industry trends. Charlie is also available through
Guidepoint
and
Mosaic.
FullyAccurate
Latest posts by Charlie Demerjian (see all)